January 2021
School holidays are almost over. It has been a challenging year for our kids, so it is time to spoil them and plan activities to keep them busy during the holidays. Joburg has so many options to keep the kids entertained.
Firstly, a day out on the City Sightseeing Red Double Decker is the most fun for parents and kids alike. With the fun interactive audio channel onboard, the children will be entertained, and parents can sit back and relax and not have to worry about parking along the route. The one-day ticket visits over 16 stops, and taking you to over 20 of Johannesburg's top attractions, the bus allows you to hop-on and hop-off at your leisure. At R199 per adult and R100 per child (Online ONLY Weekday Special), it is the perfect way to explore the City of Gold, as she is affectionately known.
Holiday Fun
A visit to the Sci-Bono Discovery Centre, based in Newtown (Stop 15), will keep your kids entertained for hours. All COVID protocols are in place and they are only allowing 50 people in at a time. They have also reduced their rates by 25%. This centre is Southern Africa's largest science centre. A must-visit is their "Nat Geo Kids Weird But True" exhibitions. Full of wild, entertaining, brain-bending and visually stunning facts, games and installations, all whilst learning some fun facts. For example – did you know that slugs have 3000 teeth and four noses?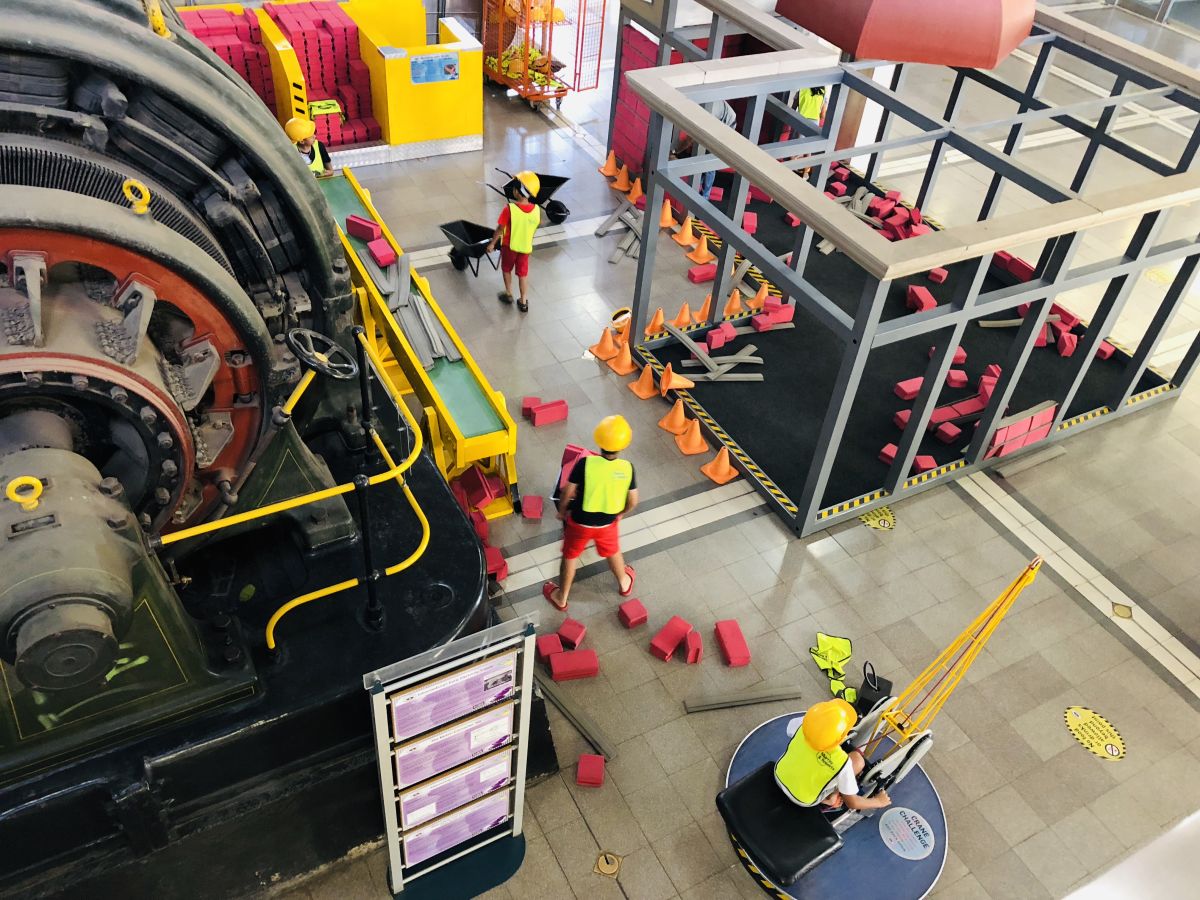 Sci-Bono Discovery Centre
If your kids love water, a visit to Zoo Lake (Stop 2) is a must. There is always a hive of activity with dog walkers, joggers, skateboarders and kids enjoying the huge gardens and outdoor space, surrounding the man-made lake that makes for a perfect holiday outing. Take in the sights and sounds of the lake in one of the rowboats for hire. The rowboats can accommodate up to 6 people per boat so it's a great activity for parents and kids alike.
A one-stop fun destination during the holidays is definitely Gold Reef City (Stop 13). Being the largest of its kind in South Africa, this theme park offers 18 thrilling rides, of which 13 are dedicated kids rides and the Jump City Trampoline Park. For the older or taller kids (over 1.3m tall) or the parents, the Anaconda is a 'must-ride' with a 9 out of 10 "Fear Factor" rating. This thrill-seeking ride is for adrenalin junkies who crave twists and turns at high speed. After a thrilling ride or a tour of the gold mine, you are spoilt for choices to dine at, as the park offers twelve dining options - catering for every taste and wallet.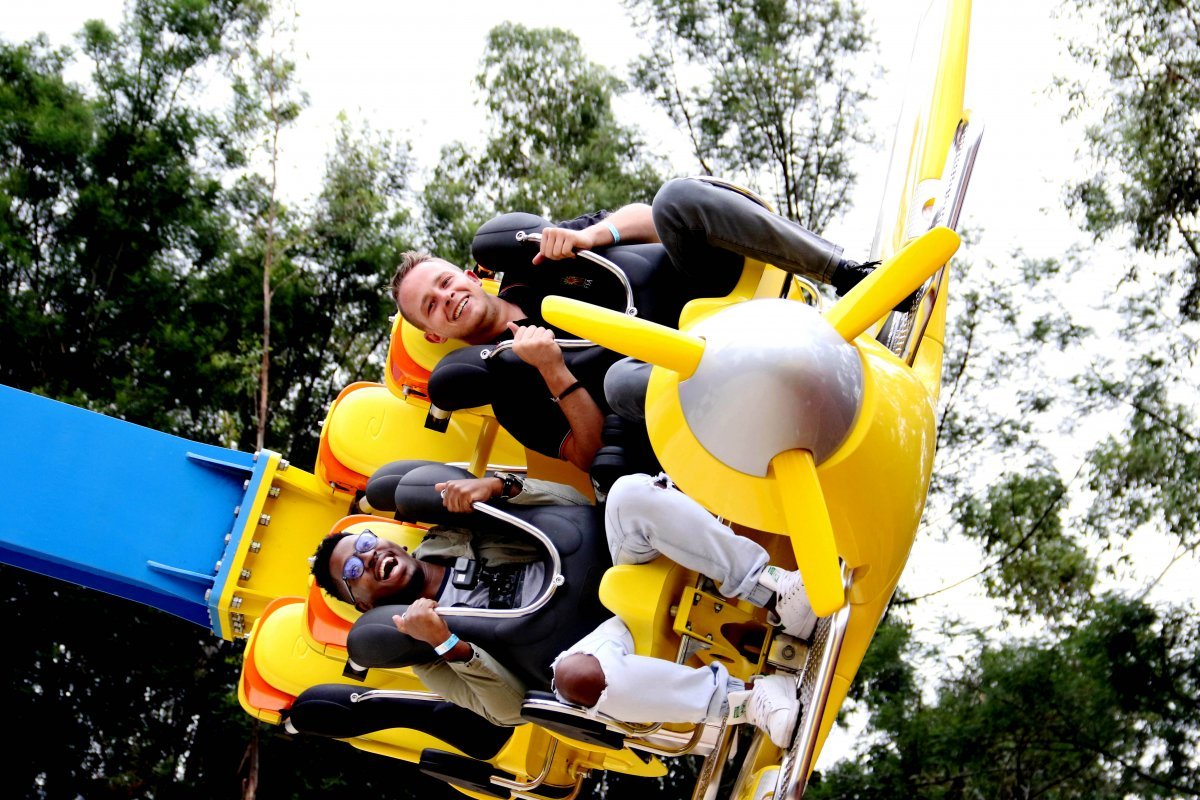 For the adventurous kids, a must-visit is Acrobranch in Melrose, which consists of four courses (two for kids, two for adults) and is equipped with four zip lines, swing bridges and Tarzan swings. The courses are family-friendly and safe for children as young as three years, and there's a lot of variety, from acrobatic bungee-style adventures to obstacle courses and even combination courses.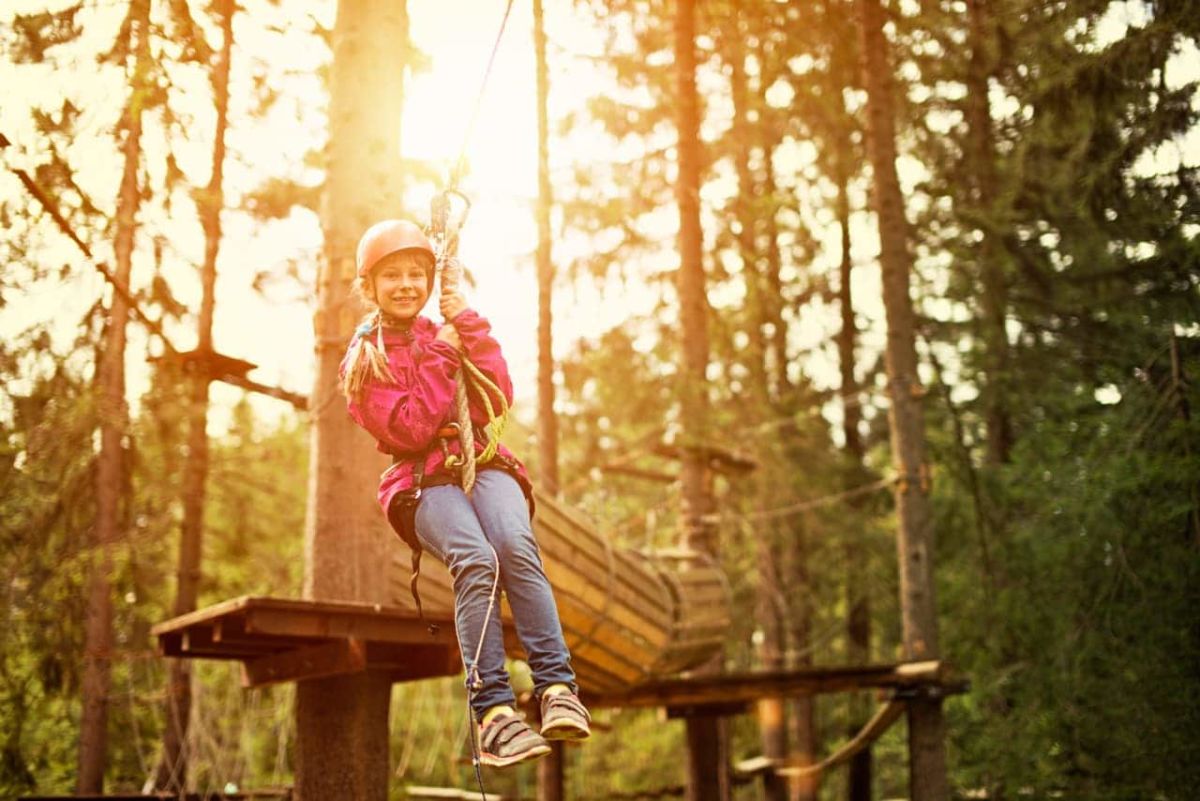 Acrobranch
For a day out of the city, we recommend a visit to the Cradle of Humankind in Maropeng for a family excursion that promises to be as much fun as it will be educational. The Learner Centre is interactive and informative and will be a hit for all ages. The main attraction is the underwater boat ride that guides you through the history of Earth's creation in an intuitive, awe-inspiring way. If the fossil display piques your interest, take a tour through the Sterkfontein caves—the home of the historic 'Mrs Ples'. Even better is that kids under the age of 6 are free for a visit to Maropeng and the caves.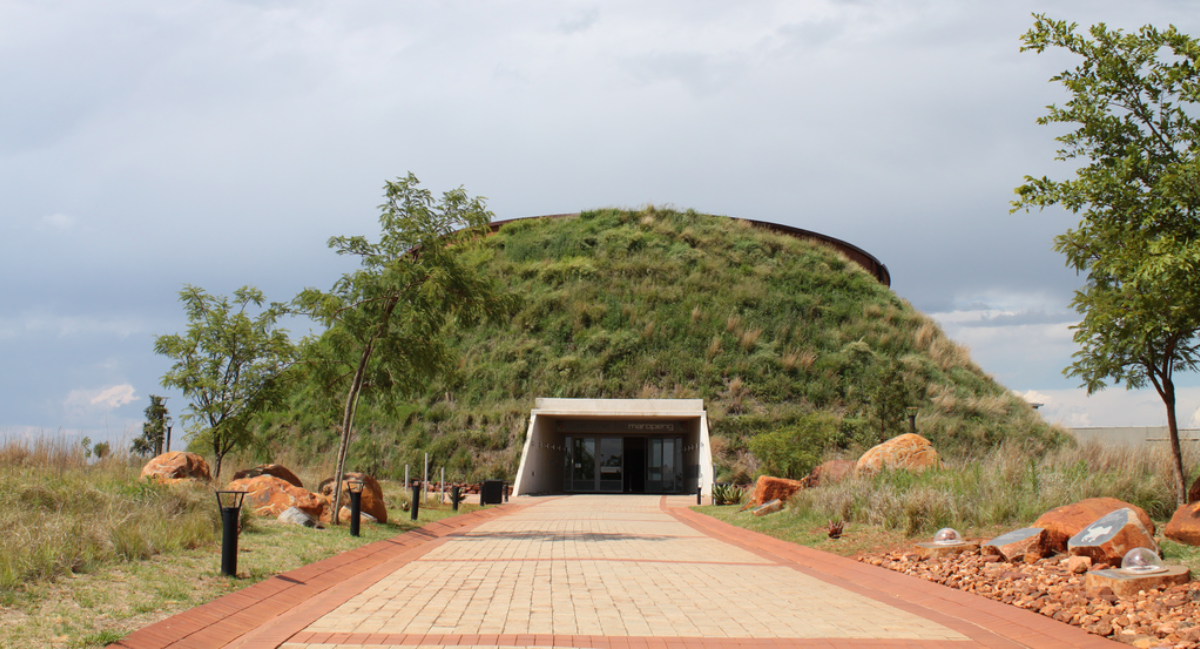 The Cradle
If you still have energy left and want an additional experience in the area, we recommend a visit to Segwati Getaways/Ranch set on a 650-hectare game farm. Here you are spoilt for choice – go quad biking, have some fun at the paintball range, or enjoy one of their many hiking and walking trails. For avid cyclists, they also have a wonderful mountain biking trail.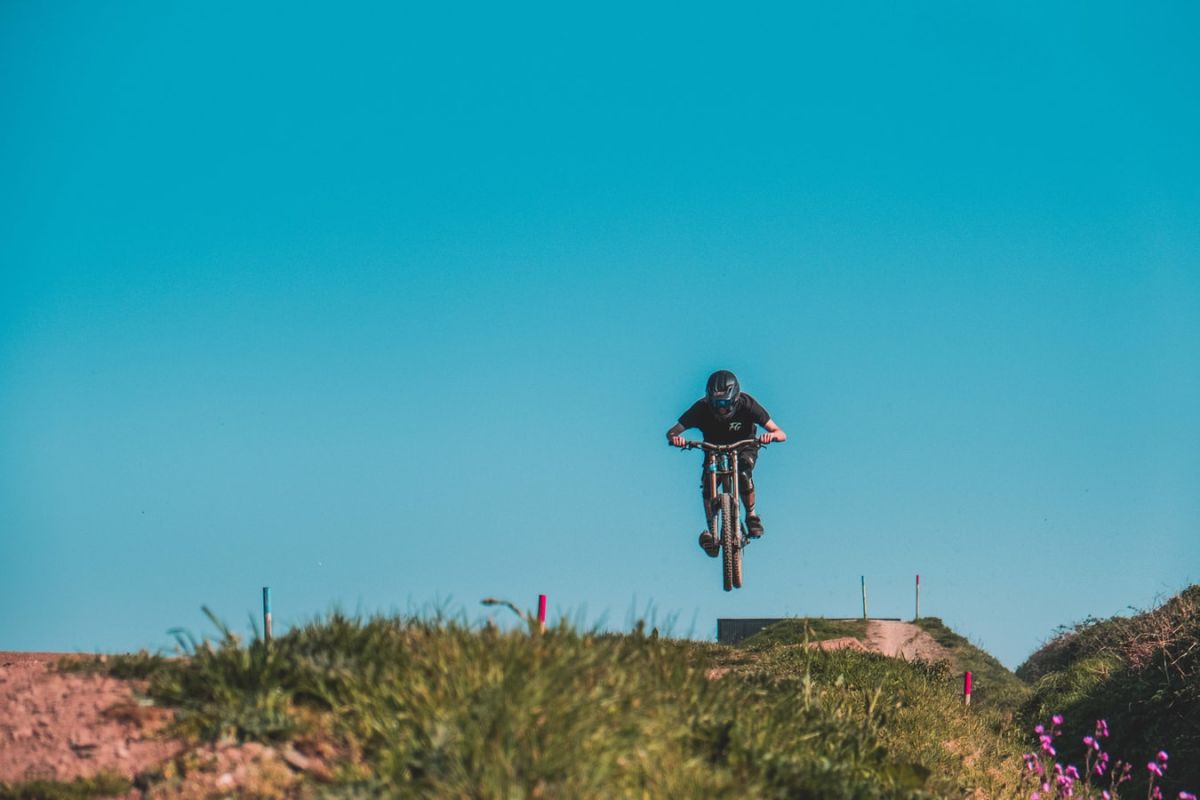 Mountain Biking Fun
A visit to RollEgoli Roller Rink in Bryanston will give you hours of fun. Entry is R95 per person (for skating as long as you like) with a Skate Hire fee of R40 per person. The super-smooth cement floor provides a great area to use your roller skates or rollerblades. The rink is 1000sqm and covered so you can skate no matter the weather. Also, their garden offers a wooden jungle gym with a huge trampoline surrounded by a smooth scooter track. Above the ground try their 3m high "Bridge of Courage". Access to it is up a climbing wall on the one side and at the other end of the bridge is a 3m tall fireman's pole for the kids to slide down onto a soft mat, allowing them to conquer their fear of heights. They also have a fantastic restaurant offering woodfired pizza and the most delicious Italian gelato ice cream.
Finally, for the avid golfers, a must-visit is Adventure Golf in Randburg. This venue offers 3 courses, consisting of 9 holes each. The first tee takes you through a trellis tunnel covered in brightly coloured flora and magnificent overhanging bougainvillaea and continues through thick lush vegetation, palm trees, and cycads. This venue also offers the longest putting hole in the world at 68m which sees you playing through the many hidden 'nooks and crannies', across log bridges and ravines, through caves, past waterfalls, and estuaries, and ponds with Koi fish lazing amongst the reeds and the birdlife. It is open daily from 9 am-10 pm. Adults ticket prices are R110 Kids are R90 (7yrs to 17yrs) and for the under 7-year-olds, the price is only R70 and is valid as a 3 game ticket.
Joburg is full of adventure and new places to discover, so make a list and plan ahead to keep the kids entertained these holidays.