MORE TIME ON THE BUS
Soweto guided by a local resident + 2 days on the bus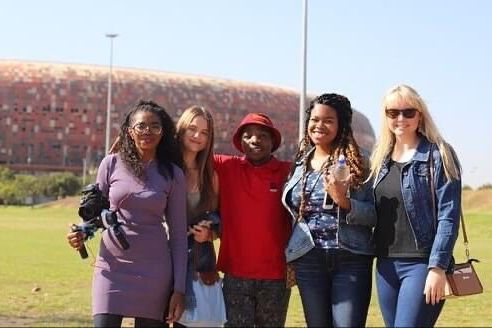 TOUR DESCRIPTION
Hop on our Johannesburg Red Tour at our main departure point in Rosebank and explore the leafy suburbs stopping at all top attractions, including Melrose Arch and the Mandela Foundation, before reaching Constitution Hill. From here the Red Tour continues via the inner city to the Apartheid Museum and Gold Reef City Theme Park before returning to Constitution Hill via Newtown, the Johannesburg Zoo and the Military Museum and ultimately back to Rosebank. You'll soon see why Joburg is not only considered Africa's economic playground but also one of the most wooded cities in the world.
Included is a small group Soweto tour which connects at the Gold Reef City Stop. Hear about 2 of the 20th century's most famous liberation heroes in the city where they started their legal and political careers. Follow in the footsteps of Mahatma Gandhi and his Passive Resistance (Satyagraha) Movement, and Nelson Mandela with his Defiance Campaign.
2 Consecutive Days on the buses
Complimentary hotel shuttle (selected hotels)
Red Tour Loop
2h Soweto tour guided by a Soweto resident
Important Information
Starts
* City Sightseeing Tour office , @ The Zone shopping center, Oxford Road, Rosebank (in the pedestrian mall, near KFC and next to Hamley's Toys)
* Complimentary hotel shuttle from selected Sandton hotels (See timetable)
* You can arrive on the "Gautrain" high speed rail link. Use North Exit at Rosebank station and head to the Tour office
* Parking available for your car at "The Zone" shopping center - entrance off Oxford Road
(Please arrive 15 min before bus departure)
Operates
Duration
Hop On Hop Off ticket valid for 2 consecutive days from when first presented
Soweto tour valid for 1 day Hop On Hop Off
Know before you go
Hop On Hop Off at any of the stops along the circular route and simply show the same ticket to board the next bus
Switch to the live-guided Soweto tour at Stop 7 (Gold Reef City Casino Hotel). After the 2h tour, you re-join the Hop on Hop Off bus at the same stop to continue your tour and return to Stop 1
Cancellation Policy
Cancellation fee of R20, per ticket cancelled, will be charged.
Included
* Unlimited access to the Red Tour for 2 consecutive days
* 2h Tour of Soweto (Live guided by a local Soweto resident)
Not included
* Entrance fee into various attractions
Pre-booking and temporary closures
Check available dates and pre-book for entry into Gold Reef City
Apartheid Museum closed on Monday's and Tuesday's
MORE INFORMATION
FNB Stadium (known as Soccer City during the 2010 FIFA World Cup), the biggest stadium in Africa, is built in the form of a calabash or a Zulu clay pot. Hop off here to visit the South African Hall of Fame
Diepkloof, a diverse neighbourhood
Chris Hani Baragwanath Hospital, built during the Second World War and the largest hospital in the world
Bara Taxi Rank, the largest taxi rank in Johannesburg
Orlando Towers, a colourful landmark popular for bungee and base jumping and abseiling
Orlando Stadium, the first ever sports facility built for black South Africans in a residential area
Hector Pietersen Memorial in Orlando West
Vilakazi Street, the only street in the world in which two Nobel Prize winners have lived
Visit to the Soweto Brewing Company
Tour office can be found at:
The Zone shopping center, Oxford Road, Rosebank (in the pedestrian mall, near KFC and next to Hamley's Toys)
Inside the lobby of the Gold Reef Casino Hotel (change point for the Soweto Tour)