September 2020
With the huge success of the relaunch of our Cape Town Sightseeing Tours, we are so excited to be able to welcome you back on board our Johannesburg City Sightseeing Tour. And there's no better time to relaunch than the upcoming long weekend at the end of September. We will be offering our reopening special from 24 – 27 September at R99.00 per person. What a fantastic way to get out and explore the City of Gold again, celebrate Heritage Day as well as World Tourism Day.
The Route and Information
The tour will start at our main departure point at The Zone in Rosebank. We'll be travelling along the scenic Green Route past Constitution Hill and continue along the historic Red Route. To stretch our legs and to grab a quick snack we'll make a 15 - 20 min pit stop at Gold Reef City, and continue along with the Red Route back to The Zone.
Spring is in the air
Driving around Johannesburg in Spring is our favourite time of the year. As we leave winter behind us, and all the shades of reds and browns are now turning to bright purples and pinks, the landscape is picture-perfect. This is very evident as we head towards the beautiful lush suburb of Zoo Lake, which consists of two dams, an upper feeder dam, and a larger lower dam, both constructed in natural wetland watered by the Parktown Spruit.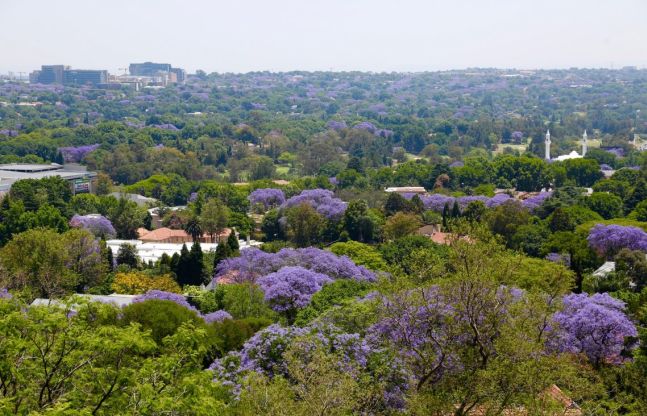 Spring in Joburg
Passing the Military Museum, be sure to listen out to our audio channel to the history surrounding this landmark. Officially opened in August 1947, this museum was created to preserve the history of South Africa's participation in the Second World War.
The bus then continues over the picturesque Munro Drive towards Johannesburg CBD. This short 1km suburban pass dates back to the early pioneering gold rush days. Watch out for the very old distressed stone walls on either side of the road.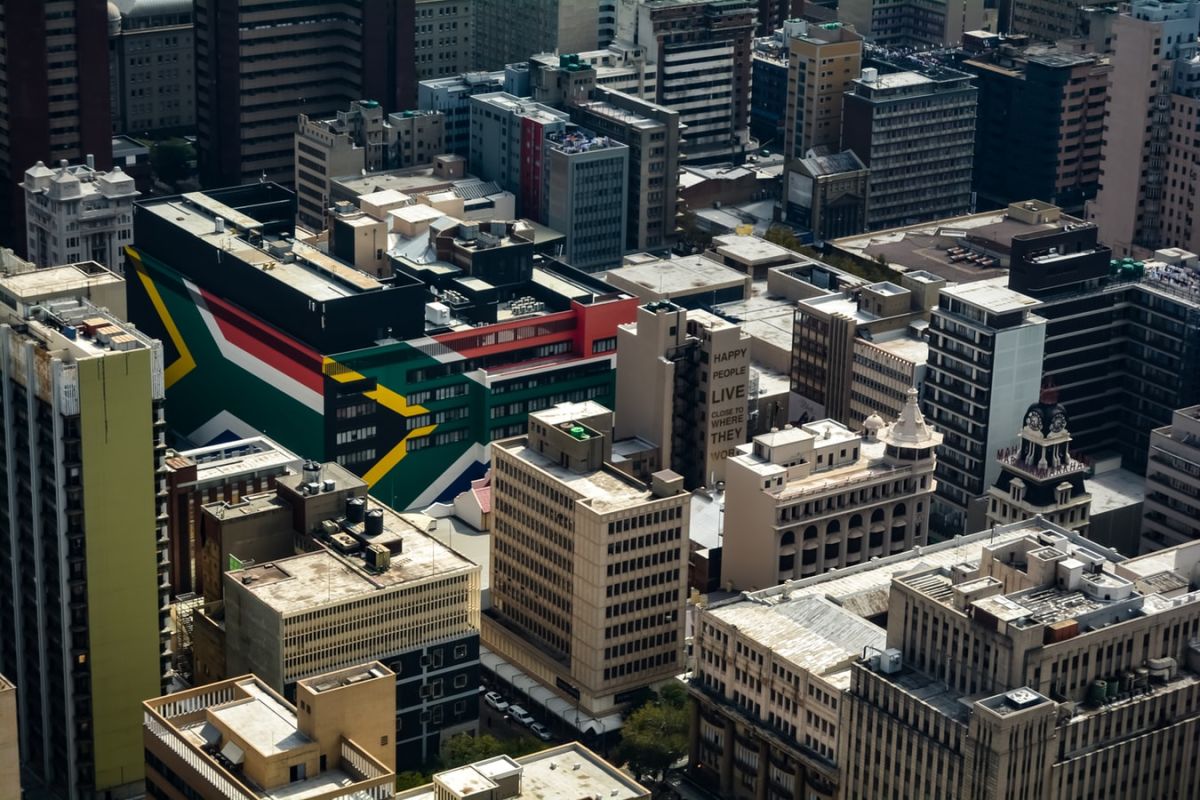 Joburg City Centre
We pass Constitution Hall, the Mining District, and the Carlton Center, and the James Hall Museum of Transport. The Carlton Centre, once neighboured by a luxury 5-star hotel, is a 50 story skyscraper and shopping centre. At 223 metres, it is the second-highest building in Africa.

Red Bus Joburg
The bus will have a short 15-minute comfort stop at Gold Reef City. Stretch your legs and use the restrooms before we continue our journey. We continue to drive passed Wits University campus and on to Braamfontein. This area is fast becoming the hipster capital of Johannesburg. It borders the city centre and is joined to Newtown by the Nelson Mandela Bridge.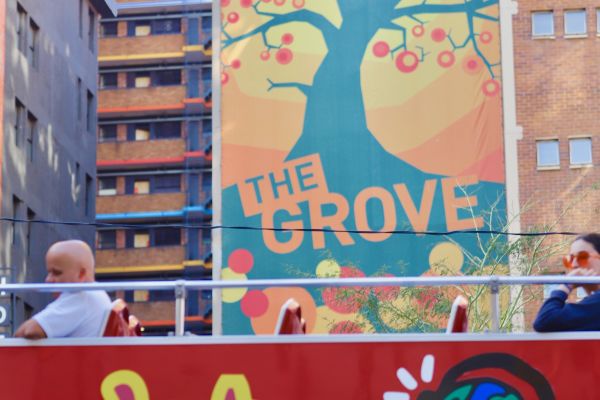 Braamfontein
Returning to Rosebank after an approximate 1 hour and 45-minute journey you will be in love with your city all over again. Having fresh air, exploring your city, and enjoying a day out with the family, appreciating the history and heritage of E-Goli – the City of Gold.
Your safety is our top priority
Strict health and safety structures are in place. Our customers and our staff are our main priority, and we have incorporated several new procedures to ensure your safety while in our care. Only travellers wearing face masks will be permitted to board our buses. To keep our buses within the legislated protocol, we will only be travelling with a maximum of 50% capacity and have ensured that only every second row of seats will be occupied.
How to reserve your seat
Bookings are essential and highly recommended due to capacity. You don't want to miss out. Be sure to prebook your tickets online. Note that tickets are not exchangeable between different dates booked. So be sure to stick to your date selected.
We can't wait to welcome you on board again. Come with a sense of excitement, and join us on an exhilarating tour of the City of Gold.