The holidays are all about family - it can be tricky to keep the kids busy and that's why we are here to help.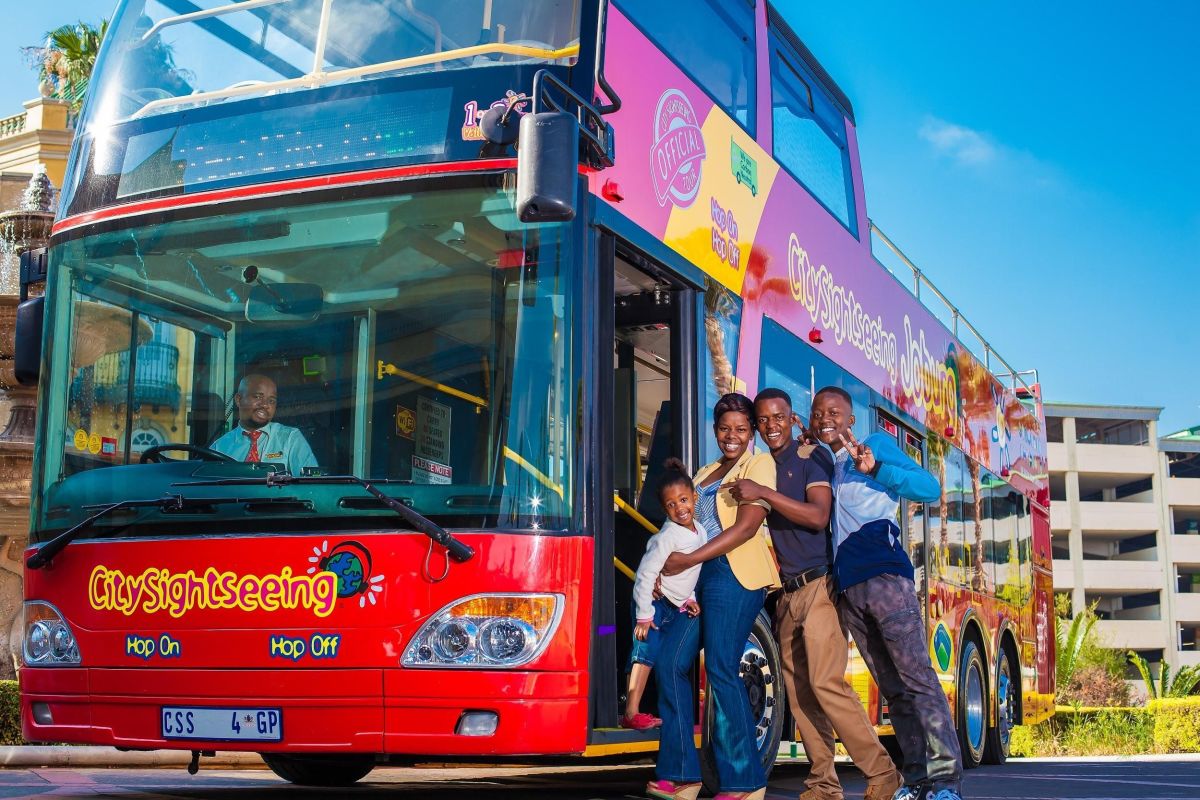 City Sightseeing Bus
Summer in South Africa is the best time to travel around, hang out outdoors, grab some Vitamin D, but not just for the kids. Here are some great ideas that the whole family can do together. There's something for mom, dad, the kids, and even those disagreeable teenagers.
Join in the fun or sit back and relax while the kids play
If you hop on our Green Route, you will either be heading to or away from stop 1, so when you get here, disembark your Big Red Bus to go and spend some time at The Zone@Rosebank. This compact shopping centre actually holds a number of entertainment options. Take the family to watch a movie, get a bite to eat, or even manage to grab some 'me time' while the kids explore The Fun Company. This all-weather, interactive and all-round family entertainment zone has so many cool things on offer like a bumper car arena, mini-golf course, tenpin bowling alley, arcade and 4D theatre.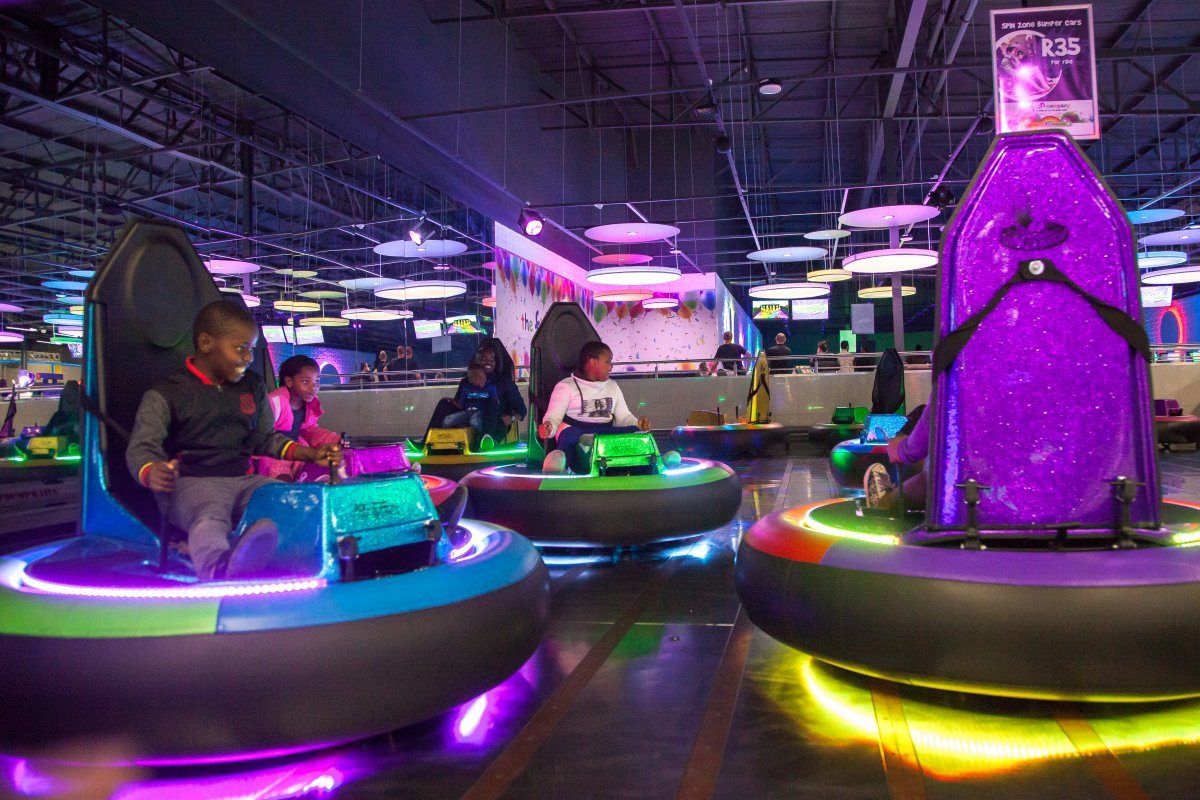 The Fun Company
While the kids are busy, dad can hang out in the sports bar, or treat himself to a traditional hot towel shave, and mom can do some shopping or make an appointment for some pampering.
If the weather is just right, why not spend it outdoors in the park at Zoo Lake? This picturesque spot is an inner-city escape to have a relaxing picnic, paddle around in rowboats, feed the birds or throw a frisbee. The kids will love it, and you can even spend your time having tea and cake at the Panettone Cafe, or book a table at the mouth watering Moyo restaurant.
To get the blood pumping, and to help burn off some adolescent energy - Gold Reef City (Stop 13) is the perfect answer. While almost an actual city, Gold Reef has a range of theatres, cinemas, restaurants, and even hotels for you to choose, but even more exciting - it has one of the biggest theme parks in Africa!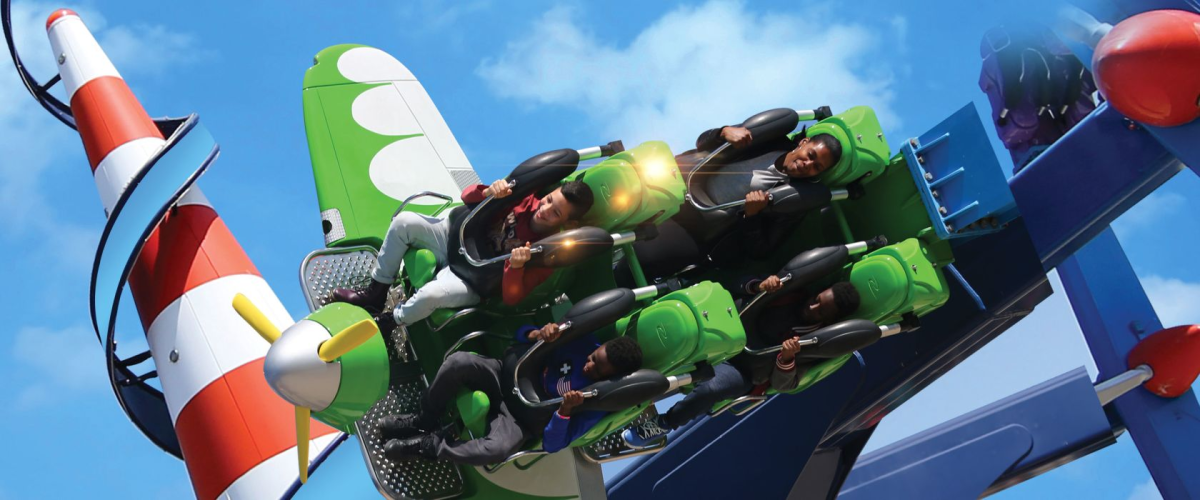 Gold Reef City Roller-coaster
Located on an old gold mine which closed in 1971, the Gold Reef City Theme Park is completely themed around the gold rush that started there in 1886. The park now has some of South Africa's fastest, biggest and most thrilling rides. There is also a museum dedicated to gold mining where you can do a Heritage Tour into the old mines yourself. So, whether you want family-friendly, kiddies rides or the biggest adrenaline rush, there is a ride for everyone.
If the likes of the Tower of Terror, High Flying Maverick, or The Anaconda do not sound like your idea of fun, you can opt to go healthy and join in the Wits Parkrun near stop 16. This 5-kilometre race happens every Saturday at 08:00 and encourages people of every ability to take part; from walkers, to young kids and even training athletes. The best part about the Parkrun? It is absolutely free!
No matter your age, there is always something new to be learned.
While you're in an around Wits University, be sure to visit the Origins Centre right near the bus stop. The centre has some of the richest visual heritage found in South Africa and is dedicated to exploring and celebrating the history of modern humankind. Its displays feature an extensive collection of rock art, fossils, artefacts and ancient stone tools dating back over 2 million years.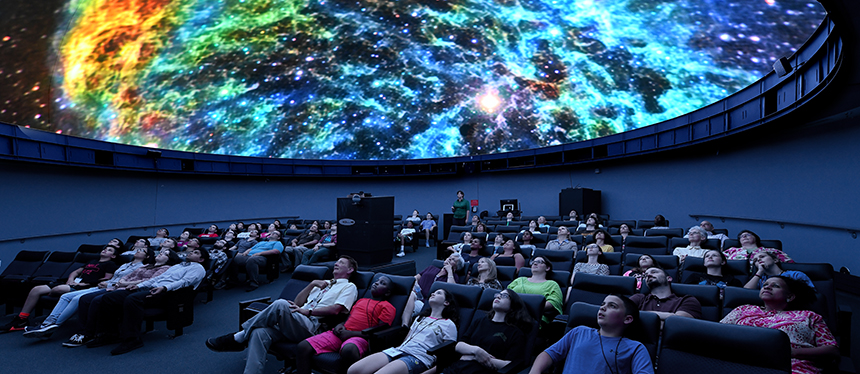 Planetarium
On top of this, Wits University also boasts a world-class Planetarium. The projector was brought in from Europe by the city of Johannesburg in 1956 to celebrate the 70th anniversary of the founding of the city. At the time, this Zeiss MkIII was the most modern and complete projector of its kind. When the planetarium first opened its doors in 1960, it was the first full-sized planetarium in Africa, and only the second in the Southern Hemisphere.
Then there's the theatre to suit the whole family.
The Peoples Theatre near stop 5 is South Africa's flagship theatre for young people. With professional actors, elaborate sets and quality costumes - they incorporate a combination of education and entertainment to create world-class theatre for children, their parents and educators. There is also a Kid's Club which has regular competitions and activities for children of all ages.
Based on the same concept, the National Children's Theatre is also within walking distance from Constitution Hill; a theatre that caters for young people from all cultures and social backgrounds. Their internationally awarded theatre productions include interactive musical plays, theatre workshops, life-skills programmes and theatre-in-education work with young people. Take a look at their summer calendar for workshops, holiday camps and educational outreach programs to make a booking.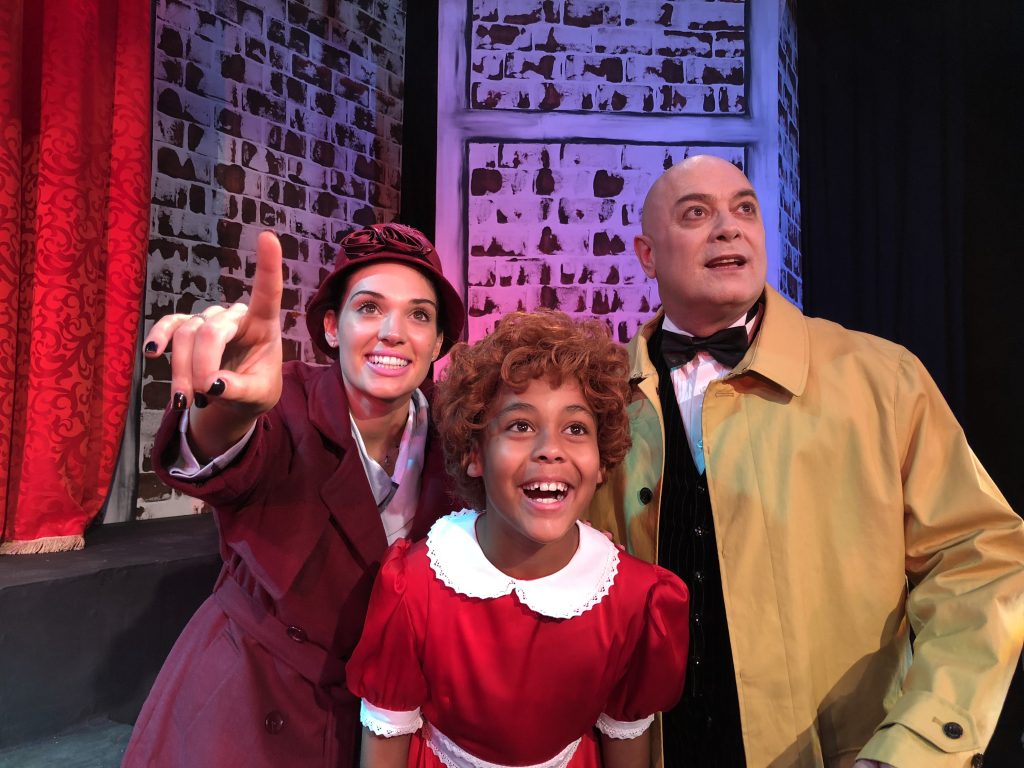 People's Theatre
Family-friendly food to keep everyone entertained.
Our very first stop on the Green Route you will find the Rosebank Sunday Market. Here you'll find the usual suspects of gourmet food traders and craft stalls, but also a rooftop bar with awesome views of the Johannesburg skyline - perfect to watch the sunset, and quite uniquely - a Kids Zone. You can enjoy the coffee bar, vintage collections or arts and crafts while still entertaining the kids.
Just a short walk from stop 5, you can make your way to the historical Park Railway Station. The once abandoned station is now used to facilitate the Reefsteamers Picnic Express, a beautifully restored vintage, a main-line steam train which travels through the countryside to the old Magaliesburg Station. This 2.5 hour journey brings you to the historic town of Magaliesburg, right opposite well equipped picnic grounds with chairs, shade, jumping castles and toilet facilities. On request, braai fires will even be pre-prepared prior to your arrival. You are welcome to bring your own food, purchase something from the Magaliesburg Spar, or preorder a braai pack and picnic option with your ticket.
With so much to do in and around the city of Joburg, your kids will never get bored. It is the perfect destination for a full-family holiday, and the memories will last a lifetime.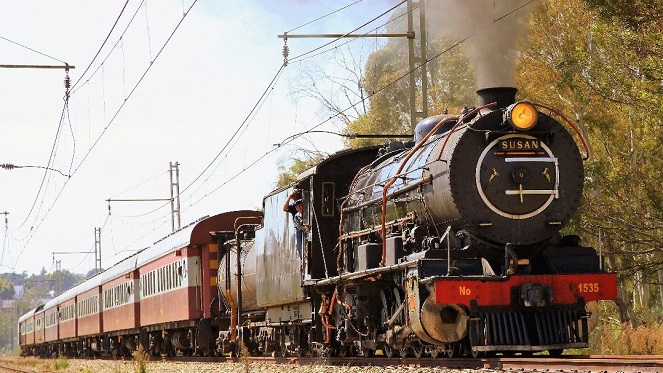 Stream Train