March 2020
Steeped in history and culture, Soweto is a thriving hub sitting on the outside of the city of Joburg. The urban settlement or 'township' was established in the 1930s, and is now home to over 1 million South Africans.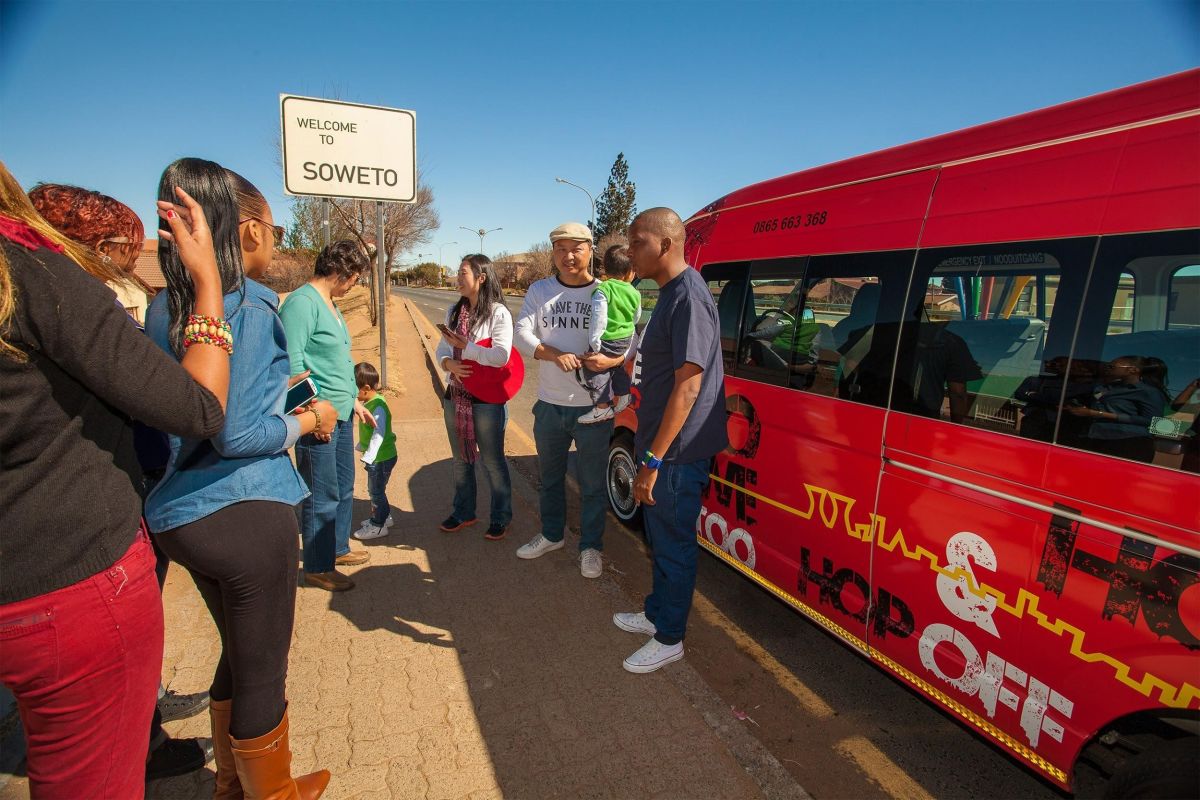 Soweto
While this southwest suburb does enjoy the perks of modern development, the locals still pay homage to its roots; safeguarding its historical heritage and vibrant culture. This brings along with it so many good reasons to visit, experience the welcoming township life, and pay homage to these places of immense historical significance.
Soweto's role in abolishing Apartheid
From the 1950s Soweto became an epicentre of political campaigns aimed at overthrowing the apartheid state, and in 1955 it was the location where 3 000 people came together to adopt the Freedom Charter - which is what the South African Constitution is now based. It was also the starting point of the infamous student uprising in 1976 known as the Soweto uprising, which soon swept across the country, and was a pivotal moment in the downfall of the Apartheid regime.
Today, you can find many memorials, museums, dedications and places of remembrance for the people of South Africa who fought in the struggle. Visit the Hector Pieterson Memorial and Walter Sisulu Square, the Apartheid Museum or Mandela House.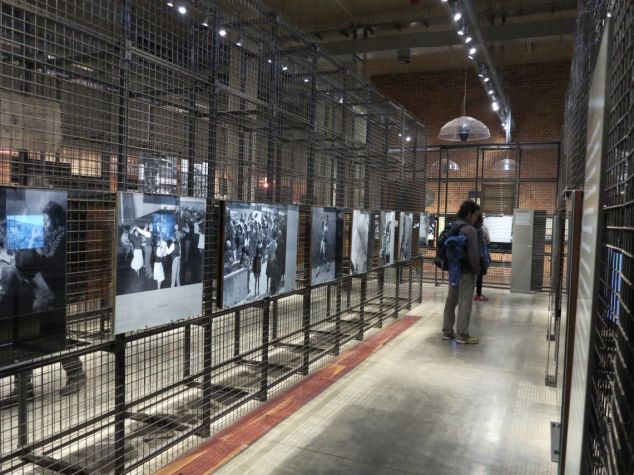 Apartheid Museum
The most famous street in Soweto
Once just a residential road like any other, Vilakazi Street became famous for being the only street in the world to have housed two Nobel Peace Prize winners. Two of the world's most famous humanitarians; Nelson Mandela and Desmond Tutu. Now lined with bars and restaurants, Vilakazi is the place to be seen. A place where tourists flock and many locals return from the big city to show how far they have come in life with flashy cars and even flashier fashion.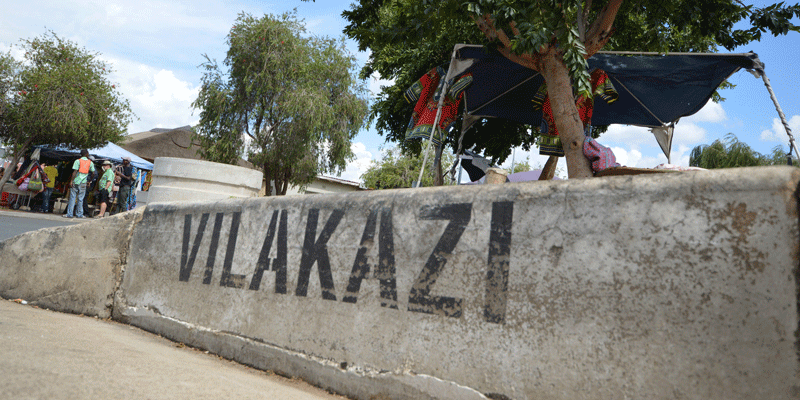 Vilakazi Street
Try out Sakhumzi Restaurant for some real traditional township cuisine, or Nexdor which becomes a thriving nightspot after dark.
When it comes to food culture
Soweto is the hub of traditional food to be found in Johannesburg. Popular dishes like oxtail stew and samp (boiled maize), mogodu (tripe), ujege (steamed bread) and kotas (a township version of bunny chow) are a-dime-a-dozen here.
A shisa nyama is another term used in many South African townships that describes a braai (barbecue) where friends, families and even strangers come together to grill meat in an open fire.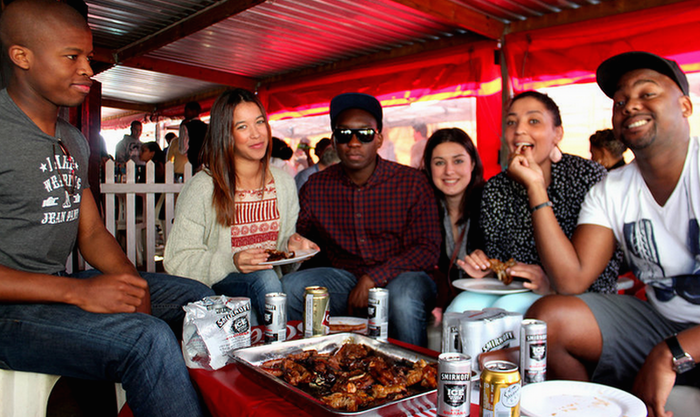 Shisa nyama
When it comes to alcohol, it's all about the shebeen. These are makeshift taverns that sell alcohol without a license which were made popular during the Apartheid years where Sowetan residents were prohibited from establishing formal businesses. So, as an alternative, many women began making home-brewed beer made from maize and known as umqombothi - a thick, creamy beer with a distinctly sour aroma and gritty texture.
Shebeens provided the community with a safe place to express their cultural traditions with their own music, traditional dancing and authentic food. They also often served as meeting places for political activists.
Today, shebeens have evolved to cater for a younger, trendier set of both Black and White patrons and international visitors, and are an absolute fixture of the Sowetan social scene.
Calling all football lovers
Another prized facet of Sowetan culture is of course soccer (or football in international circuits). Soccer is a much-loved pastime in Africa, and being home to two of South Africa's biggest clubs, Soweto is where it all happens. On days where these two teams face-up against each other in the Soweto Derby, the 94 000-seater FNB Stadium (also known as Soccer City) is packed to capacity. This stadium also saw Spain lift the FIFA World Cup trophy after winning the final against the Netherlands in 2010.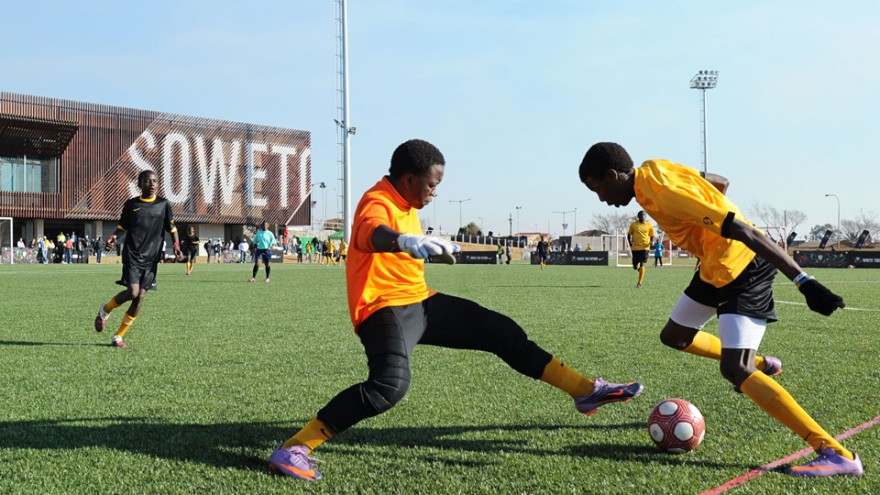 Soccer
A place of firsts
On top of all its historical and cultural significance, Soweto also holds a number of records across South Africa and the world.
● Vilakazi Street is the only street in the world in which two Nobel Prize winners have lived.
● This is where Nelson Mandela once lived and where Mahatma Gandhi started his legal career. Chris Hani Baragwanath Hospital is the largest hospital in the world.
● The FNB Stadium is South Africa's largest stadium.
● Orlando Stadium was the first-ever sports facility built for black South Africans in a residential area.
● Soweto is credited as one of the founding places of Kwaito and Kasi Rap: a style of hip hop specific to South Africa.
An easy place to get around
Only about half-an-hour's drive from the City Centre, Soweto is close enough to explore on a day out, and conveniently - you can get there and move around with City Sightseeing's bright-red minibus taxi with our Soweto Tour.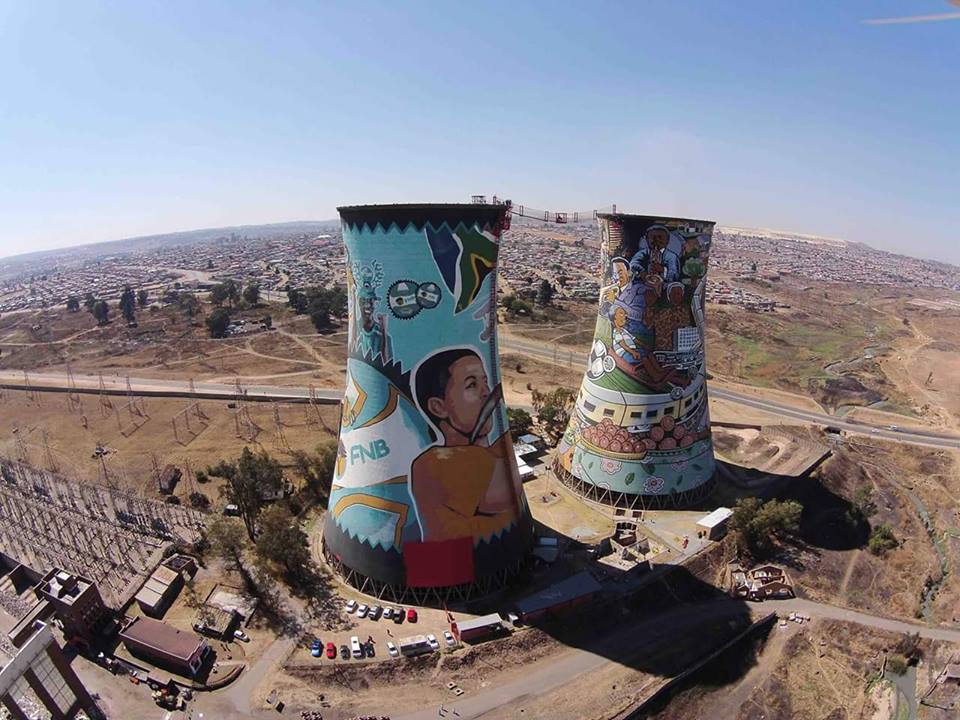 Orlando Towers
Guided by an experienced Sowetan local, the tour departs from the bus stop at Gold Reef City Casino (Stop 13) every hour-or-so, and travels on a two-hour circuit with options to get off and explore at many famous landmarks and locations. For an even more authentic tour of South Africa's most famous township, add on a live-guided walking tour for free.
Your Soweto tour highlights
● Diepkloof, a diverse neighbourhood
● Chris Hani Baragwanath Hospital, built during the Second World War and the largest hospital in the world
● Bara Taxi Rank, the largest taxi rank in Johannesburg
● Orlando Stadium, the first ever sports facility built for black South Africans in a residential area
● Hector Pieterson Memorial in Orlando West
● Kliptown Open Air Museum in Walter Sisulu Square
If you're interested, you can even add the Soweto Tour to your big red bus ticket with either a one, or two-day city and Soweto combo tickets.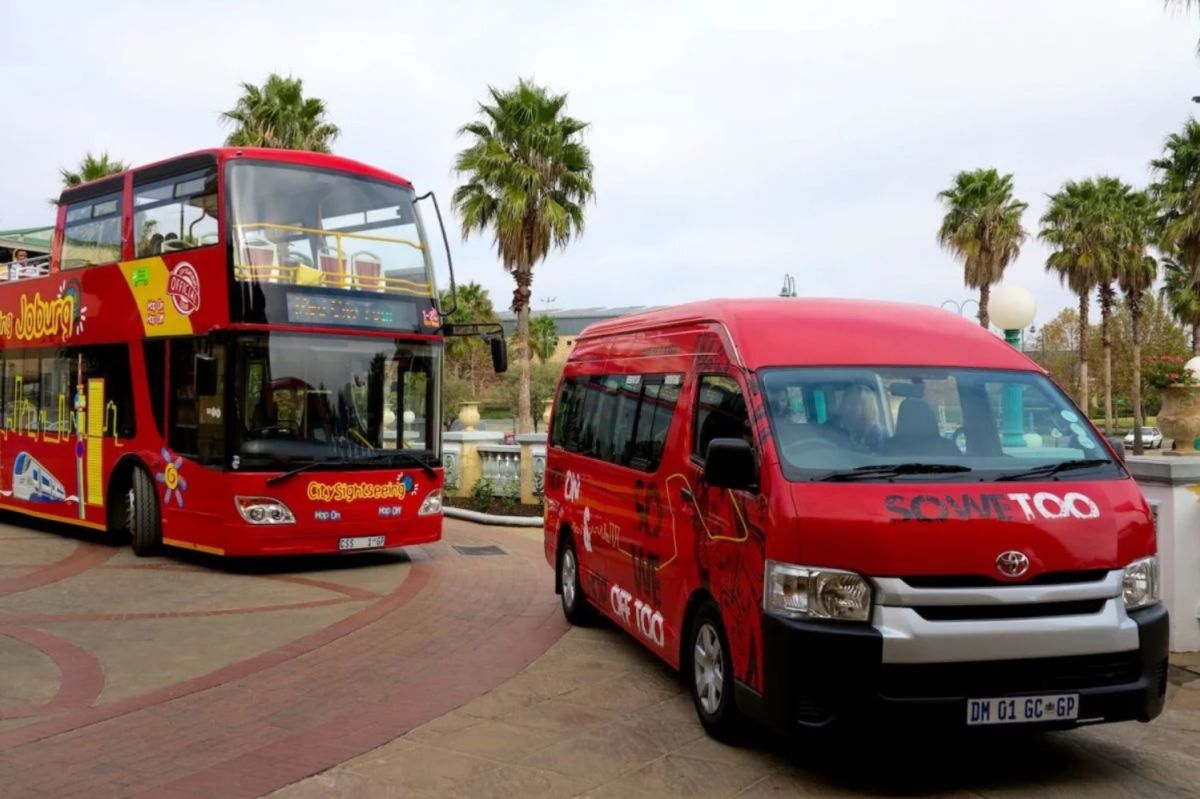 City Sightseeing Combo