With such a vast and trendy market scene in South Africa, most Capetonians would probably roll their eyes at the mention of a yet another market, but don't be fooled. Not all markets are the same, and Cape Town offers a number of them with a bit of a difference.
Where better to start than at one of the city's oldest markets?
More than just your typical African market, Greenmarket Square (Stop 5) is steeped in history as well as a cultural experience all on its own. Established in 1696, this cobbled square is the second oldest public space in Cape Town and has been a fresh vegetable market, a slave market, public wellpoint, parking lot and apartheid protest ground. Nowadays it is the site of a bustling market that offers a local craft market, some great local flavours, and even a few free music concerts.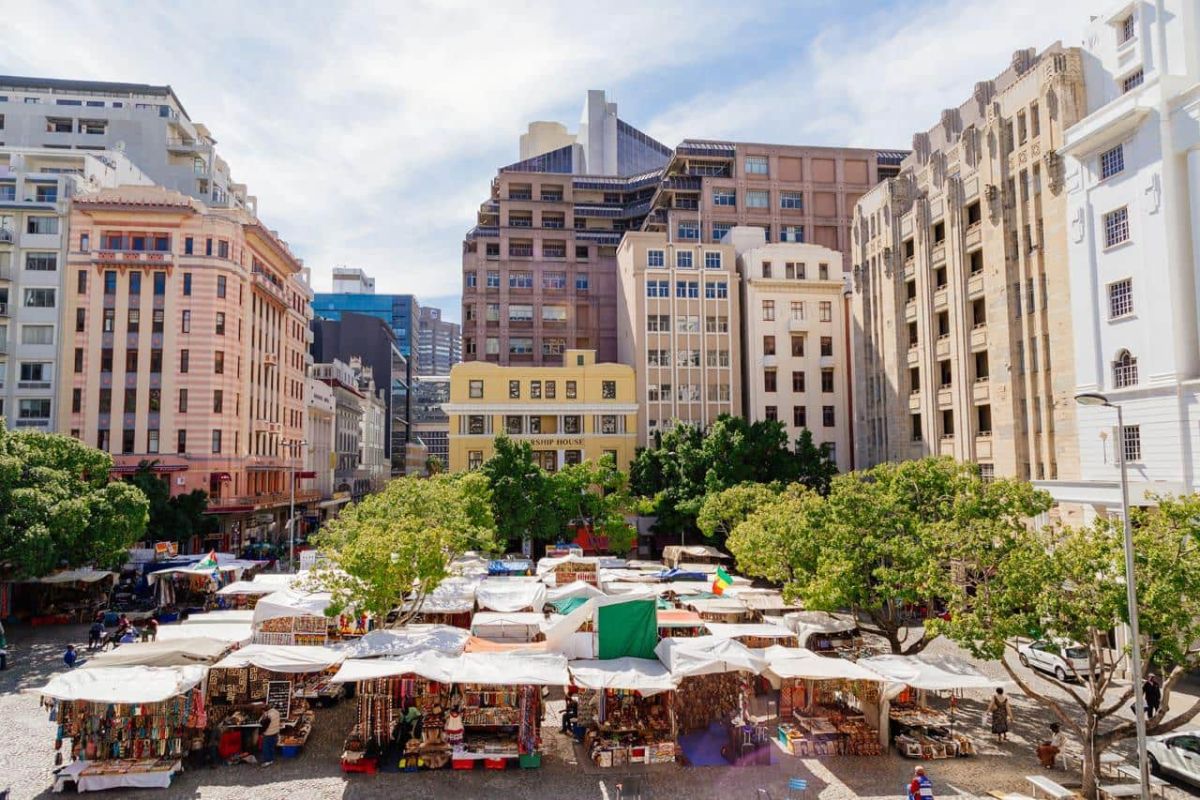 Greenmarket Square
Entrepreneurs and local traders sell a wide variety of goods including food, jewellery, clothing, art, crafts and fabrics. The square is always filled with eccentric local characters, buskers and street performers. There are also a variety of restaurants and cafés lined around the square to choose from.
The market is the first stop on our free walking tours, and is open Monday to Saturday, from 09:00 till 16:00.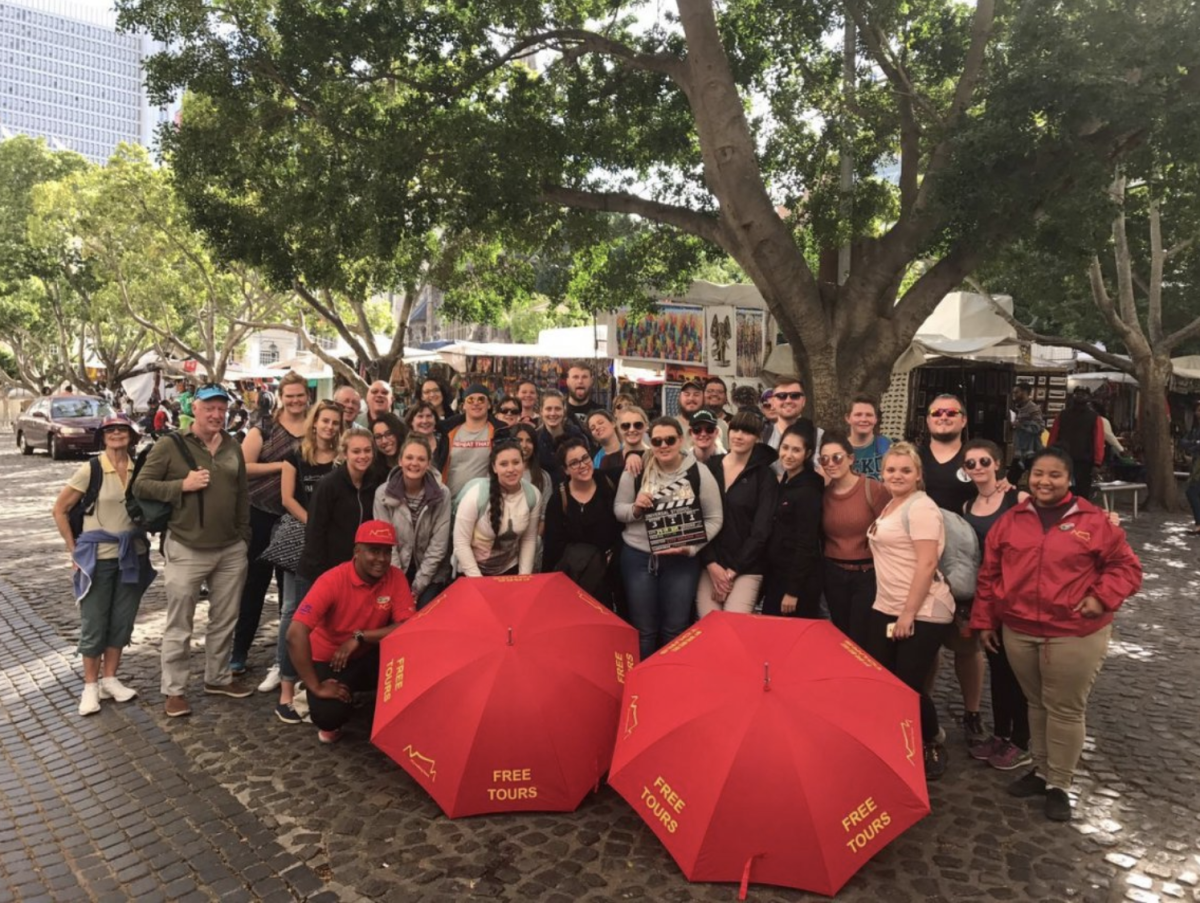 Check out the 'upmarket' market experience
Housed in an old and unused historic warehouse, the V&A Watershed's industrial space creates a high-street-like feel in a modern setting, and is able to accommodate a wider product offering in the form of small businesses.

Watershed at the Waterfront
This market-style retail space holds over 150 shops and 365 brands that produce varied items like accessories, textiles, fashion, jewellery, art, craft, and even ceramics, homeware and decor.
The market is open every day of the week from 10:00 to 19:00, so you'll have plenty of time to check it out.
Find your mojo all week long
With only a few 7-day-a-week markets in the Mother City, Mojo Market (Stop 10) is another one, and absolutely unique in its own way.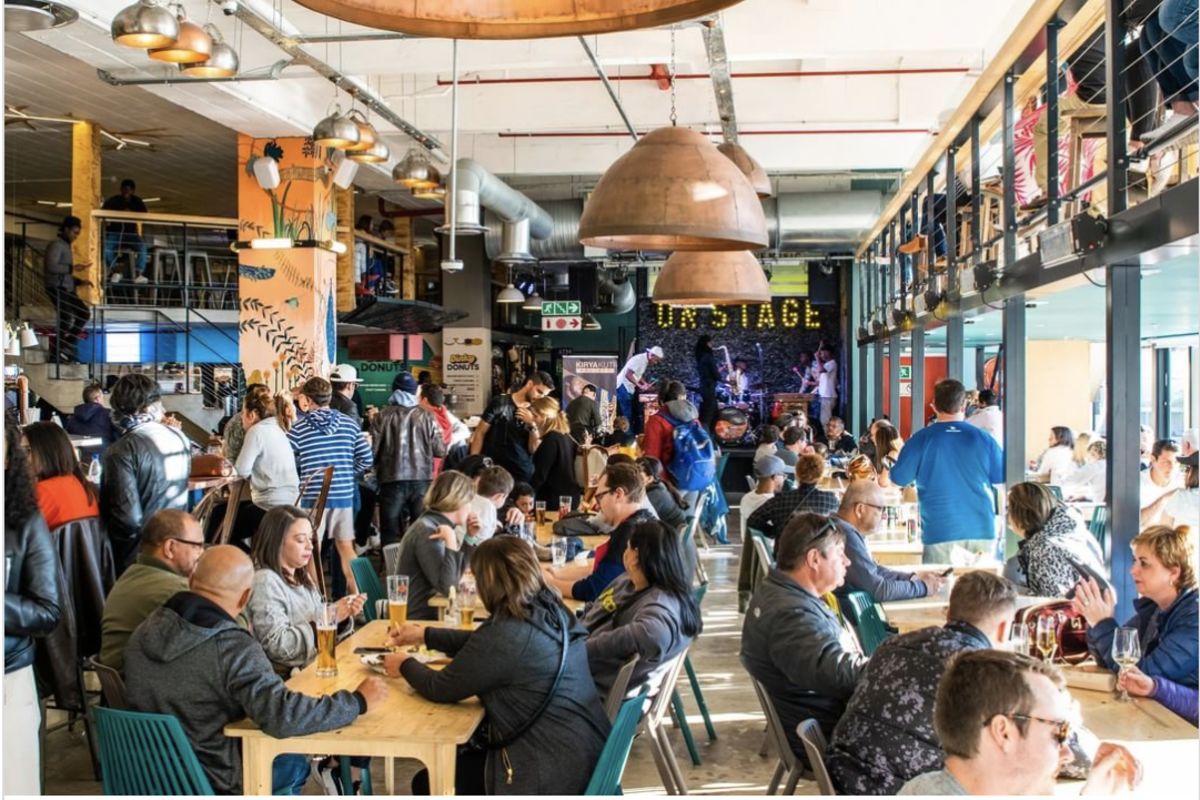 Mojo Market
The market boasts the usual offering of amazing designer and retail stores, but also live music, sport-screenings, multiple bars and the widest selection of beverages on tap in the southern hemisphere!
The market also offers a great ocean view, is dog-friendly, open from 20:00 till late allowing you a vibey and accessible location for dinner and drinks. With so much to offer, every evening is like a new experience.
The organic and sustainable solution
The Oranjezicht City Farm Market in Granger Bay (Stop 1) is a chilled and festive sea-facing market that celebrates food, culture and community by focusing on artisanal and hand-made food.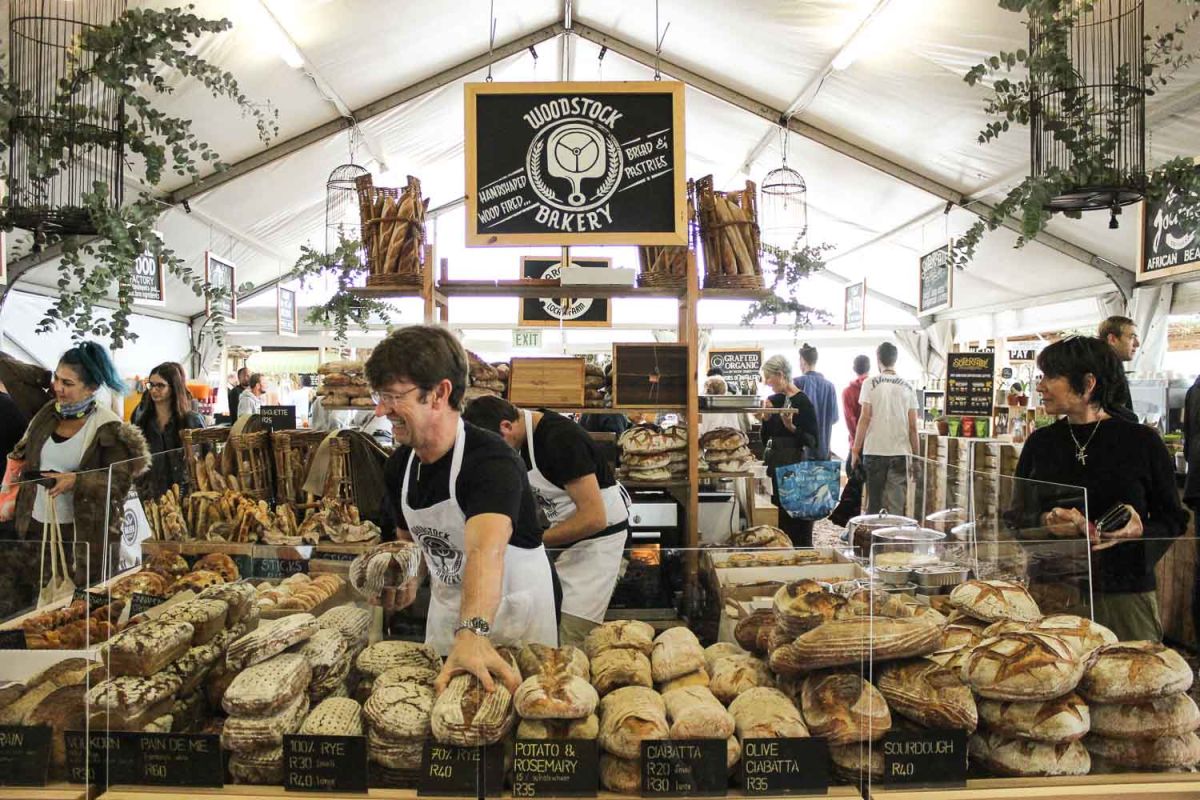 Oranjezicht City Farm Market
Every Saturday and Sunday morning (and Wednesday evenings season), you can purchase the wares of independent local farmers and artisanal food producers, find a collection of flowers, edible plants and gardening supplies, or even do your weekly grocery shopping with a choice of organic produce like fresh fruit and veg, breads, dairy products, raw honey, or ethically sourced meats and seafood.
As a true farmers' market, the Oranjezicht City Farm Market is also a plastic-free zone. You are encouraged to bring your own bags, or you can choose to carry your purchases away in cardboard boxes, reusable brown bags or baskets, or provide your own reusable coffee mugs.
The market is also a kid and dog-friendly place and is covered by tents and pergolas, ensuring it's open in all weather conditions.
When military and market come together
On selected Fridays of the month, you will find the casual-style Fort Food Truck Market at Fort Wynyard, a leisurely one-kilometre stroll from Stop 1 on the bus route. Here you will find a variety of food trucks, dessert vendors, a fully-stocked bar, kids entertainment options and a craft market.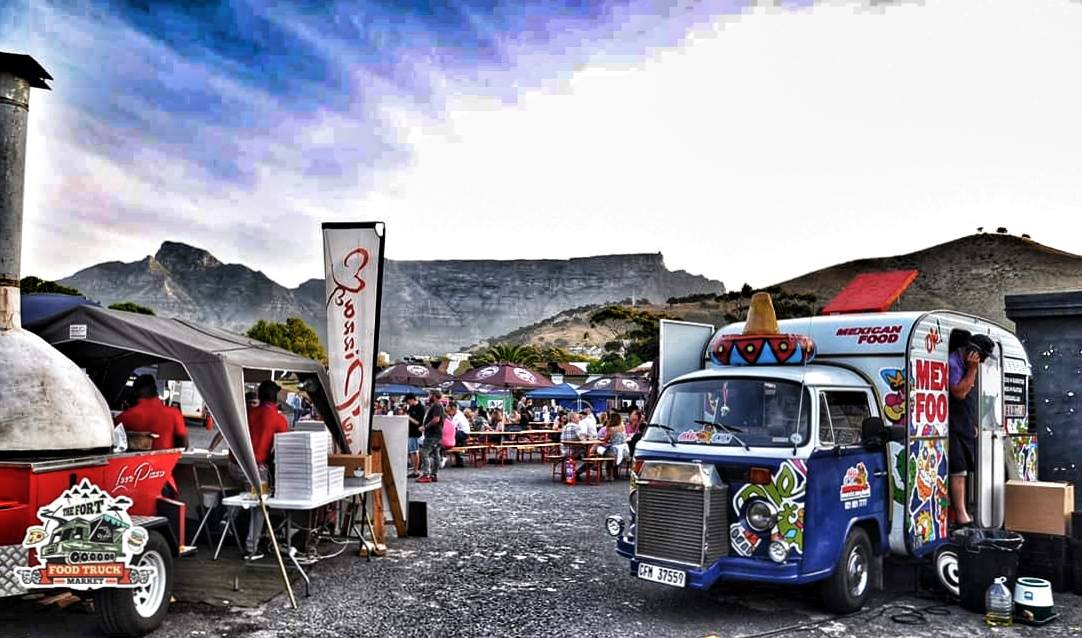 Food Truck Market
Fort Wynyard is a military base and artillery garrison steeped in history and dating back to the 1700s. With a labyrinth of tunnels, bunkers and impressive artillery pieces, be sure to take yourself on a self-guided tour of the army base, join one of the hourly guided tours, or book a ticket on a mysterious tunnel tour that departs underground directly from the fort.
Ride the railway like it still the 1900s
Why not combine your hop-on-hop-off bus ticket with even more adventure, and head out of the city to the Elgin Railway Market on a classic steam train ride through the countryside. Boarding the train from the Harbour Bridge Hotel near Stop 2, the 3-hour-journey takes you to the trendy steampunk station market in Elgin.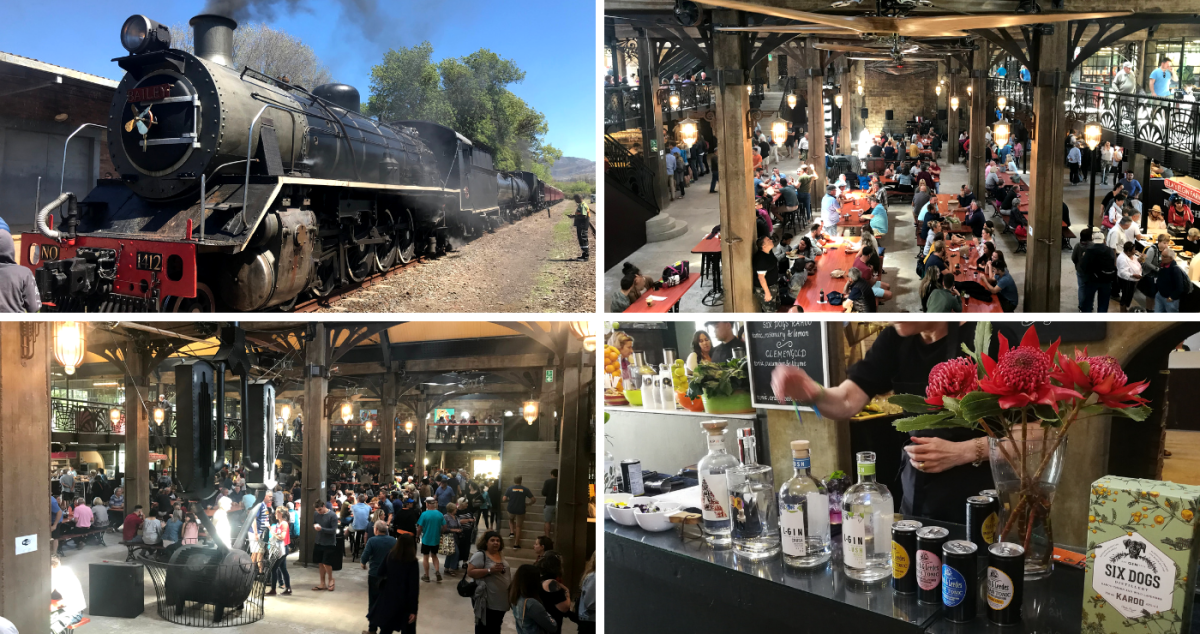 Elgin Railway Market
In this art-deco-meets-Victorian-architecture converted apple warehouse, you'll find local vendors, live music, a coffee shop, wine shop, and sinful craft gin bar. Open all week, the real festive market is open Friday to Sunday and offers you a full-morning adventure of epic landscapes, a journey for the whole family, food, drink, craft, and even surrounding activities including hiking, mountain biking trails and zip-lining. Getting a multi-day Sightseeing Pass is a quick and convenient way to get to and from the departure and arrival station and gives you the rest of the afternoon to explore the CBD with ease.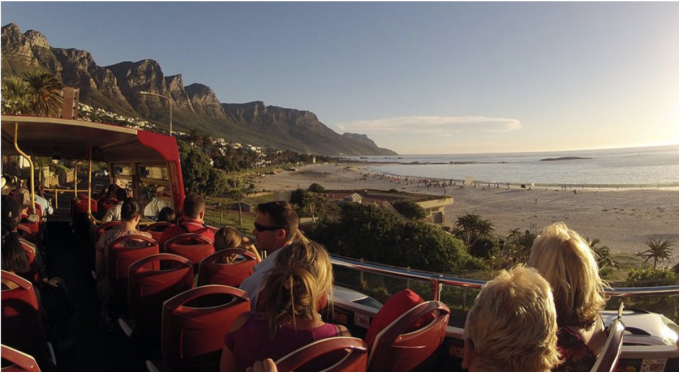 Evening views with City Sightseeing
Never underestimate Cape Town's ability to put on a must-see-market, and get out there with the big red bus to experience those that stand out from the norm.