October 2020
With so many attractions up and running again, we as locals are excited to rediscover the Mother City and all of her attractions, culture and history. And luckily the Iconic Red Bus is here to help you in rediscovering Cape Town. With so much to choose from where do we start? While with us you'll be able to enjoy and experience Cape Town with ease.
City Sightseeing Sunset Bus Tour
They say we should save the best for last but in this case, it's best to mention it first. The City Sightseeing Sunset Bus is back and is operating on Saturday evenings. This is the perfect idea for date night with the picturesque sunset at the top of Signal Hill, a glass of bubbles and your favourite treats. The bus departs from The V&A Waterfront and travels along the Atlantic seaboard up to Signal Hill where you'll have enough time to mingle, enjoy a picnic and watch as the day comes to an end. Just because the sun has set, does not mean the day is over, hop back on and enjoy the vibrant nightlife and city lights as you are transported back to the busy V&A Waterfront.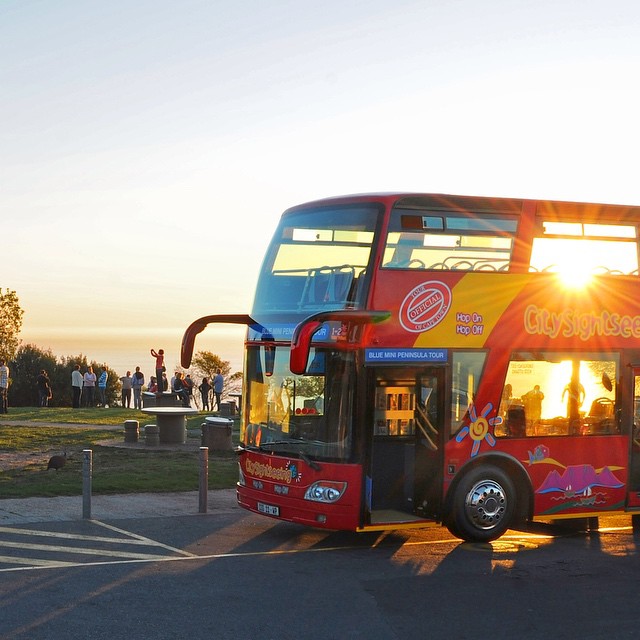 Sunset bus at Signal Hill
Hop on the Red Bus and take a City Sightseeing Tour
With it being school holidays soon, we have the perfect way to keep the little ones entertained. Hop on the big red bus and set a course exploring our Red Route where you can spend some quality time at the Two Oceans Aquarium learning about our marine life or head up to the 7th Wonder of Nature, Table Mountain, and see Cape Town from a birds-eye view. If you prefer the ocean air, why not hop-off at one of our beachfront stops (Stop 10, 11 & 12). Here you can take a stroll along the promenade, see the lighthouse, there's even a play area for the kids to play and get some fresh air.
If you would like to discover the more southern side of Cape Town than the Blue Route is the route to explore. Our Blue Route has just as many fun attractions for the whole family, like World of Birds with its unique birdlife and over 400 different species to learn about. If you prefer to see the beauty of Cape Town flowers and enjoy what nature has to offer than Kirstenbosch Botanical Gardens is the place to be. This is the perfect place to stretch your legs, let the children play on open grass fields and enjoy a picnic with the family.
However, the Purple Route might be the best if you're looking to spend the day in wine country with some good friends. The most recognised wine estate is Groot Constantia with two restaurants on-site, the Manor House Tour to learn more about the history of Groot Constantia, and wine tasting to find the next best wine. Simon's at Groot Constantia has recently reopened and ready to serve us those mouth-watering delicacies.
.
Explore the V&A Harbour with City Sightseeing Harbour Cruise.
Take to the sea and explore the V&A harbour and meet some friendly seals along the way. The Harbour Cruise is the perfect experience for all ages. This 30-minute cruise takes you along the V&A harbour where you'll see historic ships and buildings and learn how it came to be. Along the way, you might see the seals lazing around and waving to passing by vessels and cruises. So keep the cameras ready as they are always waiting for the perfect selfie. We have a bus and cruise combo (R450 per ticket - 2 adults & 2 kids (aged 4 - 17)) should you choose to explore both land and sea.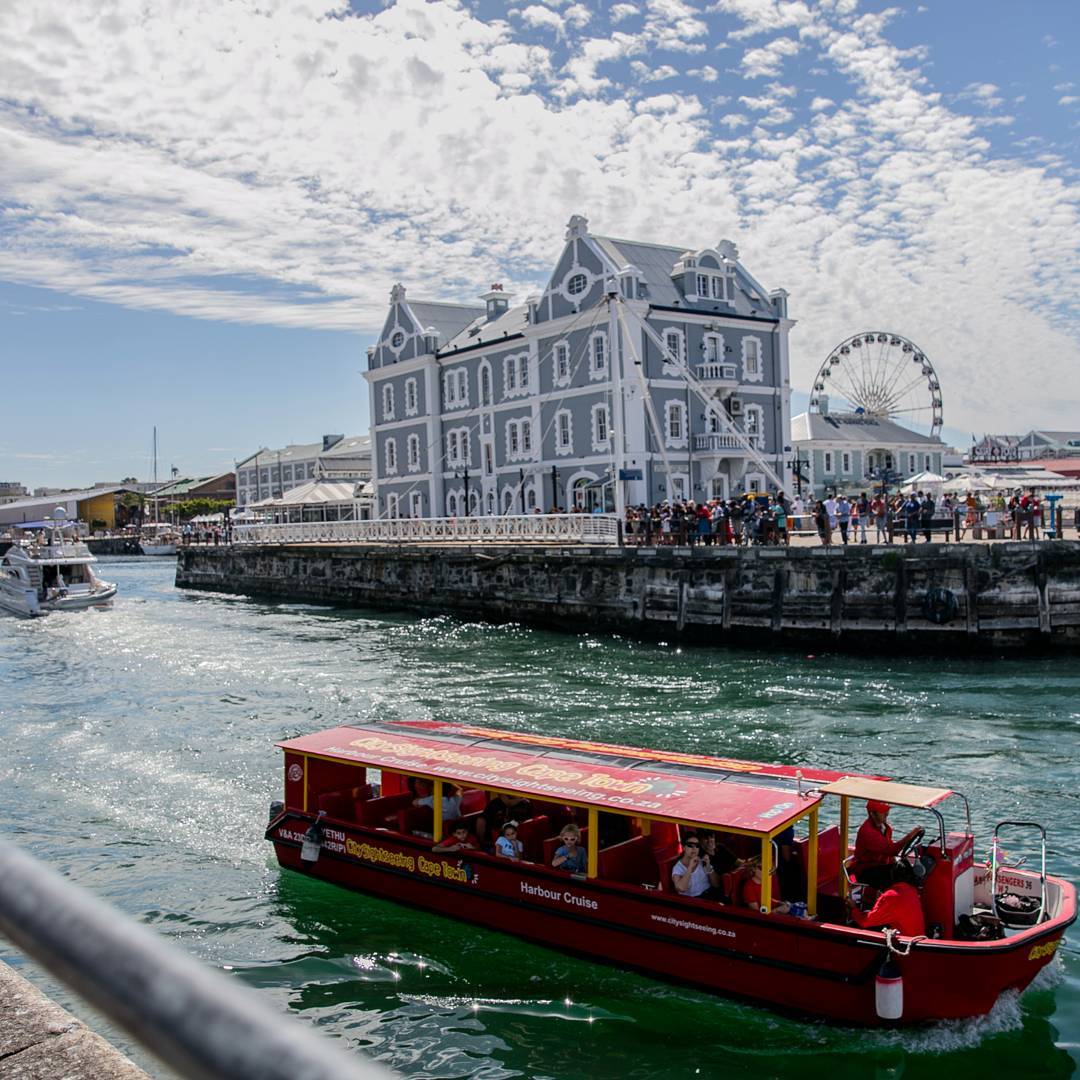 Harbour Cruise at the V&A Waterfront - See Family packages
Take a stroke on a City Sightseeing Walking Tours.
Nothing like a spring mid-morning walk and what better route to walk on and learn than on the historic walking tour. Here you'll be guided by our tour guides that know their history like no other, and each of them has their unique twists and turns to each story. The walking tour starts at our Travel Depot (Stop 5) in Long Street. Hop on at the V&A Waterfront and hop off at Stop 5 where the team will be waiting to take you on an adventure. Be sure to keep a lookout on their Facebook page for times and dates.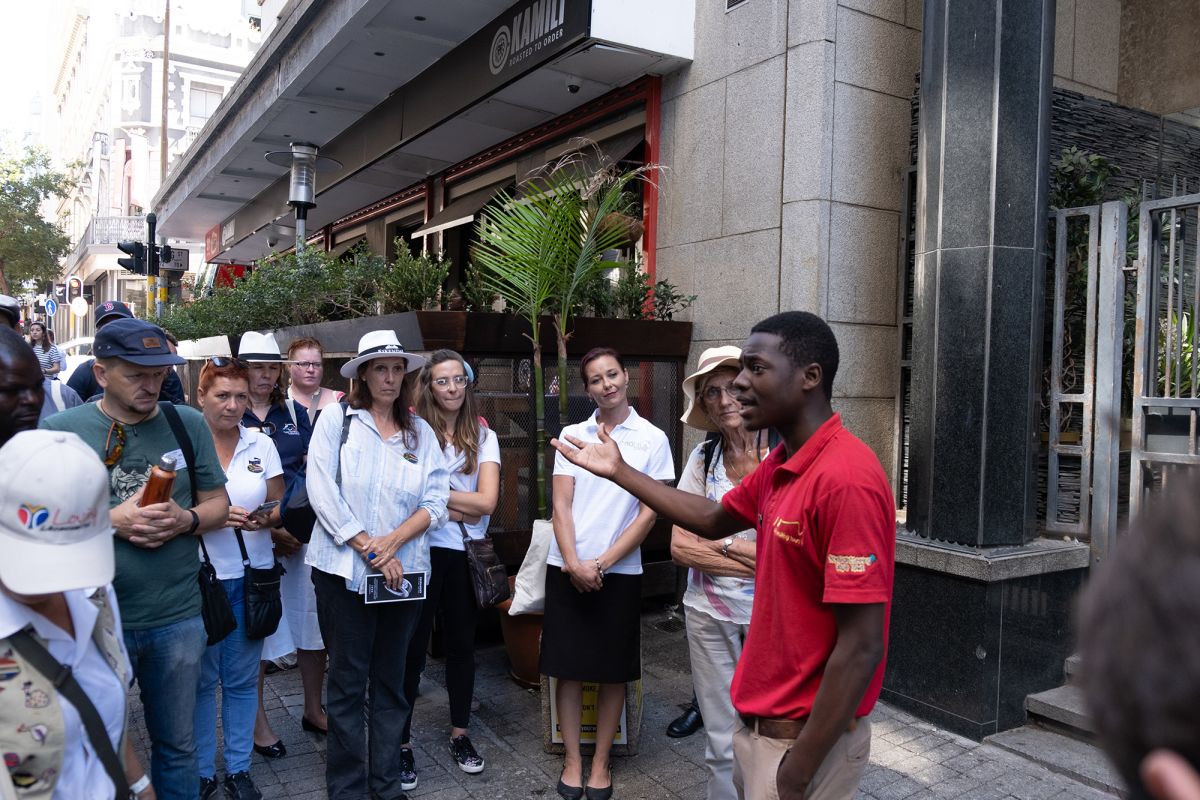 City Walking tours
City Sightseeing is the perfect way to explore Cape Town and to get to all of its attractions, be it on land or out in the harbour. Plan a full day on the bus and hop off at your favourite attractions or extend it over a weekend and experience all of Cape Town. Remember to have a look at our October specials as we have something for everyone.