Nov 2020
It was a long winter under lockdown, but now that the sun is out, it's time to explore the city and enjoy some fresh air and activities to get some much-needed vitamin D.
Fun in the sun on the beach in Camps Bay
Camps Bay (Stop 8) is well known for its long sandy beach, with a tropical feel with the palm trees that line the road of the Camps Bay strip. This beach is ideal for swimming, even though the water is cold, and has large boulders which you can jump off of into the calm, clear water. Adjacent to the beach is a large grassy area that offers shady, wind-free spots, and is, therefore, the perfect place for sunbathing, playing beach volleyball, or relaxing with the whole family. Deck chairs and umbrellas can be rented daily. In addition, the waves in this bay are ideal for bodysurfing.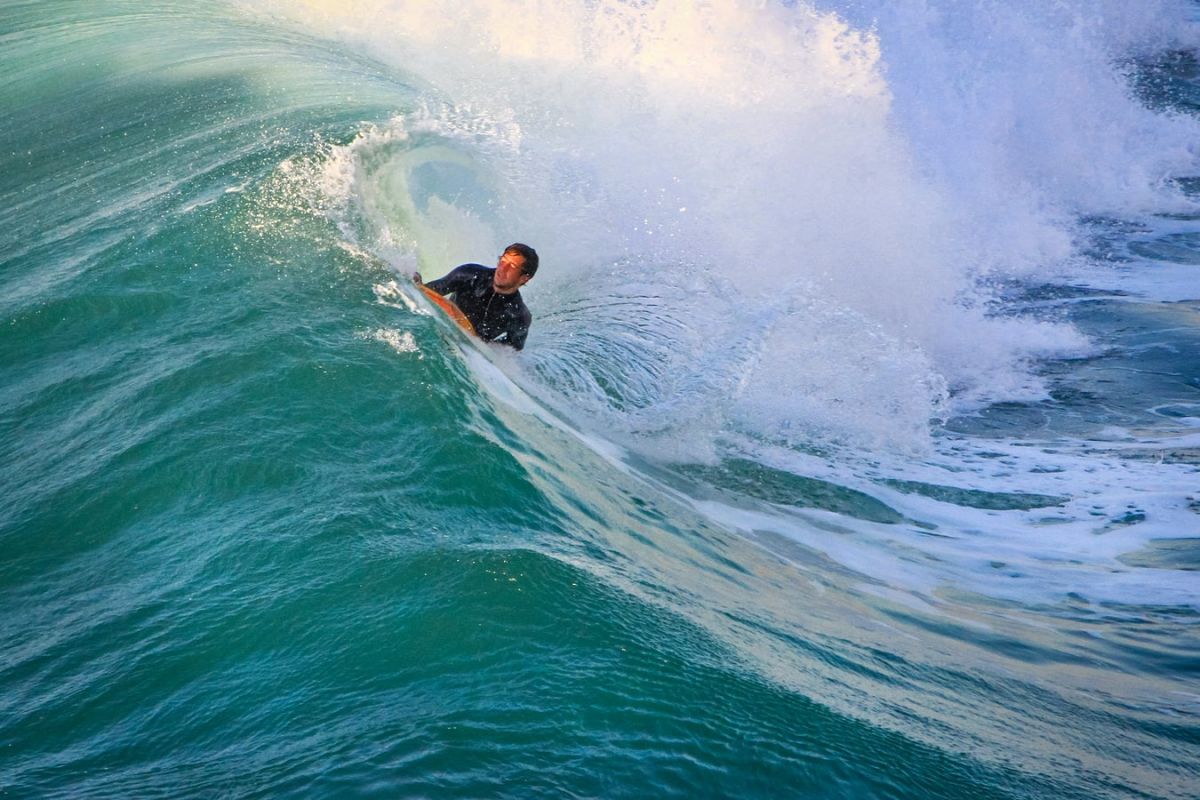 Bodyboarding & catching a wave
Sun and fresh air with City Sightseeing
Join us onboard our double-decker open-top bus. Be sure to sit on the upper deck to enjoy the sun and fresh air. Along our three routes, with over 30 stops, you'll have plenty of opportunities to hop off the bus and explore the Cape in the summer sunshine. Be sure to keep an eye on our website and social media for specials.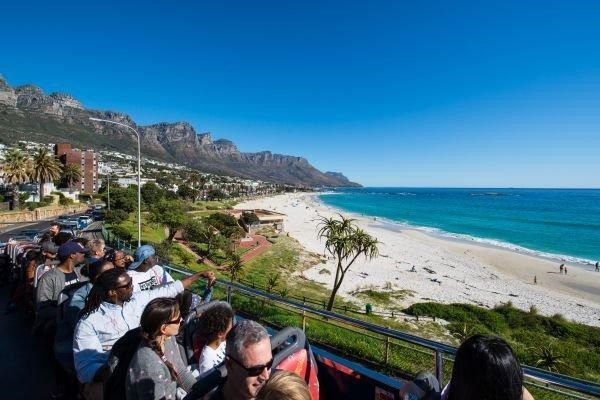 Sightseeing on the Red bus
Cycling along the promenade
At the Waterfront, Stop 1, at the Silo District, you will find Up Cycles bike rental. Here you can choose between their Dutch-style city bicycles, which are super easy to ride, are single speed with back breaks, or hire one of their e-bikes. Departing from the Waterfront along the Atlantic Seaboard, this route is easy to cycle, as the terrain is flat, so riders of all ages and fitness levels can enjoy the route. After the cycle along the promenade, you can either drop your bike at their Sea Point station (Stop 10) or continue onto Camps Bay (Stop 8).
Standup Paddle Boarding in Hout Bay
The beach in Hout Bay (Stop 24) stretches almost a kilometre in length from Chapman's Peak towards the harbour, providing plenty of space for games like beach volleyball, cricket, touch rugby, or even flying kites. For some water-based fun join SUP Hout Bay. This company rents out standup paddleboards, surfboards and wetsuits, and guarantees hours of fun for adults and children. They offer guided tours, one on one classes, as well as single or double kayak rentals. Also, they offer a special yoga supping experience on request. How zen is that?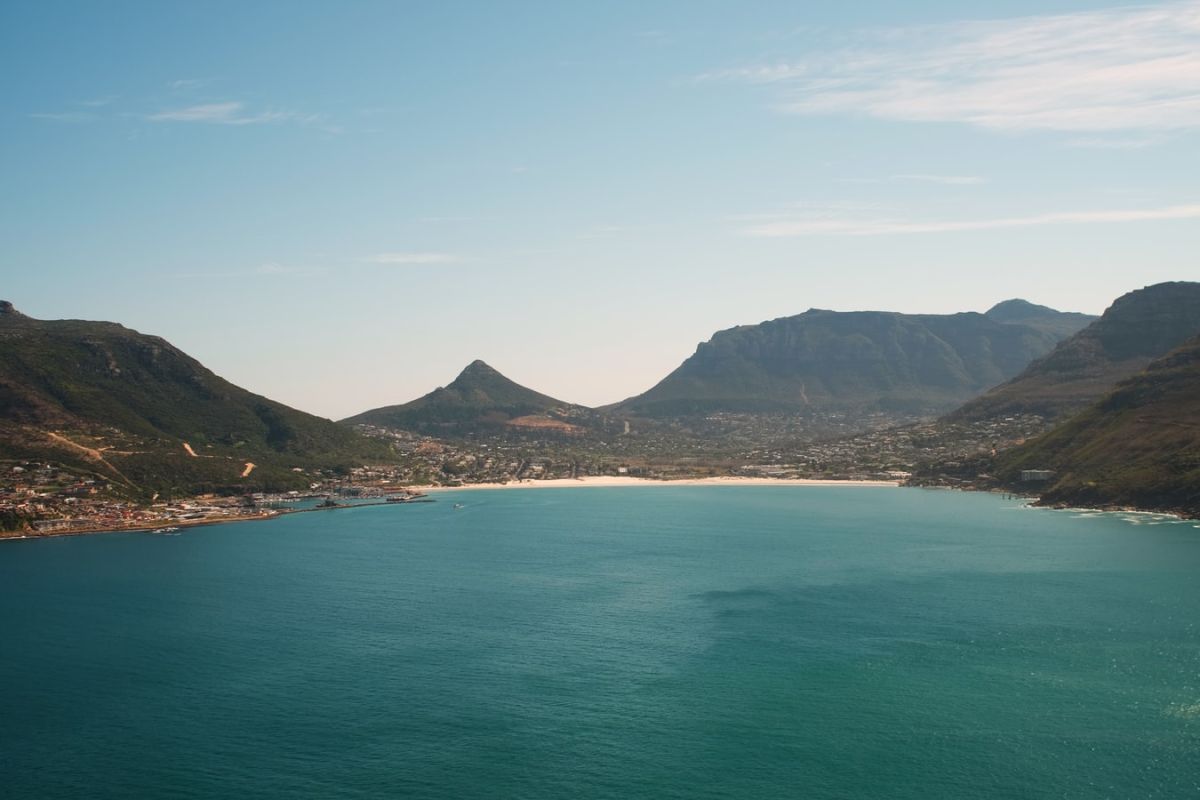 Hout Bay Beach
Visit Beau Constantia
Located at Stop 27 on our Purple Wine Route, a must-visit estate is Beau Constantia. With over 11 hectares of vineyards, 2500 protea plants, and 2000 silver trees on their estate, this beautiful boutique estate has vista's over False Bay and is at an elevation of 350m above sea level.
Their wine tasting is open from Tuesday – Sunday 11h00 – 17h00 and having produced over 45000 bottles of wine, you'll be spoilt for choice. Alternatively, have lunch at Chef's Warehouse, the award-winning restaurant at Beau Constantia. Choose to sit indoors in their open-plan glass-fronted restaurant, or sit in the sun on the deck which offers views over the Constantia Valley. Their operating hours are from 12.00 until 14.30 for their lunch services, with dinner offered from 17.30 until 19.30, Wednesday to Saturday and lunch only on Sundays. Their tapas-style fine dining menu offers a blend between a traditional tasting menu and a small sharing plates experience. All their produce is s local, partly grown on the farm, and is always seasonally-driven. Be sure to book in advance for this popular eatery.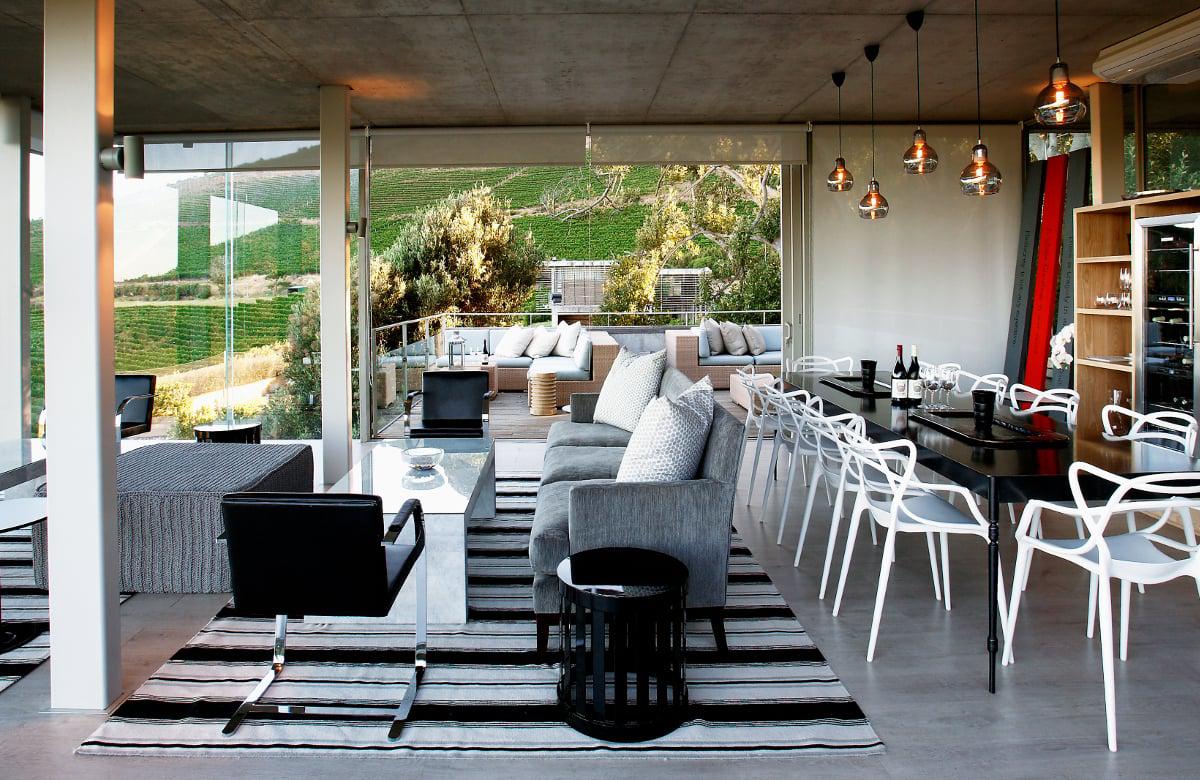 Lunch with a view at Chefs Warehouse
Spend time in the sun at Kirstenbosch
Located at Stop 20 on our Blue Scenic Route Safari, visit Kirstenbosch Gardens for some time in the sun and nature. This botanical garden with its perfect emerald green lawns, spreading out from the foot of Table Mountain, offers a variety of activities to be enjoyed during the summer months.
Take a walk along the 130m-long tree-top walkway that snakes above the botanical garden, giving an aerial view of the gardens and parts of Cape Town beyond. Join a free guided tour of the gardens. This haven is not just lawns, trees and flowers, but also offers themed gardens looking at medicinal plants, indigenous species, and endangered plants among others. These tours last around 90 minutes and take place from Monday to Saturday. On a really sunny day, if you're wanting to cool off, experience the waterfall where the gardens meet Table Mountain. Start at the Fragrance Garden and follow the "Skeleton Stream" which will take you to "Skeleton Waterfall". Once crossing over the Nursery Stream twice you'll end up where you started.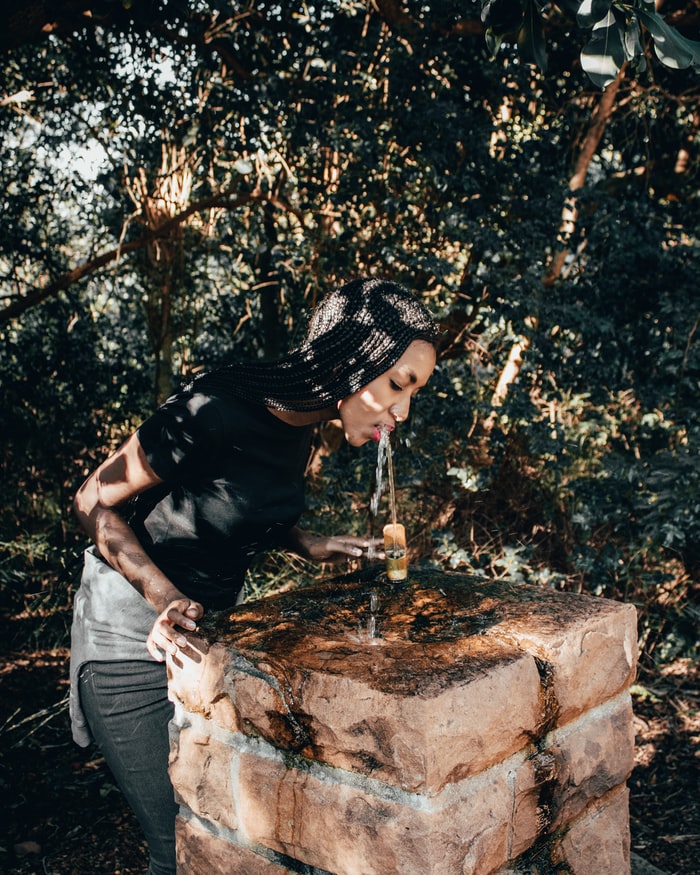 Kirstenbosch
Paragliding off Signal Hill
For the adrenalin junkies, experience a tandem paraglide off of Signal Hill. Accompanied by trained and experienced guides, you will glide over the Atlantic Seaboard, enjoying birds-eye views of the city, the ocean, and the Twelve Apostles Mountain range. The Cape Town Tandem Paragliding company accepts guests of all ages and fitness and no previous knowledge of paragliding is required. Your pilot will brief you on all aspects of the flight, from take-off to landing. There's something to be said about soaring above the city, with the wind on your back, and the sun in your face!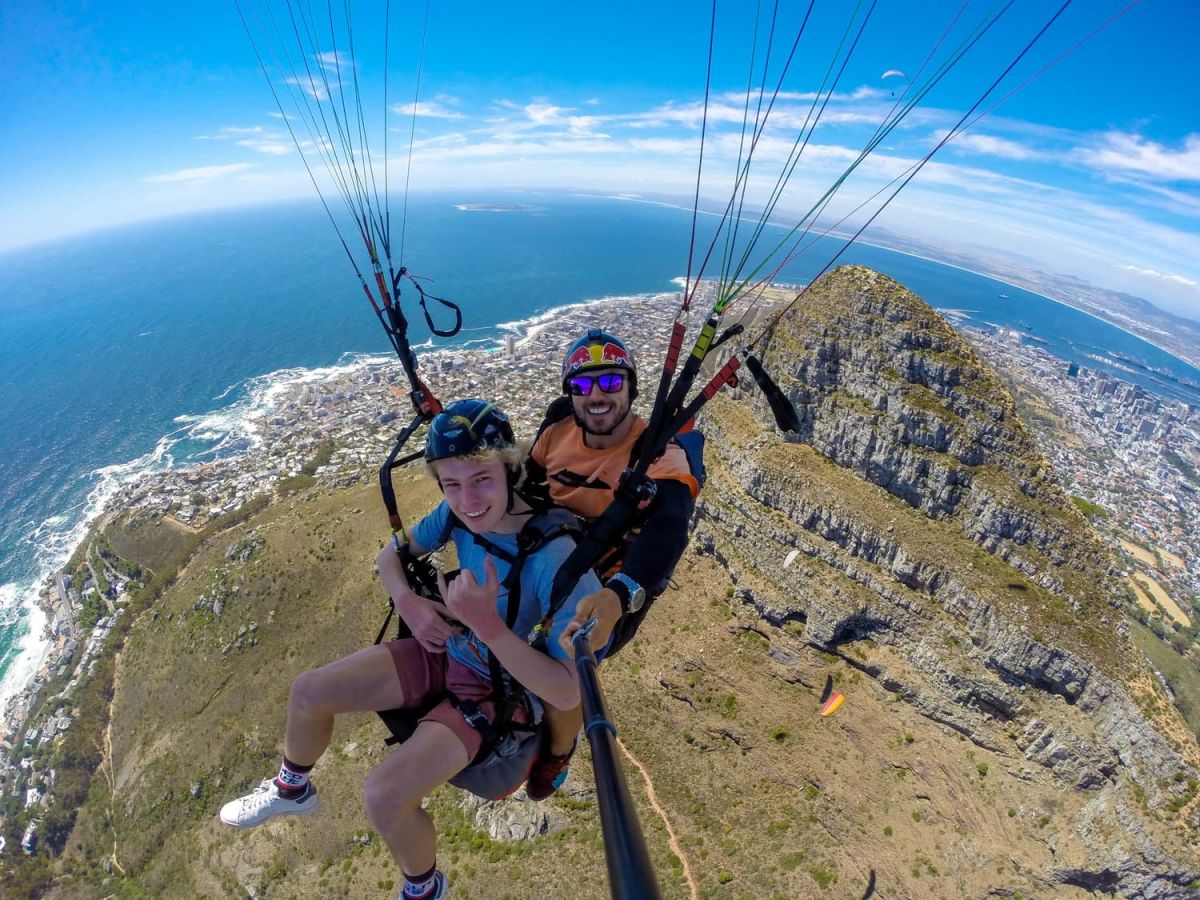 Paragliding Cape Town
Signal Hill can also be accessed on our Summer Sunset Tour. Departing from Stop 1 at the V&A Waterfront at 17:30. The tour is approximately 3 hours, depending on sunset and time spent on Signal Hill. Enjoy the last hours of the summer sun, whilst enjoying your picnic, watching the sun dip into the Atlantic Ocean.
It's time to enjoy the sunshine of the Mother City, so let's make the most of it! The days are longer, the nights are shorter, so temperatures are hotter and the Peninsula is waiting for you to explore it.