April 2021
School holidays are around the corner and it is time to start planning your staycation in the Mother City. Cape Town offers so many amazing places to visit, and includes something for everyone. We have highlighted the best experiences to enjoy as families, friends and the solo traveller.
Family fun
Keeping the kids entertained during the holidays is always a challenge. Constantly thinking of things to do to keep them busy and away from their electronics, we have listed a few must-see places for the little ones in your life.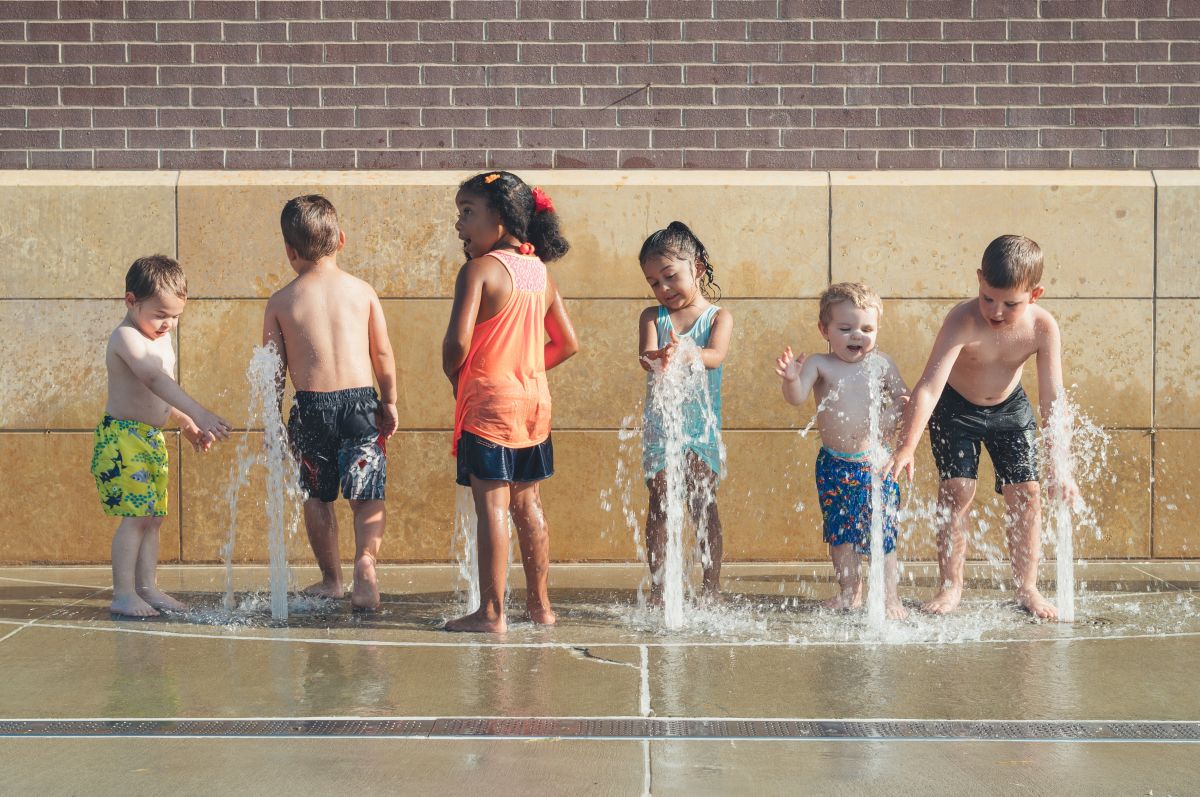 Kids playing outside
● A family day on the Red Bus with City Sightseeing - Needless to say, this is a no brainer! Jump on board and discover the city with your kids. No need to search for parking or keep the kids entertained in the car. Leave that up to us! Our onboard kids' channel will keep them entertained and there are so many family-friendly places to visit on our 3 routes and over 30 stops.
● Two Oceans Aquarium (Stop 1) for some educational marine fun this is a much-loved attraction for young and old. Visit the penguins or see the predators in action.
● Green Point Urban Park (Stop 12) spend the day outdoors and relax while enjoying a picnic. There are plenty of activities for the little ones.
● Clay Café in Hout Bay (Stop 24) get creative and spend the morning making clay art. A perfect outing for the young creatives.
● Acro Branch in Constantia (Sop 21) is for the adventurous and energetic young and old.
Fun with your friends
Needing some time out with your friends? Are you looking for places to kick back, enjoy the sun and summer vibes, and reconnect after a busy and stressful year? Some great places to do just that are the following: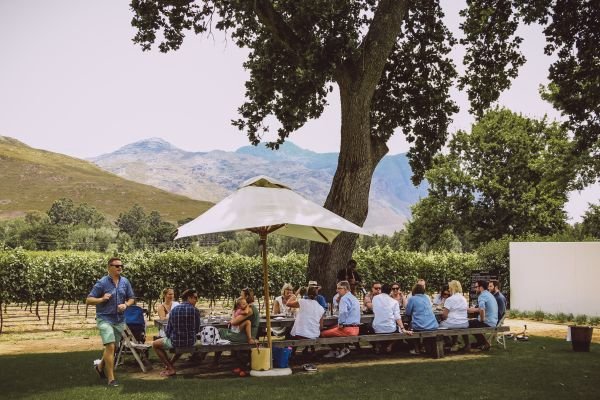 Picnic with friends
● The Franschhoek Wine Tram is one of the best experiences with a group of friends who enjoy wine tastings and fine food. Hop on board our luxury coach and head to Franschhoek to spend the day on the wine tram, where you can hop on and off and visit various wine estates.
● Experience a picnic under the stars with the Galileo Experiences. They are now offering three experiences:
a. The Royale: A VIP experience at a selection of intimate venues around Cape Town – two of which are along our routes. Sukkerbossie in Hout Bay (Stop 24) and Cellars Hohenhort in Constantia (Stop 21).
b. The Picnic: the classic Galileo experience with many local food vendors situated at various wine estates across the Cape, as well as Kirstenbosch Botanical Gardens (Stop 20).
c. And finally, The Drive-In which is being hosted In Rondebosch at Vredenhof Sports Fields, as well as the Cape Academy in Constantia (Stop 21)
● Sunset cruising while sipping on champagne and watching the sun dip into the Atlantic Ocean. Numerous options are available from Stop 1 with Waterfront Charters. Enjoy the setting sun from the deck of a luxury vessel with a glass of local sparkling wine.
● Enjoy live music and entertainment at the Hout Bay Harbour Market (Stop 24). Taste delicious food from the many artisanal vendors, sip on local craft beer, and enjoy the vibes with the amazing line-up of bands and DJ's.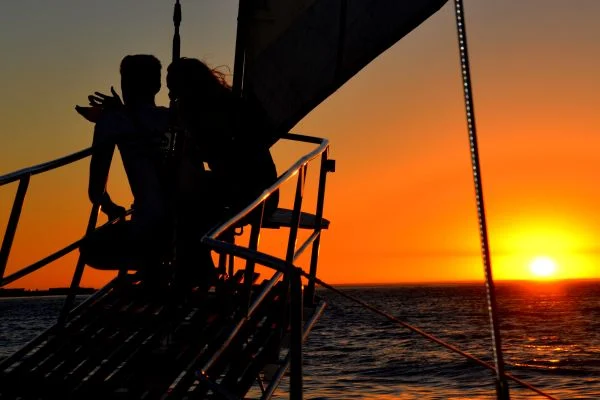 Sunset Cruise
Flying Solo
Travelling solo can sometimes be intimidating, but many people amongst us enjoy exploring the city on their own steam. And it definitely doesn't have to be boring or lonely!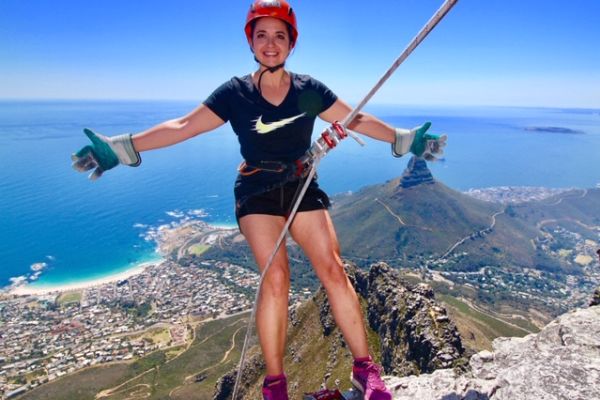 Abseil Table Mountain
● Get lost in a local market and enjoy fantastic food. There are so many great markets to choose from. The Watershed Food Market at Stop 1 in the Waterfront; the Neighbourhood market at the Old Biscuit Mill or the Oranjezicht City Farm Market in Granger Bay, walking distance from the V&A Waterfront. And finally, the Mojo Market situated in Sea Point (Stop 10).
● Experience adrenalin - many adventure activities are pretty hard to do with a friend in the first place, so there's no better time to get your adrenaline pumping than when you're alone.
o Abseil Table Mountain (Stop 7).
o Take a helicopter flight from the Waterfront (Stop 1) where you can experience anything from a 12-minute to a 45-minute flight where you will have views over the city, the beaches, Twelve Apostles Mountain Range, or even as far as flying over Cape Point National Park.
o Paraglide off of Signal Hill which is also accessible on our Sunset Bus Tour
o Book an adventure with Cape Side Cars, experience the city sights on a tour in a chauffeur-driven vintage sidecar, from the V&A Waterfront to the charming Noordhoek Village via the scenic Atlantic Seaboard and the stunning Chapmans Peak Drive.
● Spend time on the water – Join us on our Harbour Cruise, located at Stop 1 in the Waterfront. Or spend some time in the water while enjoying a Seal Snorkelling Experience in the Waterfront, or head out to Gansbaai and enjoy an adrenalin-packed dive with the Great White Sharks.
● Join a walking tour and get lost in the crowd, starting from Stop 5 at our city offices. A free walking tour that covers either the Malay Quarters of the Bo Kaap or the historic inner city tour which sees you visiting numerous museums as well as the Company Gardens.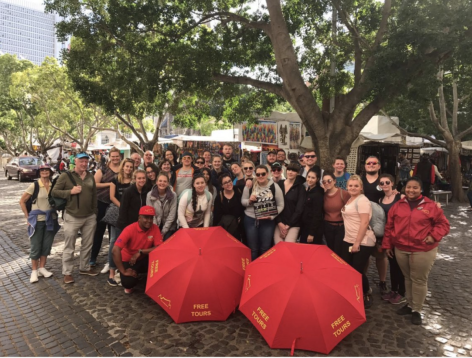 Walking Tour
Many of the experiences listed above are included on the City Pass which offers over 80 attractions and is a great way to book and experience the best of Cape Town!
It is no surprise that Cape Town has a little bit of something for everyone. So, start your planning early and be ready to enjoy your holiday in The Mother City.