April 2021
The countdown is on. Two weeks to go until the final school bell rings for this term and schools break up. With a full week of holidays, are you looking for inspiration on where to go, and what to do? Not to worry, we have done some research for you to keep the kids busy and have some fun.
With many special offers at the moment, you are spoilt for choice for a family day out with City Sightseeing.
Hop onboard our famous Red Double Decker Open Top bus that offers the perfect entertainment for young and old. Across our 3 different routes, with over 30 stops, you can get closer to famous landmarks on our sightseeing bus tours. We have onboard commentary specifically designed to entertain the kids whilst mom and dad can sit back, relax, not have to worry about parking. Let our expert drivers take you on a tour around the Mother City.
● Our family Package price is only R490 which includes two adults and two children aged 4-17.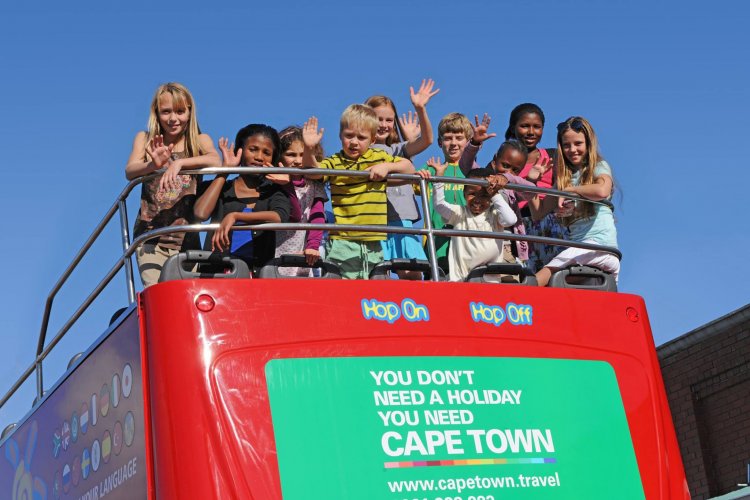 Fun onboard
Another fantastic special is our full day trip to Cape Point, the Cape of Good Hope and the Penguins. This tour is hosted by one of our local enthusiastic, knowledgeable guides for a unique and memorable day to see Cape Town's very best. This tour offers lots of time off the bus to explore the Boulders Beach penguin colony, Cape Point and the Cape of Good Hope. Your kids will love to watch the cute little penguins swimming in the bay.
● The online discount price for this full-day tour is R395 per adult and R240 per child.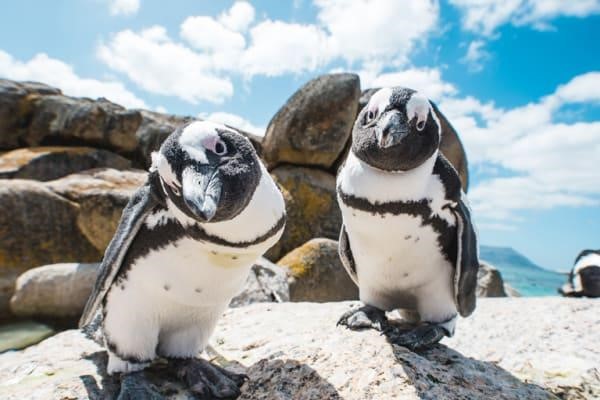 Penguins at Boulders Beach
For those that enjoy the water, join one of our fabulous cruises. Spot seals, learn about the history of the Waterfront harbour and see Cape Town canals from a fresh angle that you won't see from the road. You can choose from either the V&A Waterfront Harbour Cruise or the Canal Cruise. Don't forget our daily 2 for 1 cruise special. This special is valid from 3 pm - 5 pm daily, and the tickets can be purchased at our ticket office.
● Our online Family Package price is only R125 which includes two adults and two children aged 4-17.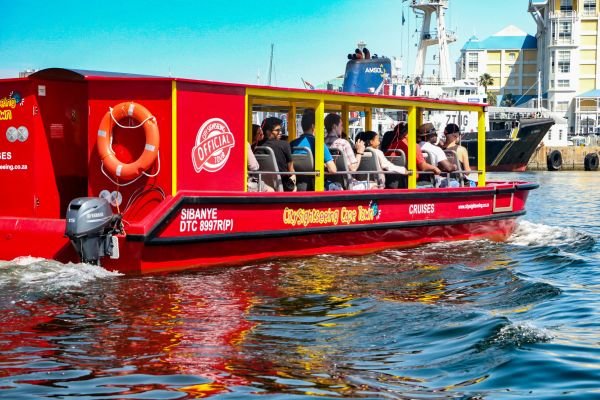 Harbour Cruise
Be sure to follow us on our social media page to see the many other fantastic specials we are offering such as:
● Bus and Fish and Chips Lunch in Hout Bay - R265 per adult and R165 per child
● Boat and Burgers – R95 per adult and R75 per child
● Boat and Breakfast – R89 per adult and R65 per child
We also have weekly specials that are announced every Monday.
When on board with us, there are so many activities to experience and sights to see along our routes. We have listed our top 10 suggestions below. We have even put them in order of our stops so that you can plan your day.
Two Oceans Aquarium (Stop 1)
With live ocean exhibits housing seahorses, octopus, rays, turtles and fish of all shapes and sizes, this world-class aquarium has over 350 species on display, and standout exhibits include the Shark Exhibit, the African penguin colony, and the underwater tunnel at the I&J Ocean Exhibit. Be sure to look out for Dory and Nemo.
The Scratch Patch and Cave Golf (Stop 1)
The Scratch Patch is such an exciting and fun experience. Purchase a bucket and search for some semi-precious and beautiful stones. In addition to finding these wonderful gems, there is also an 18-hole mini-golf cave course that includes rock-wall features, caves, and obstacles.
Battery Park (Stop 1)
This urban park offers loads of activities to keep the kids entertained. It is home to a scooter path, a high-quality skatepark and a multi-court for netball, basketball and soccer games, stand-up paddleboarding and canoeing in the canal.
Table Mountain (Stop 7)
There is no better way to view Cape Town than from the top of Table Mountain. Your kids will be so thrilled by the experience – from starting the journey on the rotating cable car to the summit, you will feel like you're on top of the world.
Image Name: On top of the world - Image via Cape Town Travel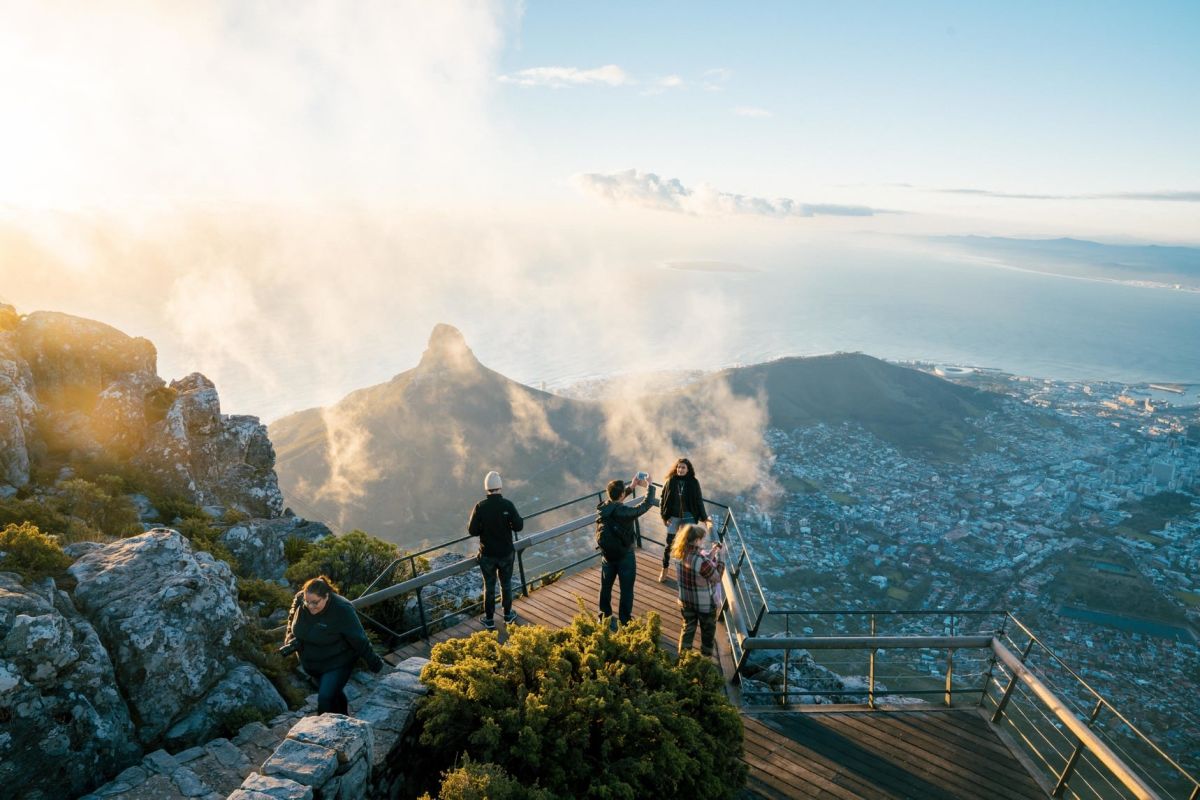 Table Mountain
The Blue Train Park (Stop 12)
Situated on the beautiful promenade at Mouille Point the Blue Train has been choo-chooing its way along this route for over 60 years. The kids can enjoy three laps around the park, through a tunnel and past the ocean. In addition, the park also offers a dirt bike track, a cement push-bike track, a 30m zip-line, two eight-metre-long slides, seesaws, rock-climbing, two jungle gyms, an obstacle course, and an AstroTurf soccer pitch.
Green Point Park (Stop 12)
Enjoy an afternoon picnicking on the open lawns while the kids run free, take a walk, run or cycle in the fresh air. There is also a jungle gym, slides and tunnels as well as a bricked path along the water where the kids can cycle safely.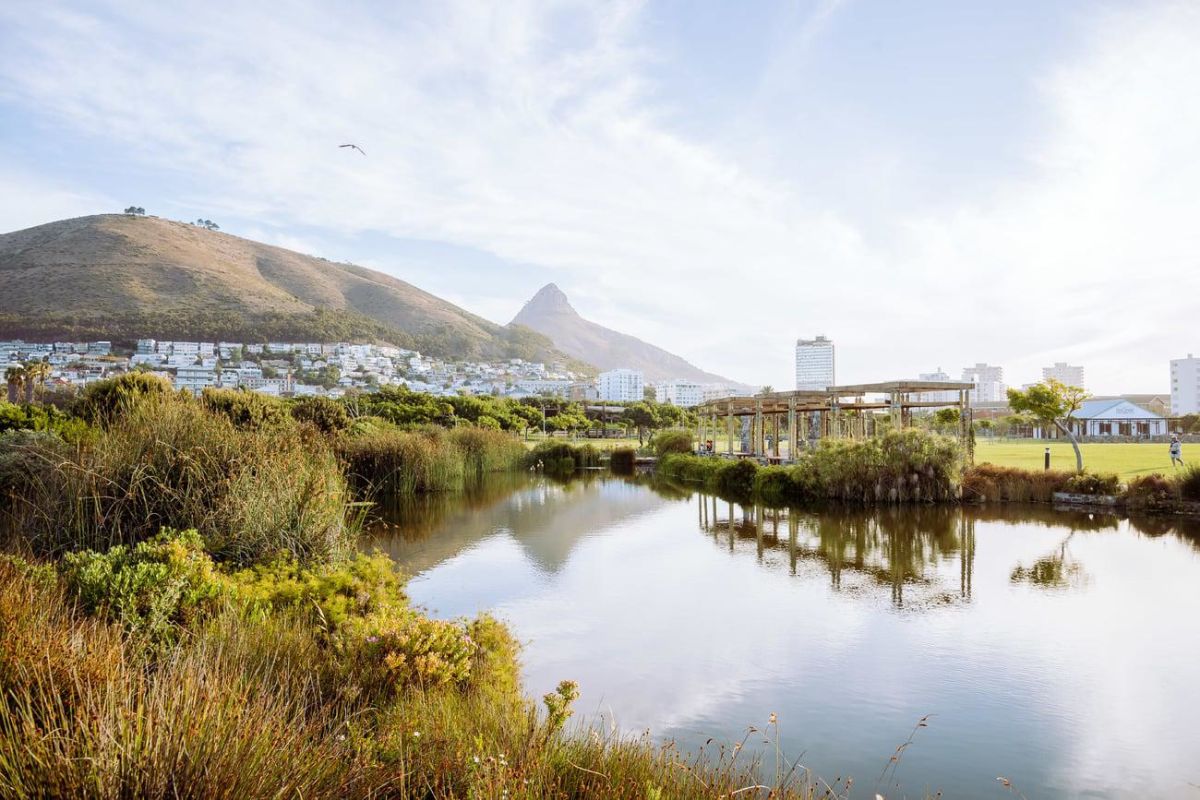 Green Point Park
The Company's Gardens (Stop 15)
The perfect stop to let your kids enjoy the luscious gardens set in the middle of Cape Town CBD. Talk a walk, pack a picnic and throw down a blanket, and feed the squirrels. Be sure to show your kids the giant birds' nests that they can climb into. A picture-perfect moment.
Kirstenbosch Botanical Gardens (Stop 20)
A fun outing for the whole family. Take a tree-top walk along the Boomslang Canopy, pack a picnic, stop by the tea room for a cup of tea and a scone, or enjoy a hike on one of the many trails.
This popular ceramic-painting venue that has been operating for over 20 years is a firm favourite among adults and kids alike who enjoy being creative. You get to choose your unfired ceramics, paints, brushes, tools etc. After painting and decorating, they will fire and glaze your creative designs and will notify you via email when you can collect them.
A boat trip to Seal Island in Hout Bay (Stop 24)
This is an exciting, child-friendly 40-minute cruise from Hout Bay Harbour to Duiker Island, the Seal Colony, where you can view thousands of wild Cape Fur Seals, close up in their beautiful natural habitat.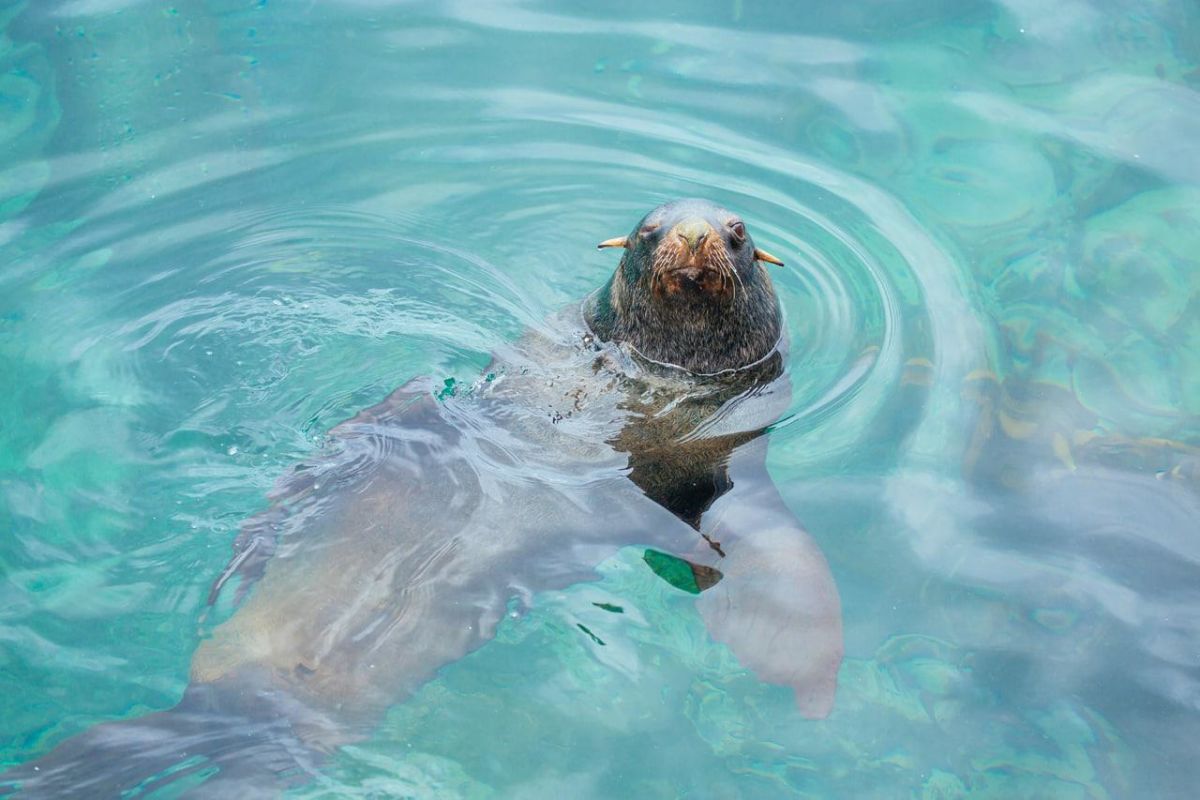 Seal Island
It's time to plan the week, schedule your outings, and keep the kids entertained these holidays. Our city has so much to offer, so hop on board, bring the kids out and explore the Mother City.