AVAILABLE DAILY
Canal: Boat & Breakfast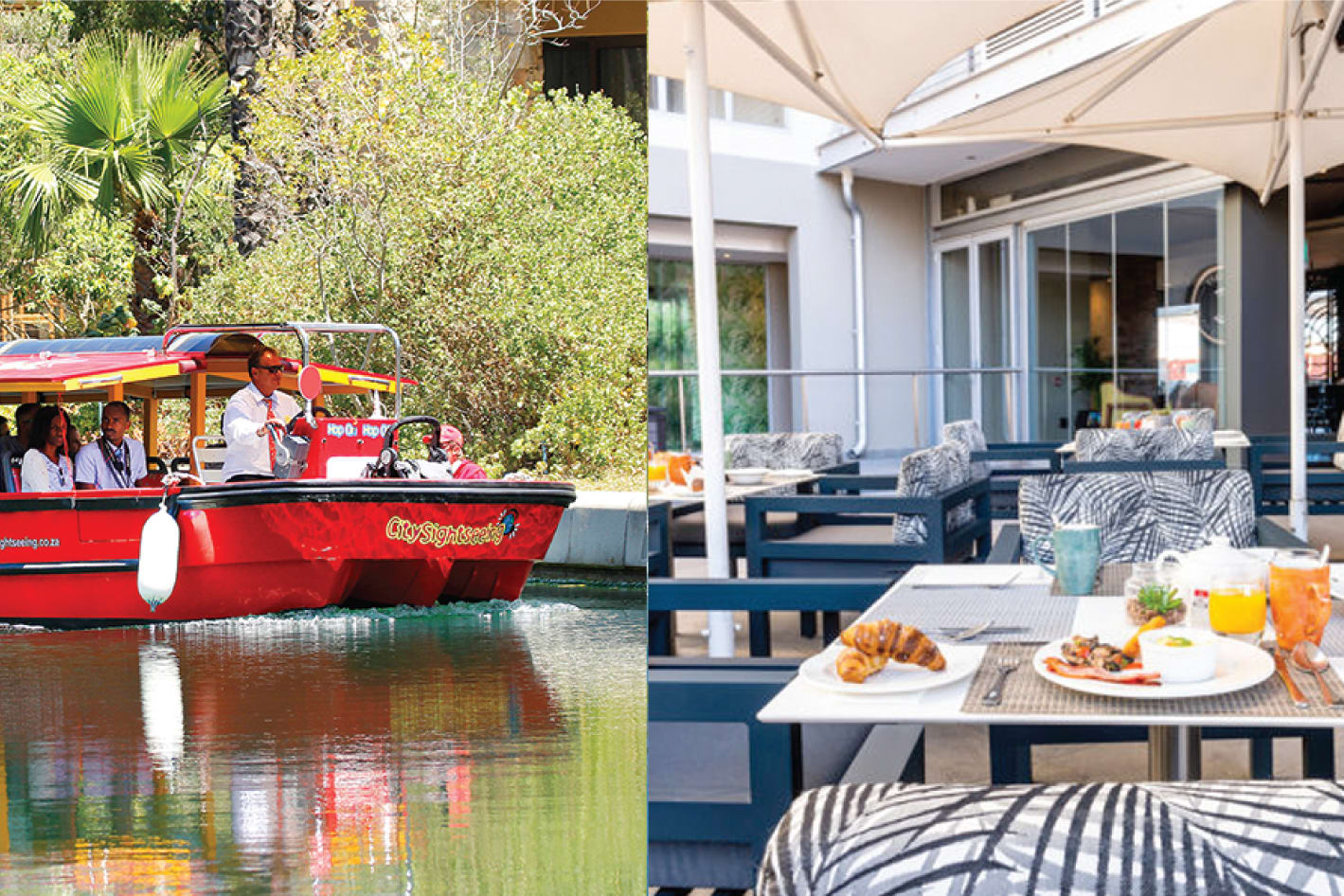 TOUR DESCRIPTION
Enjoy a relaxing breakfast on the deck at the Canal Café. Hop on the Red Boat and take a leisurely trip along the canal that links the Waterfront and the CBD. After breakfast continue your cruise.
Your ticket is valid all day so be sure to hop off and explore the Battery Park stop or just enjoy the unique views from the water, not often seen from the road.
Breakfast at Harbour Bridge Hotel
(Breakfast served till 11:30am)
First canal cruise at 9am from V&A
Canal Cruise ticket (valid for 1 day hop on hop off)
Hop on Hop off tour between the CBD and V&A
Booking available online only
Important Information
Starts
* V&A Waterfront - behind the One & Only Hotel (Next to Stop 1) a t09h00
* Convention center, next to the Westin Hotel 09h30
* Any stop along the canal
Duration
The canal ticket is valid for a full day - unlimited Hop On Hop Off along the canal
Operates
Daily from 09h00 - 17h00 This tour is weather dependent
Frequency
Know before you go
You can use this as a canal cruise or water taxi to get from the CBD to the V&A Waterfront. Hop On - Hop Off anywhere along the canal
What is included
Includes canal boat ticket PLUS breakfast
Breakfast
Served till 11:30am at the Canal Cafe, located along the canal at the Harbour Bridge Hotel
Menu
Breakfast options: (Includes Complimentary Hot Beverage or Glass of House Juice)
Canal Cafe Breakfast: 2 x Eggs, Slice of Grilled Tomato, Breakfast Sausage of the day, Small Bowl of Chips and a Slice of Toast. (Bacon available)
OR
Omelette: Stuffed with Cheese, Onions, Peppers and Tomato. (Bacon available)
OR
Pancakes: Topped with Seasonal Berries, Cream, Maple Syrup. (Bacon available)
MORE INFORMATION
Learn more about the "suitcase of money" and other interesting stories of the canal, as you cruise along the calm waters between the V&A and the Cape Town Convention center.Pass the home of urban Kayaking and Stand up paddling "Battery Park" in the middle of the canal.
Whether you're looking for an easy way to get from point A to point B or a fun outdoor experience, City Sightseeing's Canal Cruise water taxis tick all the boxes.
This ticket is valid for a full day - so take some time and hop on and off at the various stops to explore this part of Cape Town!