July 2020
With the lockdown levels changing and restaurants opening their doors to sit down again, we would like to share a few restaurants along our routes for you to enjoy and support.
Start your day in the inner city with a cup of joe and breakfast
On a wintry morning, there is nothing better than a steaming cup of joe at Kamili Coffee. In Swahili, Kamili means perfect. Located on our Red Route at stop no. 5 this is the perfect way to start the day. Even better is that they sell their brew and blends so that you can enjoy it at home.
As breakfast is calling, pop in at Arnold's Restaurant founded in 1998 and located opposite the historic Mount Nelson Hotel in Kloof Street, Arnold's has an outdoor seating area with views of Table Mountain and a warm and relaxed dining area inside. Start with one of their freshly made smoothies followed by their famous Eggs Benedict or Farmhouse Breakfast.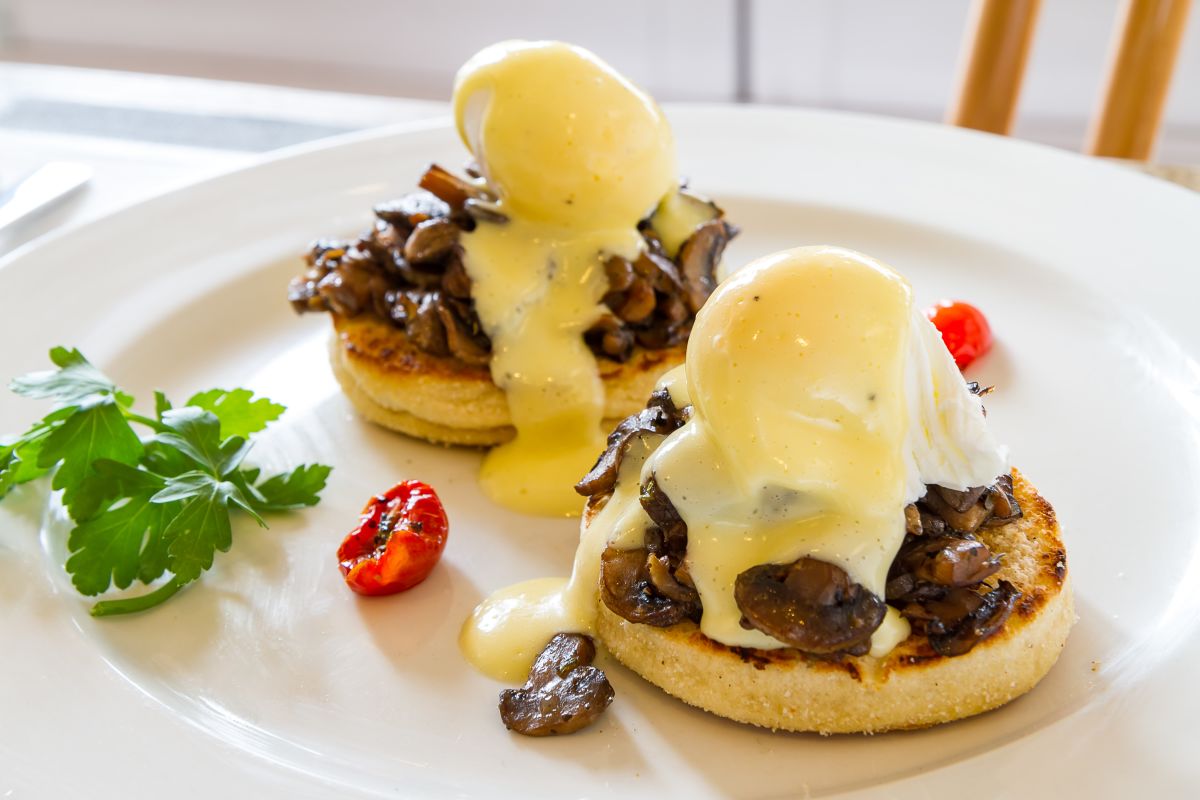 Arnolds Restaurant - Eggs Benedict
Meandering along the coast for some lunch
If you are heading out of the city for the day, why not visit Hout Bay, located on our blue route, where many eateries are now open for you to enjoy.
Quentin at Oakhurst Barn is now open for their popular Sunday Lunch Carvery. Located on one of the original Hout Bay farms, this restaurant and cellar follow in the footsteps of generations of family food farming and cooking traditions. During the day, enjoy the north-facing patio, whilst you meet for a late breakfast, or if the sun is shining, while away the afternoon over a late lunch under their ancient and magnificent Oak trees which so aptly lend the name to this charming and historic homestead estate. In the cooler winter months, their menu includes the likes of braised rabbit, wildfowl with waterblommetjies, sumptuous seafood stews and other hearty hearth-side 'combination pot cooking' delicacies are a feature. Also, the restaurant has a large wood-fired oven, where one can expect daily baking of their bread as well as roasting and baking of all their locally sourced meats, fowl, and fishes.
Or if you would rather be closer to the ocean, with your feet in the sand, enjoy a delish seafood lunch on a Sunday at Dunes Beach Restaurant. Situated on the beach, between the picturesque fishing harbour of Hout Bay and the majestic, world-famous Chapman's Peak Drive. Soak up the most breathtaking views on the Cape Peninsula from their terraces or balconies. They are open weekdays from 4 PM if you want an early dinner too.
The beauty of the vineyards
If the landscape and scenic beauty of the Constantia Route is more your vibe, why not stop in at Groot Constantia Wine Estate. This vineyard, situated at stop 25 on our purple wine route, is celebrated as the oldest wine-producing estate in South Africa and has a rich history to explore. You may not be able to partake in a wine-tasting, just yet, but enjoy breakfast or lunch at the Cape Malay inspired Jonkershuis Restaurant. This eatery is next to the historic Manor House and surrounded by ancient oak trees. Conscious of the provenance, sustainability, and the ethical content of all the food prepared, as well as reflecting the rich Cape Malay heritage of their 'home'. Jonkershuis boasts a diversity of locations from private dining grandeur, to intimate interior fire side dining; typical Italian village gatherings in the covered courtyard to family-style lunches on their front lawns, were children can safely play amongst the old oak trees. The perfect place for a family day out.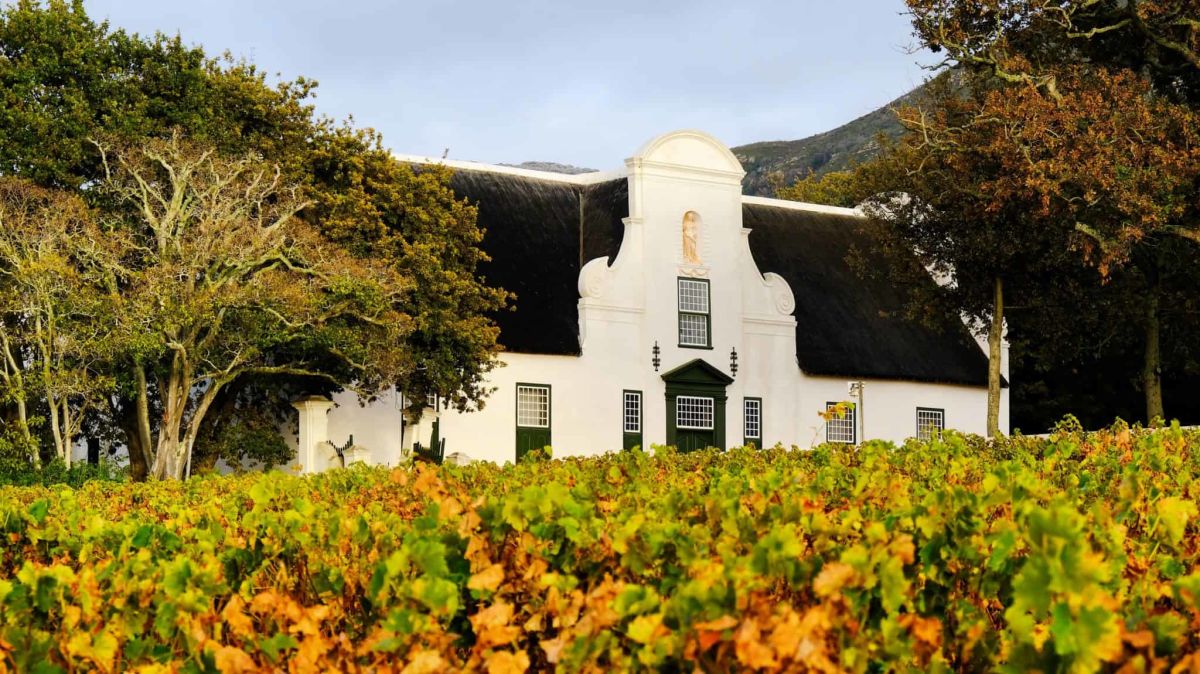 Jonkershuis at Groot Constantia
Whilst in the area, and possibly needing to do a little shopping in Constantia Village, stop in for a coffee at Tashas Cafe. Their slogan reads: "Beautiful food. Stunning environments. Engagingly delivered." They believe if you take only one thing away when you leave a Tashas restaurant, they hope it's that quality is present in every little detail. Enjoy one of their speciality cakes and coffees. Why not try the gelati Caffe coffee shake which is espresso blended with vanilla ice cream.
A night out dining
If you are wanting to experience a restaurant with an African heartbeat, enjoy dinner at Mama Africa. This is not just a restaurant, it has an entertainment heartbeat, which includes an 8 PM show offering a vibrant and authentic African experience that is made all the more magical through music. A live Marimba band takes to the stage and rocks the restaurant with a variety of musical styling until late in the night. "Mama's biggest joy is to have her guests leaving with a full tummy and a happy heart, so come to Mama as a stranger, leave as family."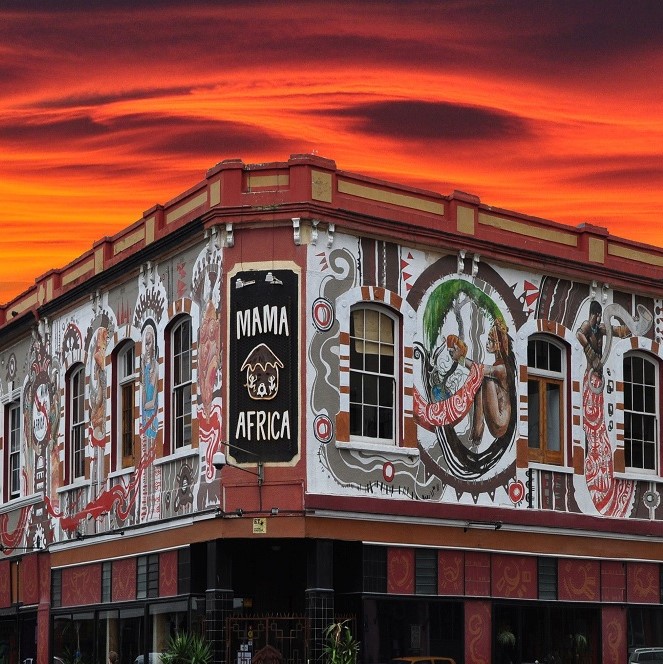 Mama Africa Restuarant
Alternatively, meander along the coast and head to Camps Bay where numerous restaurants are now open for sit down dining.
If you are looking for trendy and vibey, then Paranga Restaurant will not disappoint. With their tagline being "Cape Town's coolest culinary experience", this restaurant offers sophisticated styling and the finest culinary selections ensure every visit to Paranga feels like a mini-vacation, even for the locals! Even on a cooler wintery night, the cozy intimacy of the luxurious interior with its huge chandelier, you are assured of an authentic Camps Bay culinary seaside experience. Do we hear date night?
Or if you are looking for a really good flamed grilled steak, head over to Hussar Grill. It offers a distinct dining experience in a setting that is reminiscent of old-school dining complete with dark wood finishings, banquet-style seating, and wooden wine crates. A fireplace adds to the relaxed, cozy ambiance. Their current seatings are available from 6 PM – 8 PM to ensure you are back home before curfew sets in.
After months of not being able to dine out, and restaurants having to keep their doors closed, now is the perfect time to head out, enjoy some much-needed scenery, and more importantly, support a few of the many unique and interesting restaurants in and around Cape.