AT THIS PRICE - DON'T HESITATE!
Cruise the streets and the harbour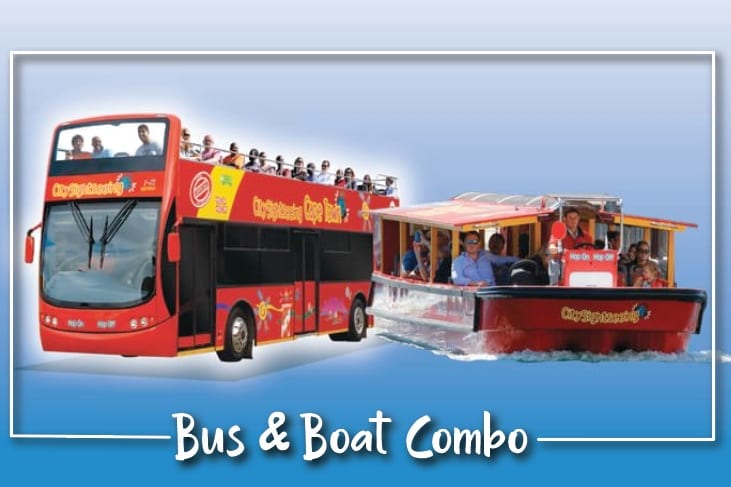 TOUR DESCRIPTION
Get closer to iconic monuments and famous landmarks on our Cape Town sightseeing bus tours. Our hop-on, hop-off Cape Town tours allow you to explore the best of this city, at your own pace. With over 30 stops across 3 different routes, you'll have plenty of opportunities to hop off the bus and explore the Cape Town landmarks and attractions that appeal to you most.
Round off your action packed day with a 30 minute harbour cruise of the V&A harbour OR a 30 minute canal cruise along the V&A canal.
includes your Classic bus ticket
PLUS your choice of boat cruise:
- V&A Seal & harbour cruise
or
- The calm water of the Canal cruise
MORE INFORMATION
Important Information
Special price
Please consider the family ticket (2 Adults + 2 Children aged 4-17) for only R 590
Covid 19 info
We are practicing social distancing at our kiosks and on our buses only and have sanitiser at all touch points to ensure your safety. Please be sure to wear your mask while on the bus. No mask, no entry CLICK HERE for more information on this
Starts
Bus: At any of the 30 Hop On - Hop Off Stops
Boat: Canal or Harbour cruises depart from, Stop 1 at the V&A
Tour assistance office
* V&A Waterfront, located outside the Two Oceans Aquarium
* CBD, located at 81 Long Street
Duration
Valid for the day when first presented for both bus & boat.
Would like to have more included? See the Best Value Package
Operates
Daily
Covid19 update: Yellow Downtown Route has been replaced with a walking tour
Know before you go
Hop On Hop Off at any of the stops along the circular route and simply show the same ticket to board the next bus Kids love the open top buses and have a special commentary channel (In English)
Cancellation Policy
Fully refundable if not used. Cancellation fee of R 10, per ticket cancelled, will be charged.
Entrances are not included
Did you know we are Carbon Neutral?
RELATED PRODUCTS
Save over 30%
Your e-Pass to any 3 of 11 top Attractions
Instant confirmation - Mobile ticket
Classic (1 Day) bus ticket + choose 3 attractions
Fast track, hassle free entry at attractions
Adult
R605.00
R495.00
Child
R295.00