Nov 2020
Are you planning your next visit to Johannesburg? Let City Sightseeing be your guide and show you the best of the best of what's currently happening in Jozi.
Experience Jozi with City Sightseeing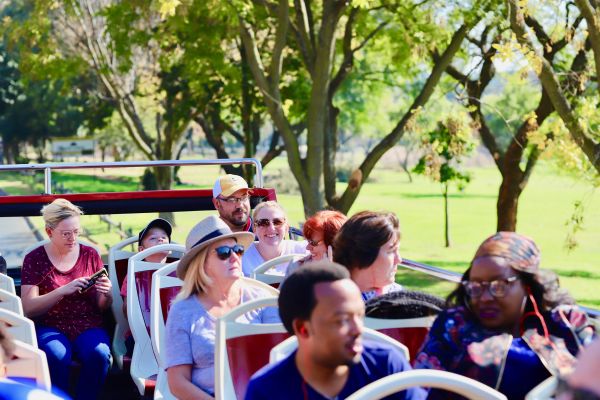 City Sightseeing Green Route
Join the official city tour of Jozi onboard our Double Decker bus tour with City Sightseeing. This exciting tour includes over 16 stops and 20 of Johannesburg's top attractions. This 2-hour experience allows you to appreciate the City of Gold whilst we show you her beautiful scenery, historic buildings, and highlights. Be sure to keep an eye on our home page and socials for when different routes and tours open up.
If you're looking for activities and experiences in and around Jozi streets, why not try a tour with a difference.
Braamfontein by bike
Braamfontein, located at Stop 16, is close to two large universities and has fast become Jozi's trendy fashion and culture hotspot. Dotted with bars, restaurants, clothing shops, and student accommodation, Braamfontein is where locals and tourists go to see, be seen and party on the weekends. Join a cycling tour to experience the vibe of this area. A 4-hour bicycle tour, uncovers the public street art, local cuisine, and history of the Braamfontein precinct. Interact with locals, eat street food, and learn about the history of the City of Gold, as well as experiencing what it's like to live in this vibrant part of Johannesburg.
Innercity Walking Tour
Starting in Fox Street, located at Stop 11 close to the Carlton Centre, get off the beaten track in Jozi and experience an inner-city walking tour with a local guide. You will be able to see places that typical tours don't stop at, and learn about the true culture and history of the city. During this tour, travelling on foot means you'll experience the heartbeat of the city. It also combines the use of safe public transport to provide a structured tour of the city's best-kept secrets. The tour passes some of Jozi's most magnificent heritage sites, offering a complete cultural mix and exposes parts of the city that most people do not visit. You can experience over 50 public artworks, artists studios, state-of-the-art entrepreneurial projects including a stop at the Kwa Mai-Mai Traditional Healers Market, the Gandhi Square, as well as the Chancellor House which was built in the 1950s and was home to Mandela and Tambo Attorneys which was South Africa's first black-owned law firm.
Play in the sky at Orlando Towers
Orlando Towers Power Station is a decommissioned coal-fired power station in Soweto. The power station was commissioned at the end of the Second World War and served Johannesburg for over 50 years. It now offers a 100m bungee jump from a suspension. Operating from Thursday to Sunday, this exhilarating experience will get the blood pumping through your veins. Alternatively, try their "straightjacket bungee", where you wear a custom made straitjacket and tumble down without the use of your arms. The young and funky local staff will make you feel welcome with lively music setting the scene. From December when we relaunch, join us on our Extension Tour to Soweto to access the towers.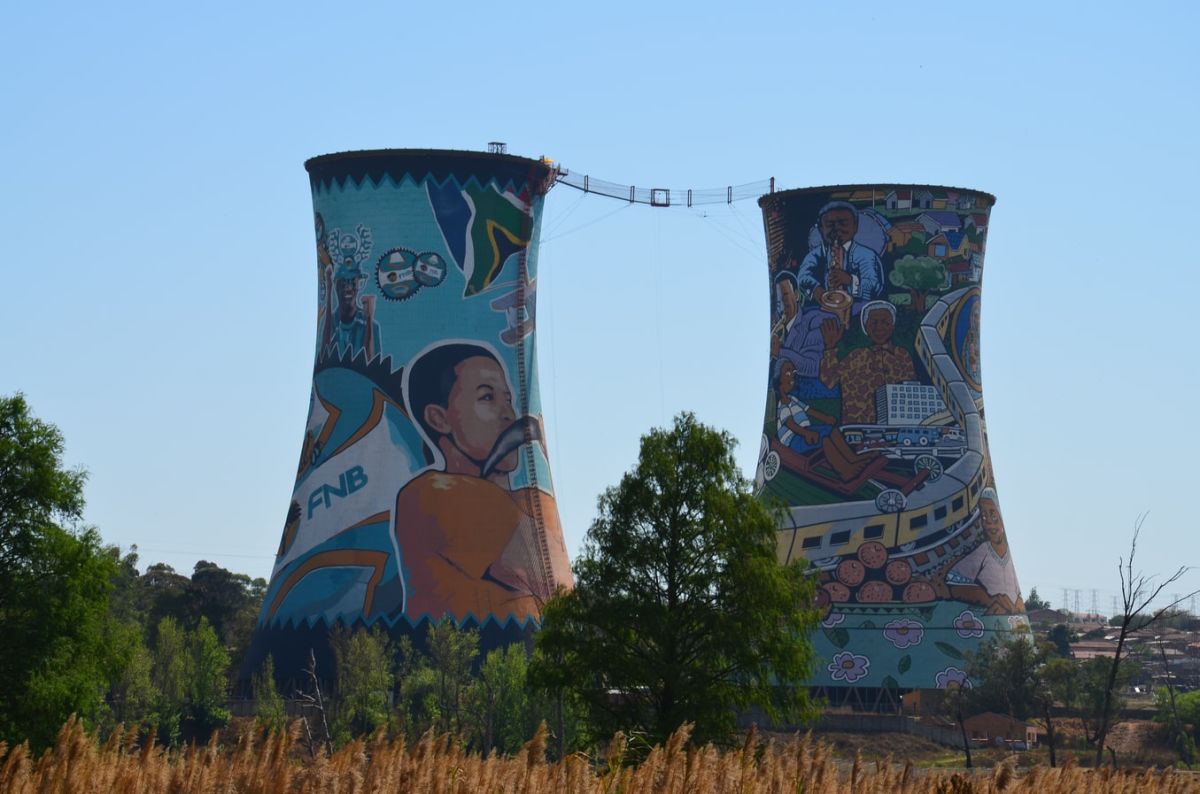 Orlando Towers
If you are more of a night owl, try one of these exciting evening activities in Jozi.
Moonlit picnic and festival of lights at Johannesburg Zoo
Johannesburg Zoo, located at Stop 3, is offering a fantastic moonlit tour over the next two months. Explore the zoo's animals under the night sky. Once the sunsets over the city, a new day starts for all the nocturnal animals within the zoo. The Zoo covers 55 hectares of land and houses over 320 species of animals, totalling about 2 000 animals. The moonlit tour is being offered on Fridays and Saturdays from 5-8 PM, and they currently have availability on 27 November and 5 December and pre-booking is essential. Be sure to look out for the numerous owls.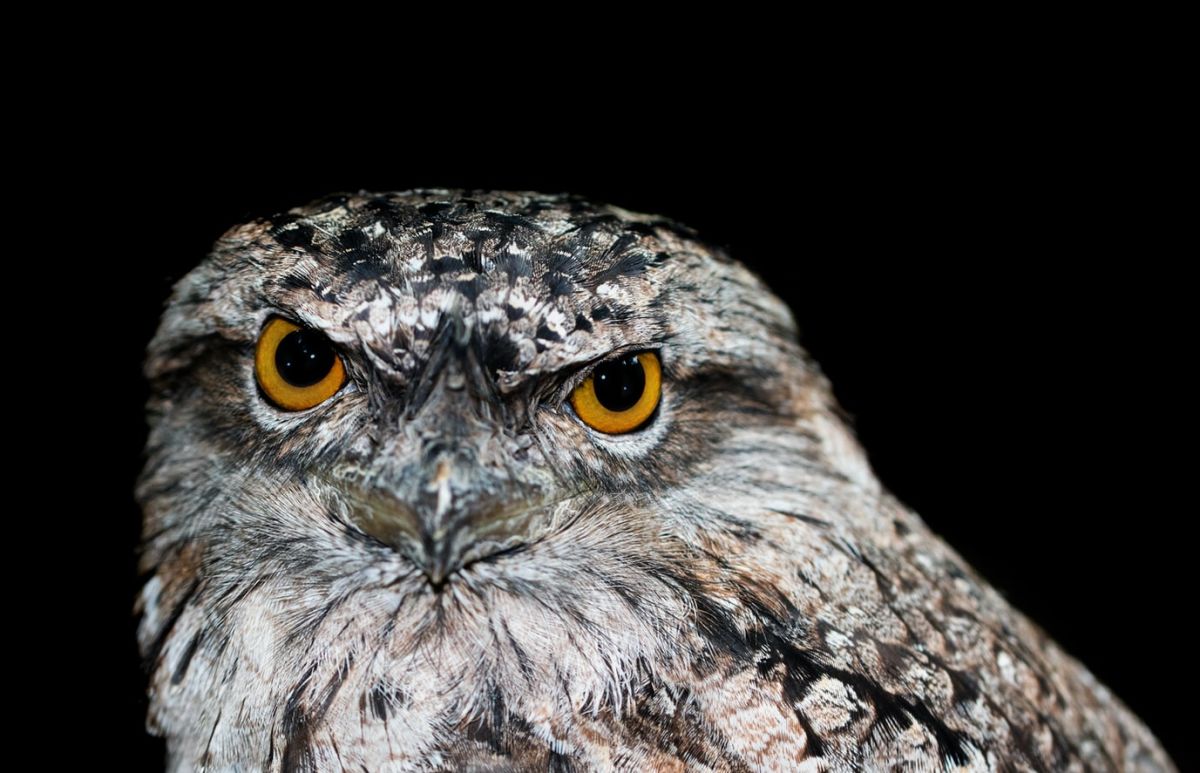 Owl
In addition, Joburg Theatre in association with the Johannesburg Zoo is presenting the second annual Festival of Lights featuring a charming collection of illuminated life-size animal characters and classical, harmonic entertainment, food, and a craft night market. This festival is open from 7 PM – 10 PM daily (except on Mondays) and they have an exciting line up starting from 29 November through to 3 January.
Candlelit shopping
4th Avenue, Parkhurst, located 10km from our Rosebank Stop 1, offers a village-like vibe with numerous coffee shops, cafes, fashion boutiques, and beautiful interior design stores. A perfect place to window shop or sit on a terrace with an afternoon coffee and watch the suburb's well-dressed residents stroll by, while by night the restaurants are filled with diners keen to enjoy a slice of this urban lifestyle. The charming 4th Avenue in Parkhurst hosts its annual festive season late night shopping, with the next market being on 19 November. This experience offers entertainment, drinks, food, and fab late-night gift shopping. Expect plenty of special discounts on Christmas gifts, music, wine, and a feast of Christmas decorations as well as a beautiful Christmas light display. You can even enjoy a live performance by the Salvation Army band bringing some extra festive cheer to this quaint avenue.
During the day, or at night, Jozi offers such a wide variety of experiences and blends history, culture, funky fashion, and a great city vibe. There is definitely something for all ages, tastes, and desires.