August 2020
We've anxiously been counting down the days until we get to stretch our legs (and our wheels) and see all you again. The wait is over. We are so excited to announce that we will once again be operating.
Let City Sightseeing be your first outing
Initially, we will be offering our two main routes on weekends and public holidays only. And this couldn't come with better timing considering that Monday, 10 August is a public holiday. Observing Women's Day is a perfect opportunity to get out of the house, spoil that special lady in your life, and reclaim your city.
Your safety is our top priority
Strict health and safety structures are in place. Our customers and our staff are our main priority, and we have incorporated several new procedures to ensure both your safety while in our care. Only travelers wearing face masks will be permitted to board our buses. To respect social distancing our buses we will be traveling with a reduced capacity and have ensured that only every second row of seats will be occupied. Whether you're missing your Mother City or just want to get out of the house, our City Sightseeing safety officers have your best interest at heart and are here to ensure your safe travel and a fun day out.
The beauty of the city centre, our mountain, and the coastline
If you've been yearning to travel on our famous Red Route Urban Safari, we are offering a 1-hour 45-minute tour. This starts at the V&A Waterfront. Focusing on the Mother City and her coastline, this tour will travel through the city centre along Long Street. With our audio channels on board, including a fun interactive kiddies channel, you will certainly learn something new along the way.
Did you know that Long Street's rich history spans more than three centuries, it's beautiful architecture and diverse offering to both night owls and daytime visitors – gives it an appeal and attraction like few other places in Cape Town. Frequented by both businessmen, hippies, and yuppies – Long Street speaks many languages and tells many stories.
Heading up Kloof Street, we will make our way to Table Mountain. Here we will have a brief 15-minute restroom stop. Or take this opportunity to take a few selfies or appreciate the view over the city bowl.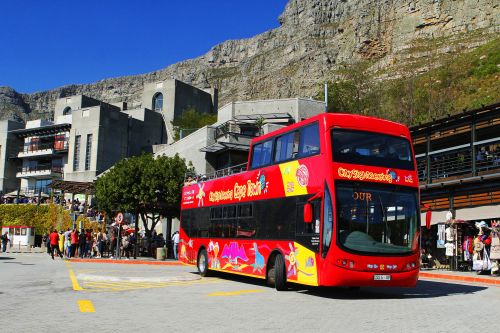 Continuing along the Red Route, we will head down Camps Bay Drive. Enjoy the fresh air and don't forget to soak up the sun whilst sitting on the upper deck.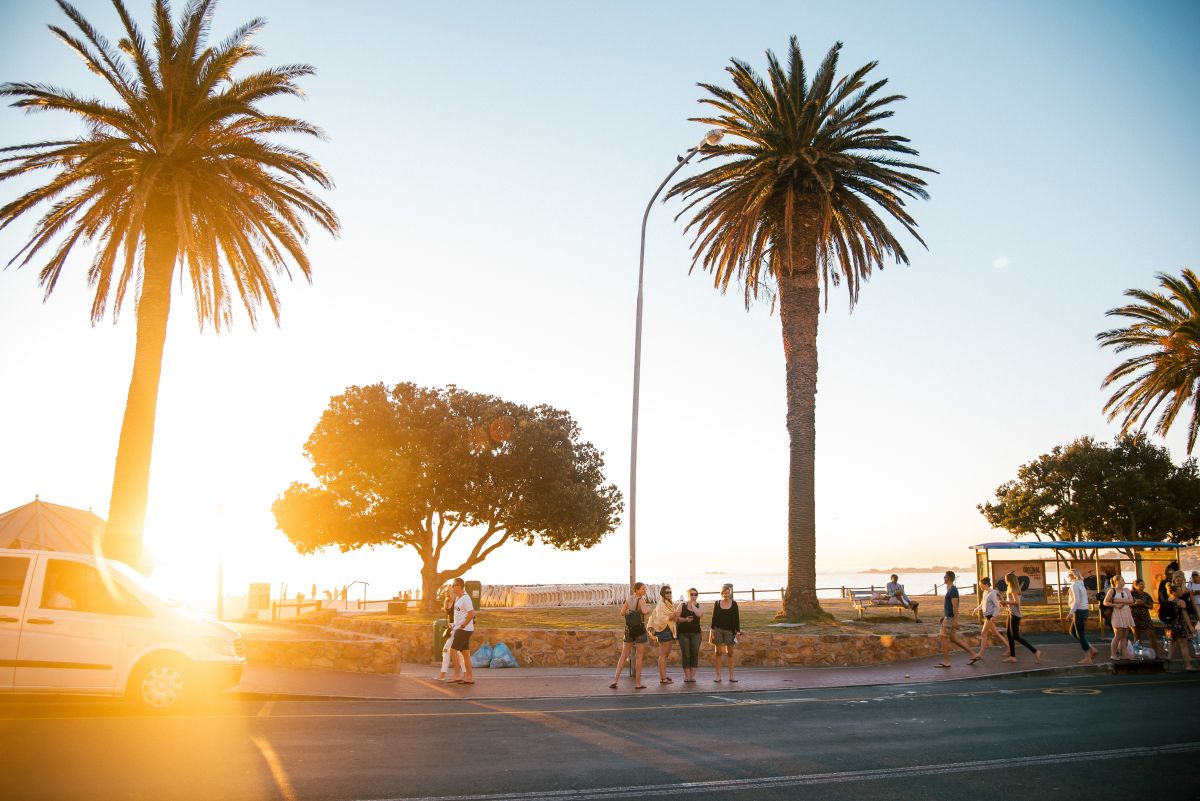 Camps Bay
The bus will then continue along the Atlantic Seaboard, passing the famous beaches of Clifton, Bantry Bay, and Sea Point. Clifton Beach was noted as one of Discovery's best beaches by region. Clifton's 4th beach has also been awarded the Blue Flag award in recognition of its environmental, safety, and tourist standards. Returning to the V&A Waterfront, you will feel refreshed, rejuvenated, and excited to experience your city again.
Beyond the city, enjoying the beauty of the mountain passes, the harbour, and the sea
If you are wanting to explore the scenery a little further out of the city, join us on our Blue Route Scenic Safari. This tour will take just over 2 hours. It will also start at the V&A Waterfront, heading through the city, up Long Street towards the Mount Nelson Hotel. This hotel opened its doors for the first time in March 1899. This was the first hotel in South Africa to offer hot and cold running water, and received rave reviews and was applauded for being 'even better than its London counterparts'.
As the bus meanders around Table Mountain, be sure to keep an eye out for eland, the world's largest antelope, roaming freely on the grassy slopes of the mountain. Other large antelope found in the mountain environs are the red hartebeest, bontebok, and Cape mountain zebra.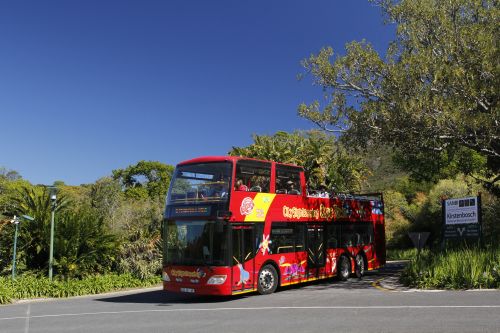 Blue Route Scenic Safari
The route will continue to past Kirstenbosch Gardens, and then over Constantia Nek. It is one of three passes connecting Hout Bay to the rest of the city. The summit of the pass is at 212m, it is the highest point on the Two Oceans Marathon ultramarathon route. Arriving into Hout Bay, we will have a 15-minute restroom stop at Mariners Wharf, the Southern Hemisphere's first harbourfront emporium. Take a short break and be sure to look out for the many Cape fur seals that surround the harbour.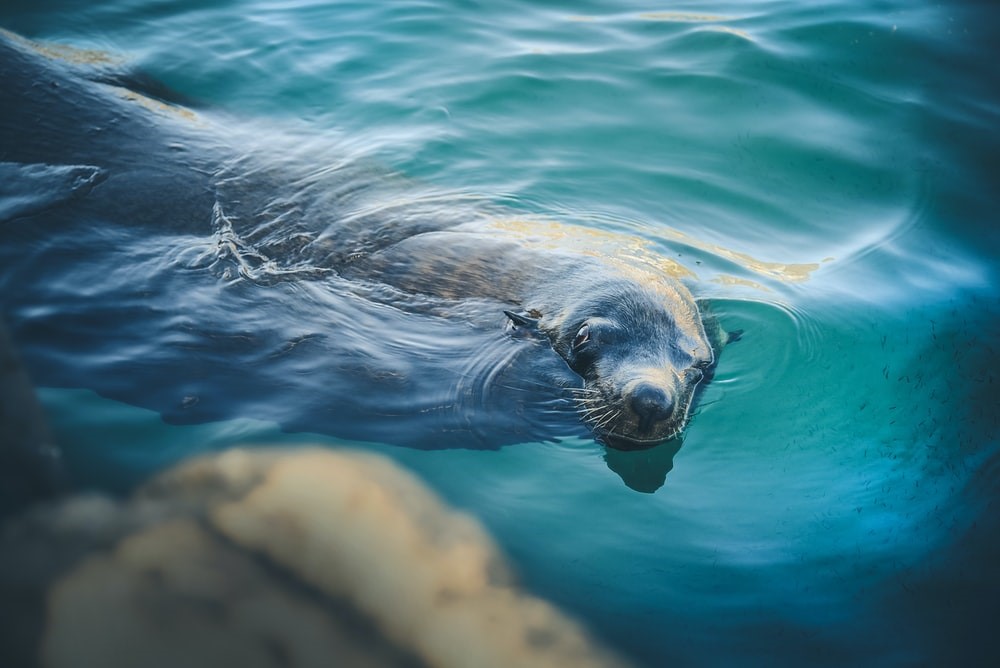 Seals
Continuing along the coast with the wind in your hair and the smell of the ocean
Moving on from Hout Bay, the bus will head over Suikerbossie drive, which is the dreaded final climb of the 105 km long Argus Cycle Tour and it has seen it's fair share of perspiration, despair, anguish, and triumph. Driving passed Llududno into Camps Bay, enjoy the fresh air from the open-top design of our buses, where you can sit up top with endless views, and more importantly continuous ventilation to keep the germs under control. From Camps Bay, the bus will travel along the Atlantic Seaboard, passed the mansions that have expanded around Clifton and Bantry Bay. Some of the most expensive real estates in South Africa can be seen along this route.
Arriving back at the Waterfront, you will most definitely feel reinvigorated and proud to be a Capetonian.
The cost
At only R99 for an adult ticket or R50 per child for either route, this is an affordable way to experience the Mother City. If you want to purchase a combo of our Red and Blue Route the cost is R179 for an adult and R100 for the kids.
How to reserve your seat
Bookings are essential and highly recommended due to capacity. You don't want to miss out. Be sure to prebook your tickets online. Alternatively, you can only buy tickets at stop 1 at the Waterfront.
We can't wait to welcome you onboard again. Come with a sense of adventure, and join us on an exciting tour of the Mother City.