June 2020
Being SA born-and-bred, I consider myself pretty patriotic. I love my country, and even through some extensive gallivanting as a travel writer, love coming back to Cape Town. My Mother City. Every time. As a Cape Town local, the iconic red buses have become part of my home scenery and are always a welcoming sight. However, I used to think that I knew my city well enough to leave the exploring to the tourists. Turns out, I had it quite wrong.
Arriving at the Travel Depot in Long Street, I was welcomed by the vibey buzz of people moving in and out, the enthusiastic shouts of the onsite baristas, the mishmash of visitors and smiling staff and the bright, bright colours that poured out onto the city street.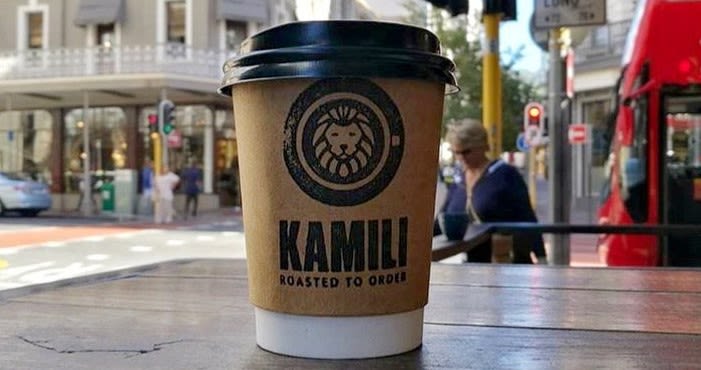 Kamili Coffee Shop
I had bought my bus ticket online, so all there was for me to do was grab a map, wander around, and wait until my chosen bus arrived. It was early, so I decided to grab myself a quick cuppa at Kamili Coffee. The coffee is delicious! But beware. Standing in line gives you a clear view through the patisserie display window, and once you see the decadent fresh goods they have on sale, there's no turning back!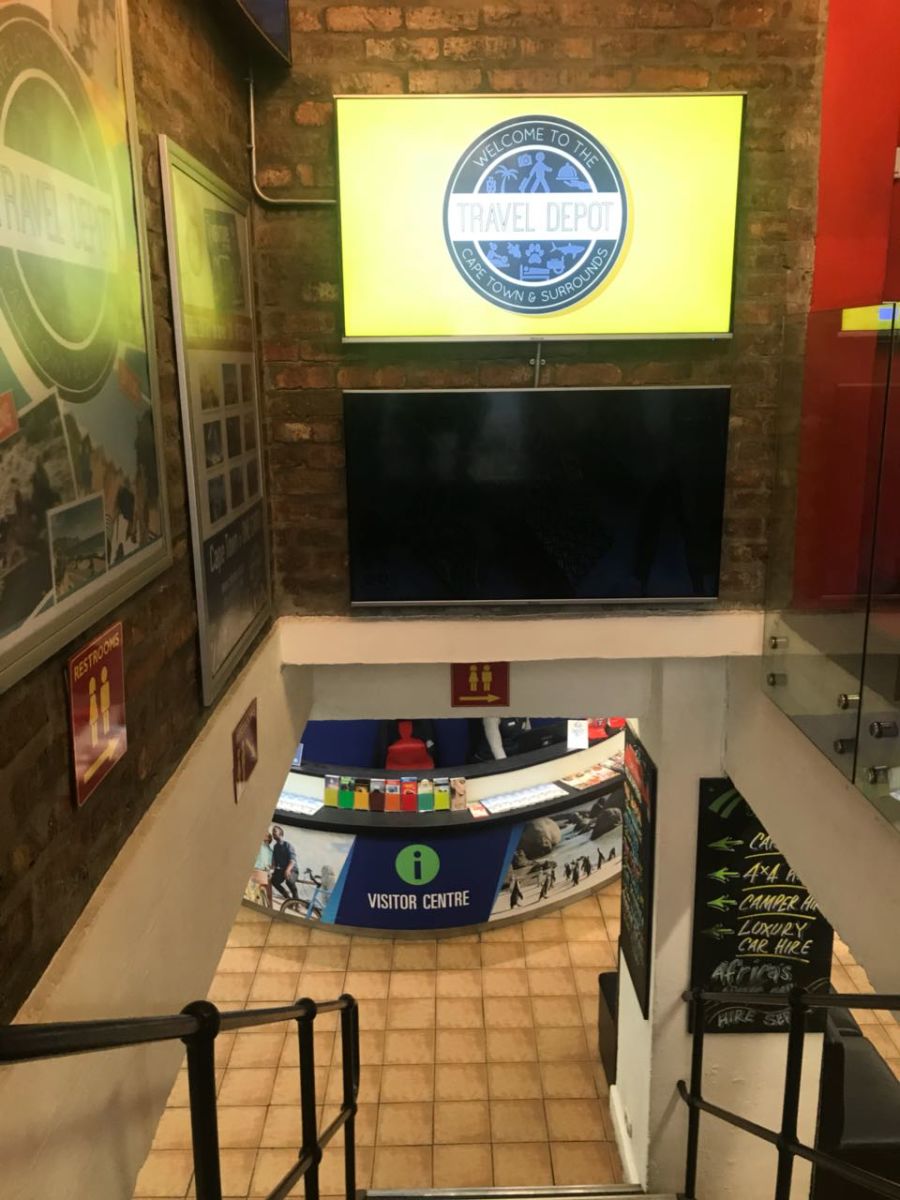 Travel Depot
So, with a foamy flat white, and perhaps a sneaky croissant I popped in downstairs to see what was what, and I basically stepped into the 'Cape Town inspiration room'. Down here I found a wall of pamphlets and fliers covering everything from activities to accommodation, adrenaline sports and safaris, as well as multiple information booths where you can take a seat and chat with representatives from various attractions. Now very keen on my bus journey, I grabbed a couple of fliers to read later and went back upstairs to wait for my ride.
The buses come past the Long Street stop in a constant wave of red. This struck me as a little daunting to try to find my way onto the right bus, but the colour-coded routes and distinguishable buses made it pretty easy. And perhaps the best yet was the staff. There was a staff member directing people where to go, a staff member announcing the buses' arrival, someone to meet you at the bus door, and a super friendly driver - all willingly sharing whatever information you could need.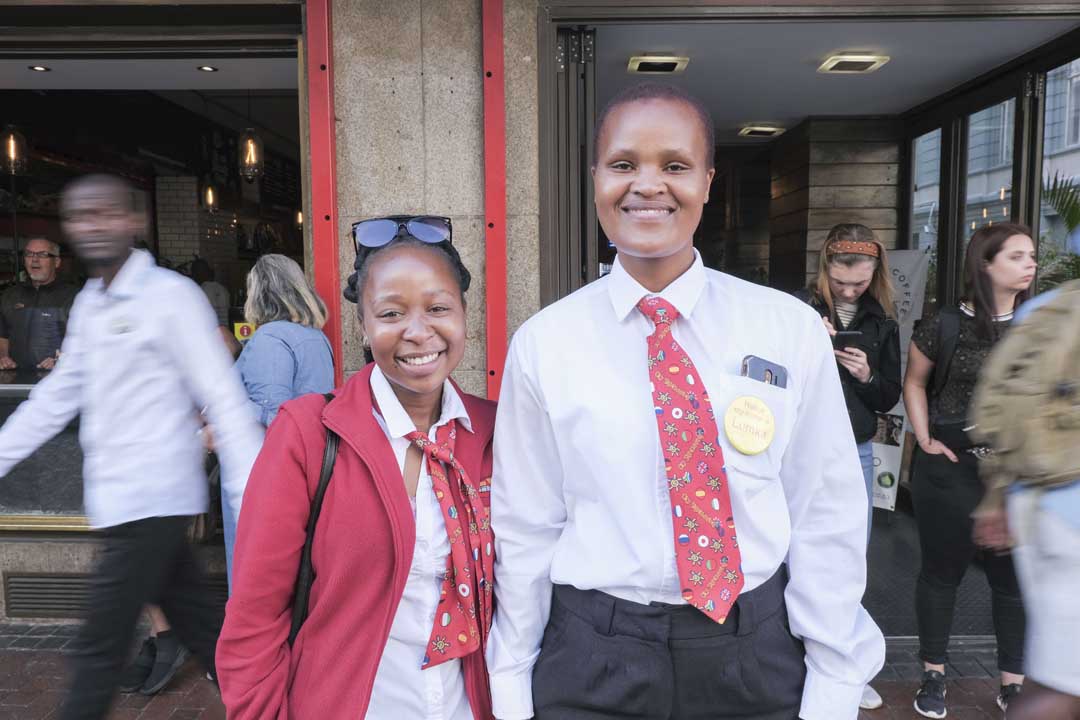 Friendly Staff
Climbing onto the bus, there was no question for me but to go right upstairs to on the open top. It was a fresh Cape Town day to be outside, but that made sitting in the sunlight even more appreciated.
Something that struck me about being on the bus was that I personally spend all my time in the city concentrating on the roads and my destination (as one should), but this means that I miss all the little things, quirks, side streets and views that I have come to take for granted. I was really able to take it all in and appreciate what I've been missing in this vibrant city. I won't lie and say that not having to personally drive in the busy city traffic wasn't an absolute treat, but also the (obviously) well-trained bus drivers navigate even the smallest of spaces and crotchety drivers like I've never seen before - quelling even more of my usual concerns.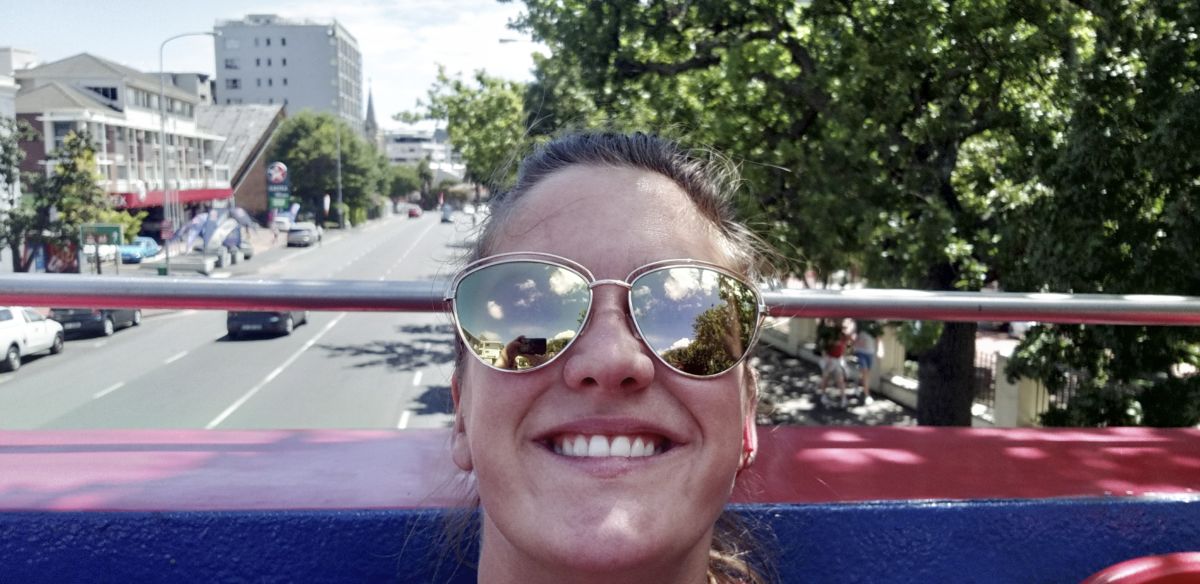 Selfie - Jess Fogarty
On the Red Route through the city, I got to see all of Cape Town's more famous sites like Table Mountain, the Green Point Stadium and the V&A Waterfront, as well as some fascinating museums that I would usually have driven past without noticing. The Blue Route was most definitely my favourite when it comes to Cape Town's grand scenery - again something I tend to overlook on my everyday routine. The beaches are beautiful, Kirstenbosch breathtaking, and coming down Constantia Nek is always a treat. I also highly recommend the Purple or Wine Route that loops out from stop 21 which takes you through some of the city's most prestigious wine farms. The way is leafy-green, and the food indulgent, but best-of-all, the guilt-free wine tastings. Don't drink and drive. Drink and bus!
Even more so, a journey on the big red bus is also more insightful than I would have thought. It's not just about the scenery and the destination, but the audio tour provides you with a whole arsenal of interesting facts along with some local tunes as you drive around the city. You'll learn about more than just the attractions, from a spooky ghost story of Groote Schuur Hospital to the history of District Six and the one-of-a-kind land reclaiming of the foreshore.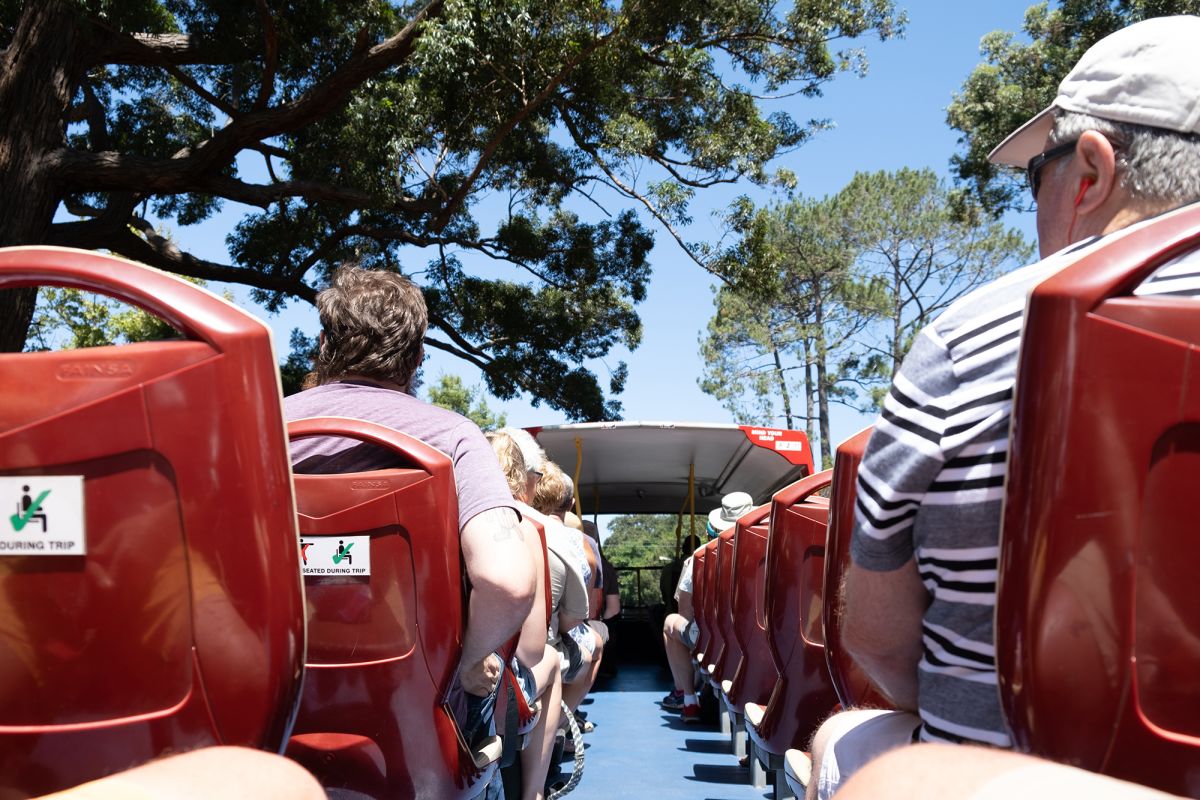 Hop on the Bus
All in all, the whole trip was a lot of fun. Everything ran right on schedule, and knowing that there was such a frequent stream of buses at every stop, I felt completely at ease to explore everything at my own pace.
I spend almost all day hopping on and off buses and in and out of amazing attractions, and yet I still feel there is more to see. Next time I think I'll treat myself to a multi-day pass, and maybe even throw in a few luxury activities with a City Pass combo. Christmas ideas anyone?
Jess Fogarty