April 2021
Being the wine capital of Africa, the Western Cape has a multitude of amazing, scenic, historic and glamorous wine farms scattered across its landscape, and one of the most prominent of these is the region of Franschhoek. In order to explore the sights, sounds and flavours of this valley of wine, grab a ticket on the Franschhoek Wine Tram Explorer Tour. You will head out from the Waterfront to Franschhoek on one of our famous big red busses before hopping aboard the iconic wine tram and heading off to explore some amazing wine farms.

Tram
At the start of your tour you will be able to board either the Orange or Purple Wine Tram line along which there are a variety of cellars to visit, from the smaller boutique wineries to the famous cellars that offer organised tours and tastings. Award-winning wines are in no short supply here either, along with some internationally decorated gourmet chefs.
With so many options to choose from, time may seem scarce. For a leisurely exploration of the area, we suggest visiting up to 4 or 5 of the estates at the most. That's why we've put together this handy guide to help you choose your top stops, plan your schedule, and know where to prioritise your time.
Allee Bleue
Owing its name to the statuesque avenue of blue eucalyptus trees lining the entrance of the estate, Allée Bleue offers visitors a unique experience of world-class wines, a bistro and picnic venue, a fresh produce shop, contemporary art and breathtaking scenery.
This working farm offers award-winning wines, relaxed dining, and a Cape Dutch ambience. The Bistro at Allée Bleue has something for everyone and is open for breakfast and lunch. The menu focuses on using in-season local produce and home grown fruit and herbs to inspire the daily specials menu. Cheese and charcuterie is an ever popular wining and dining pairing, and their gourmet picnics offer a relaxing experience.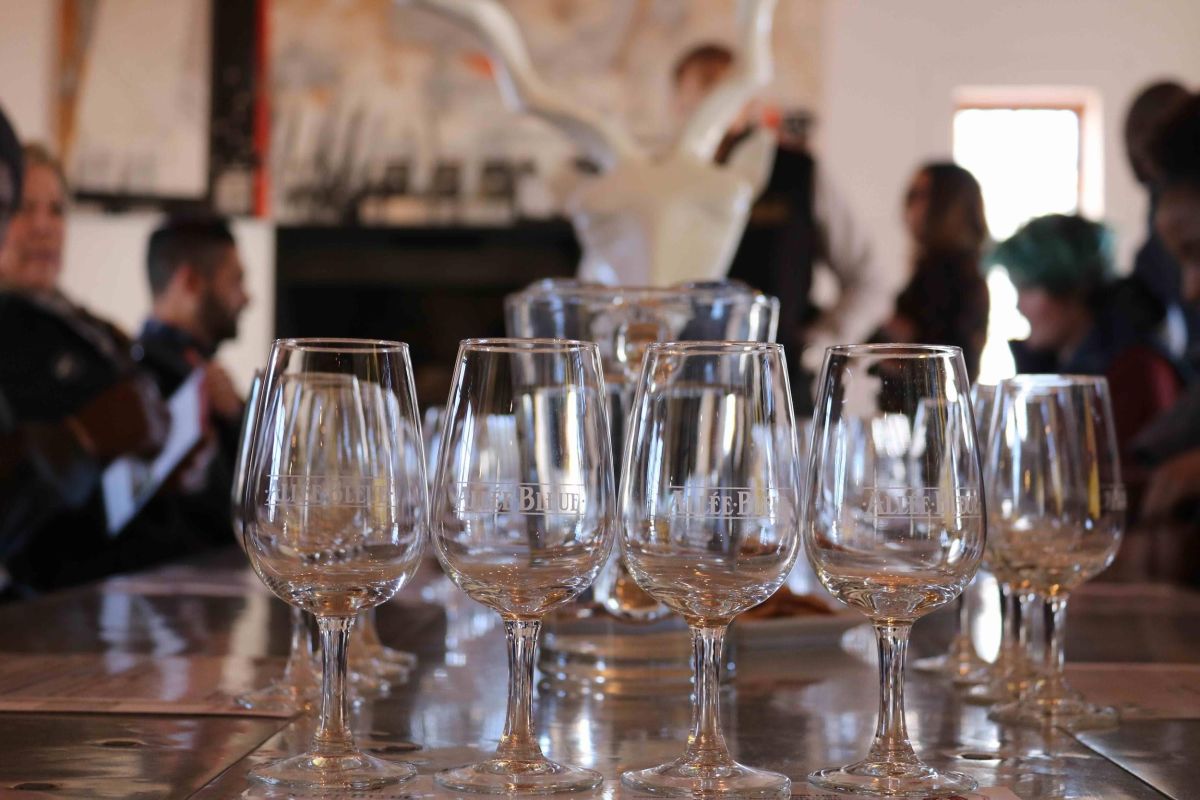 Name: Allee Bleue
Activities here also include wine and cheese pairing, herb and wine pairing, wine tasting, and a jungle gym to keep the kids entertained.
Babylonstoren
Dating back to 1692, Babylonstoren is one of the oldest Cape Dutch farms in the Cape, and today is where wines are produced in a state-of-the-art winery and are made to showcase the soils and climate of where the grapes are grown.
Perhaps most famous for its gardens, these magnificent grounds are laid out over 3.5 hectares, with the garden divided into sections for growing fruit, vegetables, berries, breeding bees for pollinating, propagating indigenous plants and even more. Every single one of the more than 300 varieties of plant found here are edible or have medicinal value, with everything from blood oranges to asparagus, mushrooms and persimmons supplying the farm's two restaurants: Babel and the Greenhouse.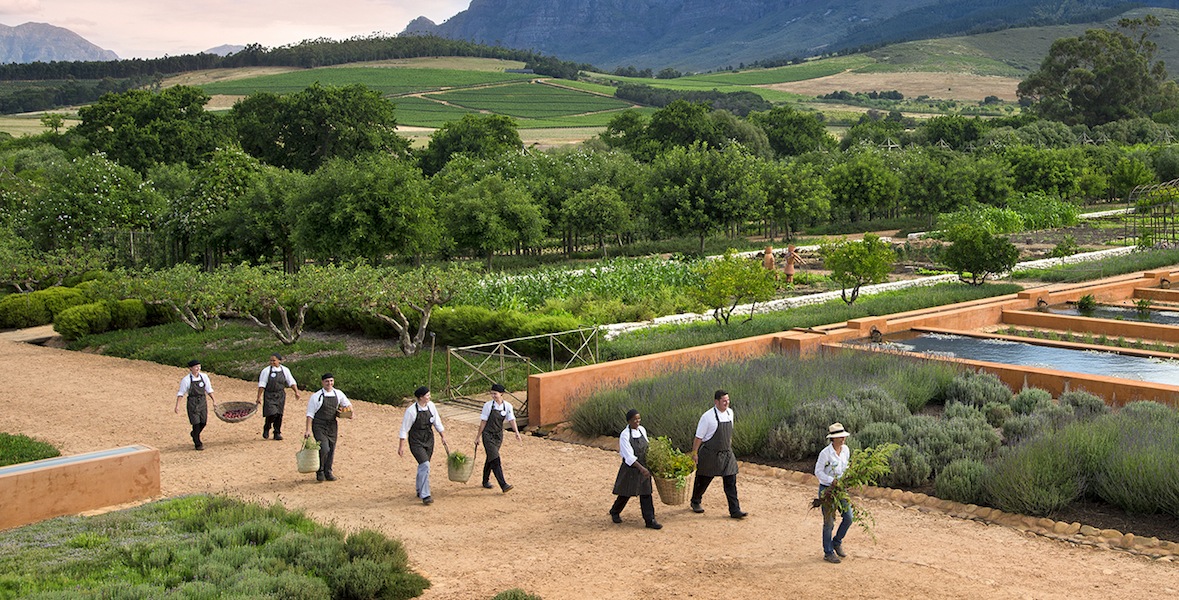 Babylonstoren
Daily activities include cellar tours, exploring the gardens, a farm shop, spa and wine tasting.
Please note that this wine estate charges an entrance fee for all visitors.
Backsberg
Established in 1916, the philosophy of Backsberg remains that of providing pleasure and enjoyment to a broad range of wine lovers by producing wines not only with structure and finesse but also with a high level of 'drinkability'.
The owners have also followed a 'tread lightly' approach to farming, and in 2006, the estate was certified as the first carbon-neutral winery in South Africa!
The Backsberg Restaurant is set in the estate's beautiful shaded gardens and serves locally sourced seasonal produce served with award-winning wines in a relaxed atmosphere. The Historic Vat Cellar is also a unique and historical spot worth a visit.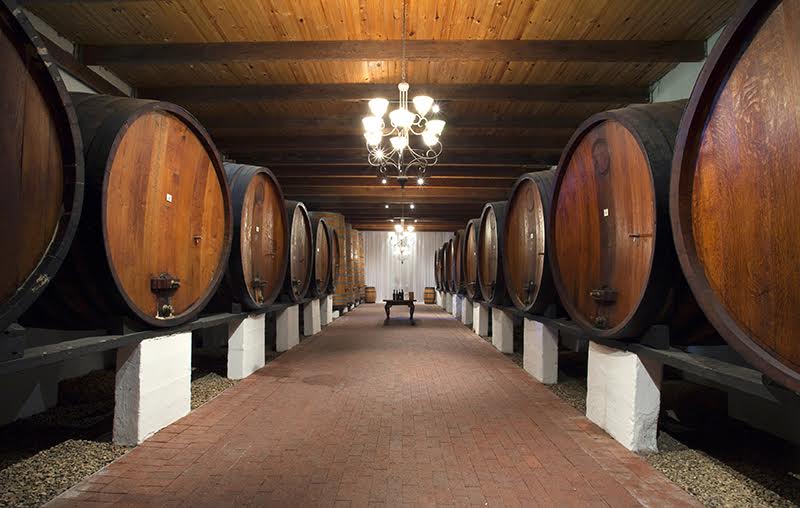 Backsberg
Other activities include picnics, a Sunday Lunch Buffet, cellar tour, wine blending, chocolate pairing, cheese pairing, a jungle gym and of course - Lamb Spit Sundays.
Boschendal (Cellar Door)
Another one of the oldest wine farms in South Africa, Boschendal is a Cape Winelands icon and an acclaimed wine and food destination, set on an estate in the valley that offers a rich heritage and spectacular natural landscapes. The vineyards and fruit trees have been joined by vegetable gardens and a growing herd of pasture-raised Black Angus cattle all reflecting their commitment to serving wholesome farm-to-table food.
Seasonal picnic baskets can be enjoyed on the lawn under the tall oak trees at The Rose Garden, and the Cellar Door offers a Cheese Board & Charcuterie Board that compliments your wine tasting perfectly. All the ingredients on the boards apart from the cheese, which is locally sourced from Dalewood Fromage, come from the farm.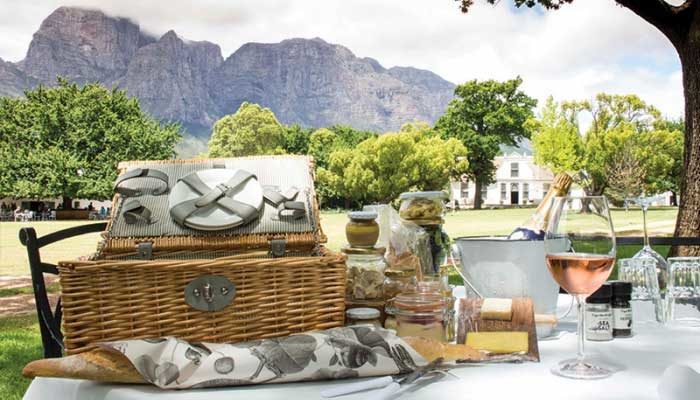 Boschendal
The estate offers further activities for visitors to enjoy and explore such as cellar and farm tours, chocolate pairing, a farm shop and butchery, kids edu-play centre, horse riding and mountain bike trails.
Noble Hill
Located on the the granitic northern slopes of the Simonsberg mountains, Noble Hill makes estate wines that are fruitful, structured, elegant, and authentic to their origin.
Relax in the wine shop and sample the estate's wines, or experience a private wine and cellar tour. The Cosecha Restaurant combines fresh latin cooking with vineyard views. Ingredients are locally sourced and harvested from a vegetable garden which you can explore during your visit.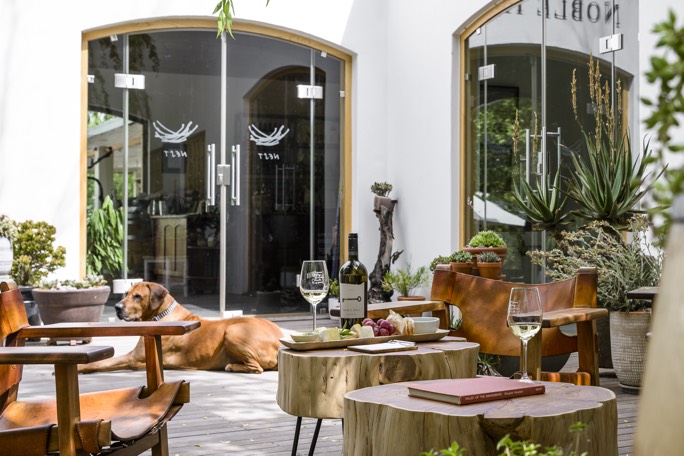 Noble Hill
If it's lighter fare you are looking for, you can order wine pairing snacks and cheese boards from the Nest menu, available in the wine shop. Pre-booked picnics are available seasonally.
Other activities here include the wine pairing menu, seasonal picnics, and olive oil tours and tastings.
Plaisir de Merle
For more than 300 years, Plaisir de Merle has been making French-inspired wines in Simondium, between Franschhoek and Paarl, and was one of the first farms to start cultivating vines in the area. Today, the farm encapsulates two of the original Drakenstein farms, making it not only one of the oldest but one of the largest in the area, spanning over 1 000 hectares, with 350 hectares planted to vine.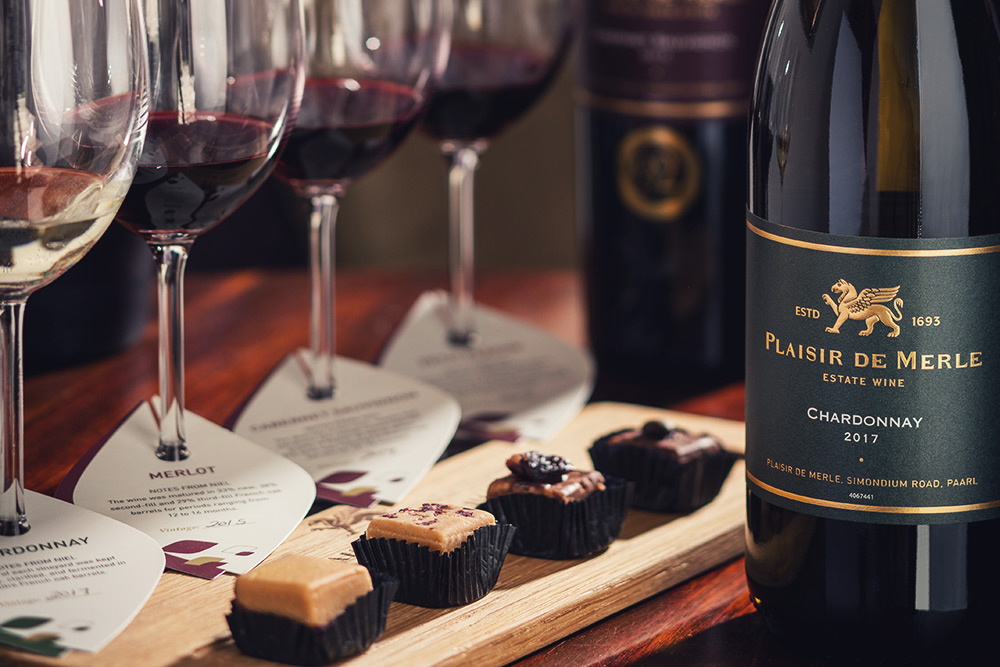 Plaisir de Merle
Here you can entice your taste buds with a fudge, nougat or chocolate pairing, enjoy a cellar tour, dine on a light lunch or varied platter, and entertain the kids at the jungle gym.
Solms Delta
Celebrating what it means to be South African through the food, the people, the music and, of course, the wine, Solms-Delta has created a sense of pride, belonging and ownership to the generations of those who have called this historic farm home.
The mouthwatering Fyndraai Restaurant offers food that's unpretentious, proudly local and adventurous. The head chef explores the diverse culinary history of the Cape, uniting European, Asian and African ingredients together in a contemporary menu. The restaurant is also housed inside the farm's excavated historical cellar as part of a larger conservation project on the farm called the Dik Delta Fynbos Culinary Garden.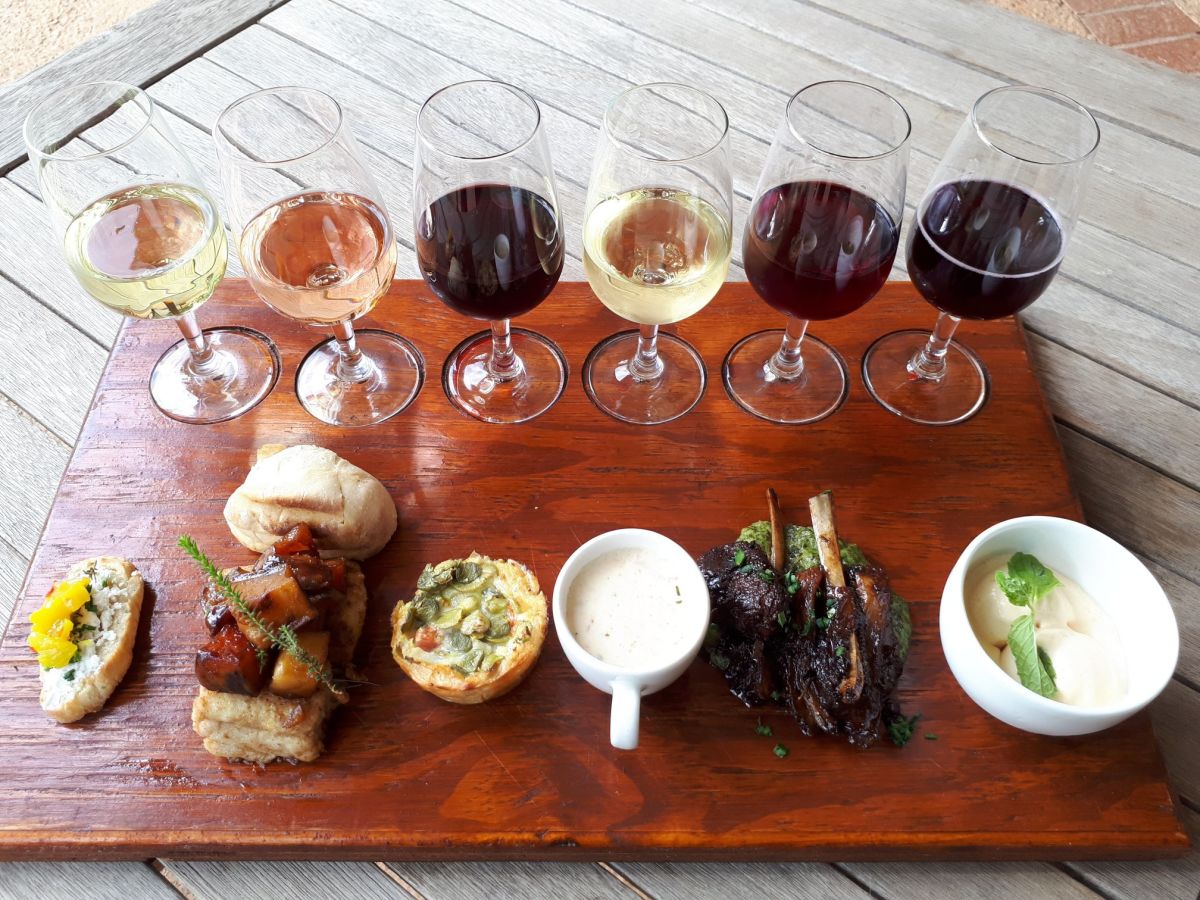 Solms Delta
Activities here include shopping at the Delta Deli, farm tours, exploring the Dik Delta Culinary Garden, the Museum van de Caab, wine tasting, picnic and cellar tours.
Vrede en Lust
Vrede en Lust is a family owned and managed wine estate where you can taste some award-winning boutique wines whilst enjoying the panoramic views of the Simonsberg-Paarl mountains. Today, this breathtakingly modern wine farm, is a tribute to its noble roots and continues to build on over 320 years of history and heritage.
At the LUST Bistro & Bakery the food is honest, abundant and delicious with an emphasis on simplicity and seasonal ingredients. Choose something from the àla carte menu or daily blackboard specials – or rather pick up something fresh from the bakery counter to take home.
Vrede en Lust
Activities at the estate include garden walks, cellar tours, Lindt chocolate pairing, horse-drawn carriage rides and a family jungle gym.
THE ROUTES
STOP 1: Allee Bleue
STOP 2: Solms Delta
STOP 3: Boschendal (Cellar Door)
STOP 4: Plaisir de Merle Platform
STOP 5: Vrede en Lust Platform
STOP 6: Noble Hill
STOP 7: Babylonstoren
STOP 8: Backsberg
STOP 1: Noble Hill
STOP 2: Babylonstoren
STOP 3: Backsberg
STOP 4: Vrede en Lust Platform
STOP 5: Plaisir de Merle Platform
STOP 6: Allee Bleue
STOP 7: Solms Delta
STOP 8: Boschendal (Cellar Door)
Tickets are only valid for the stipulated day of booking and booking for this tour is essential. Your tour ticket through City Sightseeing includes a return transfer to and from the wine tram station, your tram ticket, a taste of a local wine aboard the tram, and your choice of either the Orange or Purple tram route. Don't forget that you also get a further 25% off your ticket if you buy it together with a Mega Pass!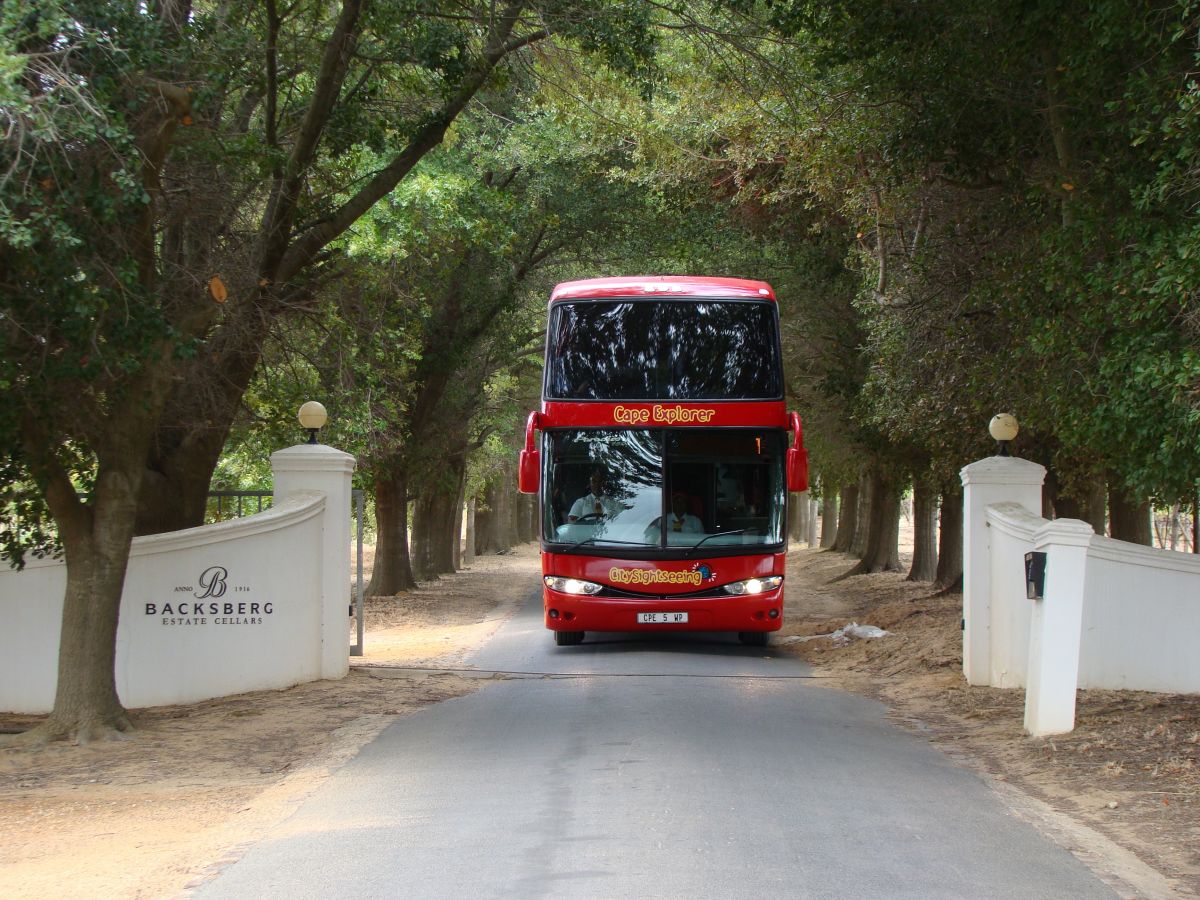 Wine Bus
It is imperative to enquire about all activities on offer at the estates and to book in advance. Upon payment of your tour ticket with us, we will send your booking confirmation along with all the telephone numbers you will need to call ahead and make table or activity reservations.