December 2020
The holiday season is upon us and for residents of Cape Town and surrounds, a visit – or two - to the Kirstenbosch National Botanical Garden, acclaimed as one of the great botanical gardens of the world, is always a favourite.
Kirstenbosch will be open every day, including all public holidays, and it has so much on offer it will be hard to choose what to do first! Added to this, being outdoors is a safer and healthier way to spend time with family and friends at the moment, so meeting up at Kirstenbosch is the perfect way to connect with loved ones.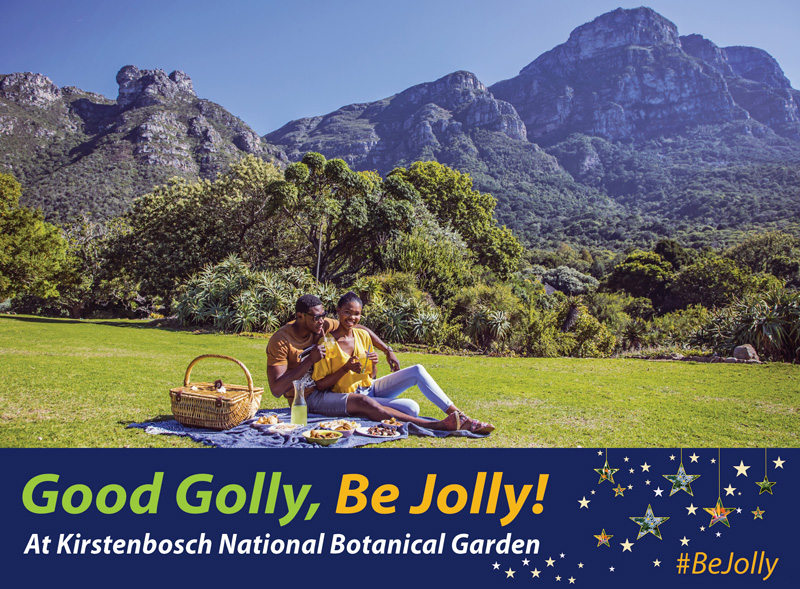 .
Plan your adventure
The Garden in summer is alive with flowers, the calls of birds, and the buzz of bees and other insects that visit the flowers. If exploring on your own be sure to grab a Garden Guide map at the Ticket Office to accompany your wanderings. For the more intrepid who would like to tackle one of the trails through the Kirstenbosch Estate there are five to choose from and details can be found on the Walks and Trails Map available at the Ticket Office.
Key features not to be missed at Kirstenbosch include the Centenary Tree Canopy Walkway or "Boomslang" - a curved steel and timber bridge that winds and dips its way through and over the trees of the Arboretum. The Fynbos Walk, which traverses the upper slopes of Kirstenbosch, the Dell, the Cycad Amphitheatre, the Bird Bath and so much more!
Dining at Kirstenbosch – fresh air makes for healthy appetites
For those looking to enjoy a meal, Kirstenbosch offers three different restaurants, each in a different location and with a distinctive menu. There is Moyo, with its African charm and cuisine, which offers exceptional breakfasts and Sunday family lunch feasts and be sure not to miss their Christmas day feast with live entertainment (bookings essential); the Kirstenbosch Tea Room with its relaxed, friendly atmosphere where you can enjoy sit down meals; and Vida e Caffè for high quality coffees, and teatime treats. Order ahead on the Vida e Caffè app and skip the queue.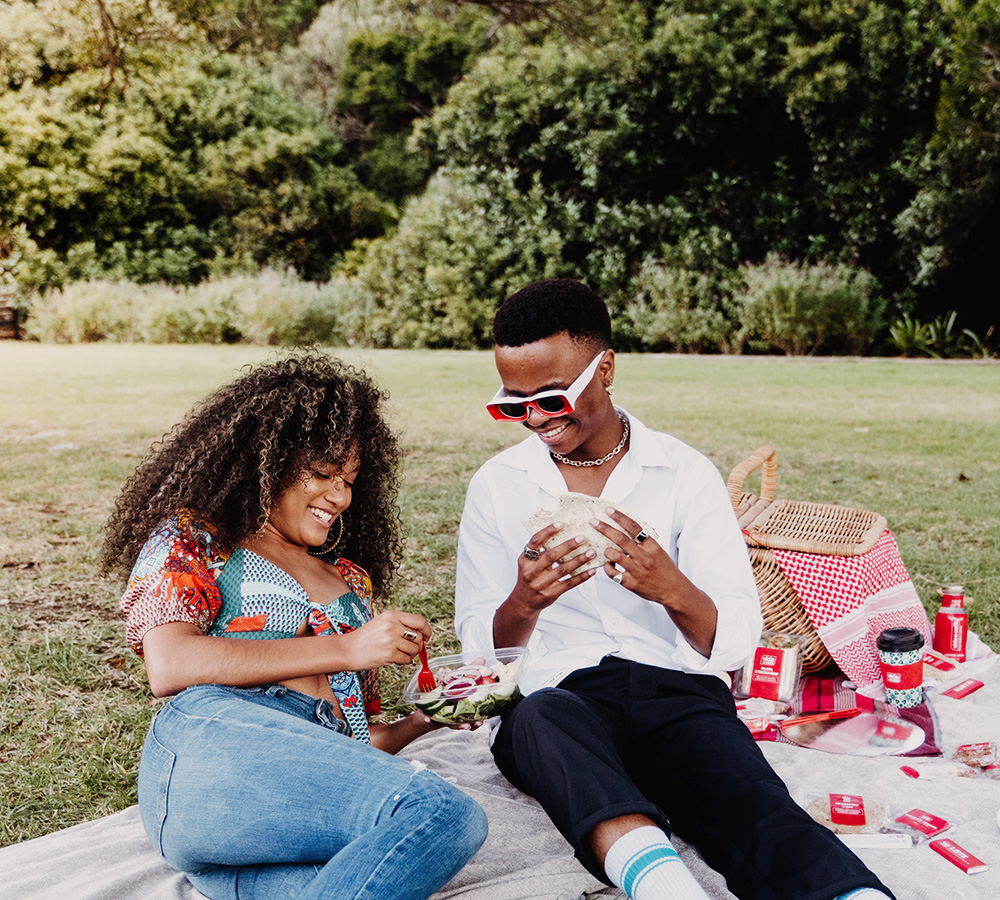 .
Alternatively, pack a picnic to enjoy on the beautiful rolling lawns. If you fancy a picnic, but don't want to prepare it yourself, you can also pre-order one from Moyo – just remember to give them at least 3 days' notice. Vida e Caffè is offering a special Mucho Deal on toasted sandwiches (for a group / family of 2 to 4) to enjoy as a picnic, or you can order take-aways and picnics from the Kirstenbosch Tea Room – prepared fresh while you wait.
Shopping at Kirstenbosch
Kirstenbosch offers some fantastic shopping opportunities for those that enjoy some retail therapy and are looking for perfect Christmas gifts.
The Kirstenbosch Gift Shop is a celebration of all things botanical, and showcases the unique work of a myriad of talented local South African artists, designers and craftsmen. Ranges include bath and body products, home-ware (both softs and ceramics), African crafts and souvenirs, children's gifts (including plush toys, games and clothing), men's and ladies clothing, and assorted accessories including bags, scarves and belts.
For the festive season the shop is festooned with Christmas cheer and visitors can look forward to Christmas ornaments, décor, gift bags, boxes and table runners, laser cut Christmas tree ornaments and more. You can also Glam your Gift with a bespoke range of festive season gift wrapping options – think beautiful boxes, gift bags, ribbons, tissue paper, gift cards as well as customized laser cut gift identifiers.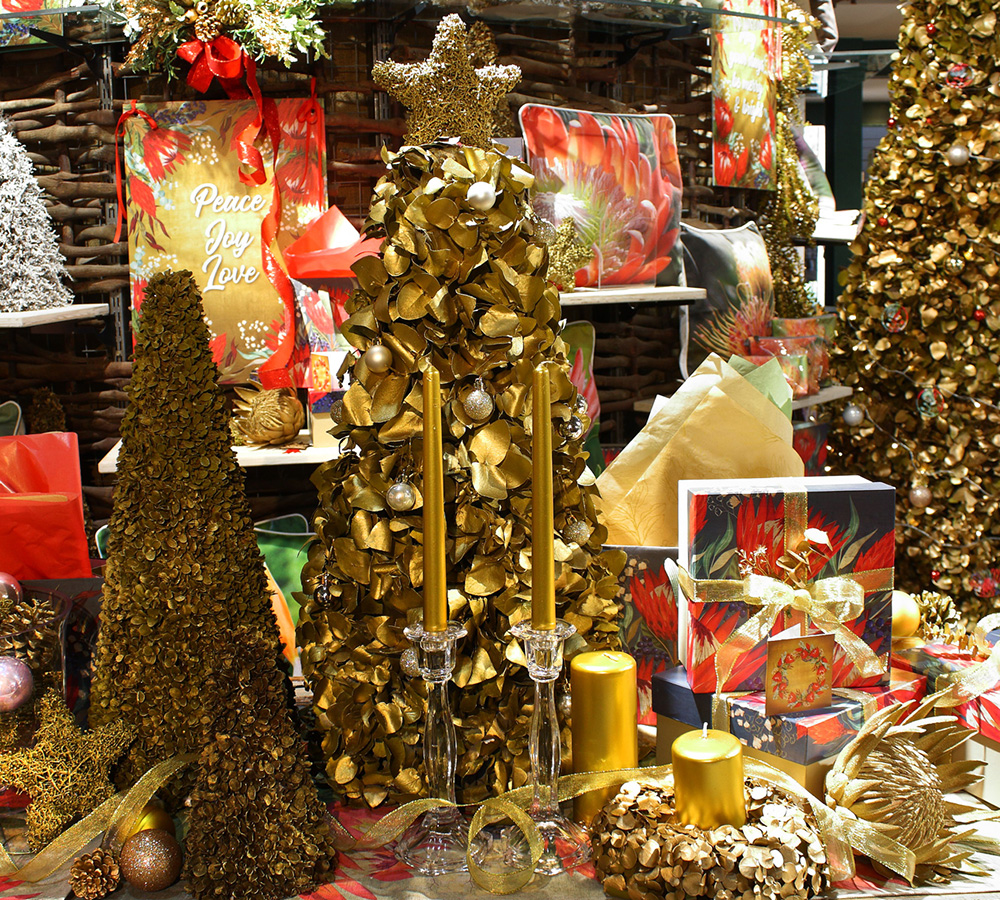 .
In addition to the gift shop, Kirstenbosch features a bookshop which is South Africa's leading stockist of botanical, natural history and local culture books as well as a beautiful range of botanical art, stationery and gifts. There is a children's book section with a carefully selected range of CDs, DVDs, puzzles, colouring books, and other beautiful gifts.
Highly recommended book gifts for this year include Sea Change by Craig Foster and Ross Frylinck; A Life On Our Planet by David Attenborough; and the a Field Guide to the Renosterveld of the Overberg. All profits generated by the Kirstenbosch Bookshop are directed to fundraising projects for the South African National Biodiversity Institute (SANBI) and the Botanical Society of SA.
For those who wish to take home a slice of Kirstenbosch's beauty, visit the Kirstenbosch Garden Centre - an indigenous retail nursery situated at the Centre for Home Gardening (Gate 2). They stock a wide range of plants to suit all tastes and needs, with experienced staff on hand to offer advice. You can also purchase gift vouchers, a range of gifting items and cards at the nursery.
Special events at Kirstenbosch
Added to all the above, Kirstenbosch also has a line-up of special events taking place over the holidays.
From the 11th to the 13th of December the Cape Bonsai Kai's annual show is being held at Kirstenbosch at the Richard Crowie Hall (gate 2).
Younger visitors between the ages 6 and 9 can take part in a "Create Your Own Treasure Box" workshop with natural items from nature which is taking place at the Goldfields Education Centre on 17 December from 09h00 – 13h00. The next day (18 December) children between the ages of 10 and 12 can take part in a "Create A Creature" workshop at the same time and venue, using recycled items. The cost is R60 per child per workshop, and pre-booking and pre-payment is essential contact: Nazeerah van Niekerk or Mmuso Lerutla at m.lerutla@sanbi.org.za or call 021 799 7670.
On Thursday and Sunday nights, as well as a special screening on Christmas Eve, the Galileo Open-Air Cinema will be entertaining visitors, with tickets available from www.webtickets.co.za.
The annual and much-loved Cape Town Carols at Kirstenbosch hosted by the Rotary Club of Kirstenbosch and sponsored by Pick n Pay will be a virtual event this year from 10 – 25 December. Please support them by booking at www.quicket.co.za.
Safety remains a priority
In order to keep visitors and staff safe, Kirstenbosch is reminding everyone to please wear their masks at all times, unless seated away from others or eating. The wearing of masks is vital at the more congested areas of the Garden, including entrances/exits, shops, ablution facilities and pathways.
Kirstenbosch is open every day, including public holidays, from 08h00-19h00 in summer. The entrance fee for adults is R75; SA Senior Citizens (with ID are free on Tuesdays except on public holidays; RSA Students (with student card) pay R40; Scholars/Learners (6 – 17 years) cost R20; and children under 6 are free. Tickets can be purchased at the ticket office or you can book and pay online at Webtickets. For more information contact Kirstenbosch on 021 799 8783.