Summer may have left us in the dust, but the kids are still full of energy, and there are many holidays throughout the Autumn and Winter months where you'll want to keep them entertained. There are loads of things to keep the kids preoccupied, and we'll get you there with the #RedBusSA. From the 1st of May to the 10th of October we'll be offering our famous 3 for 1 special, valid on weekends, public holidays and school holidays. With 1 adult ticket, two kids get to ride for free! Hop-On our iconic Red Bus for fun and adventure, enjoyable for the whole family.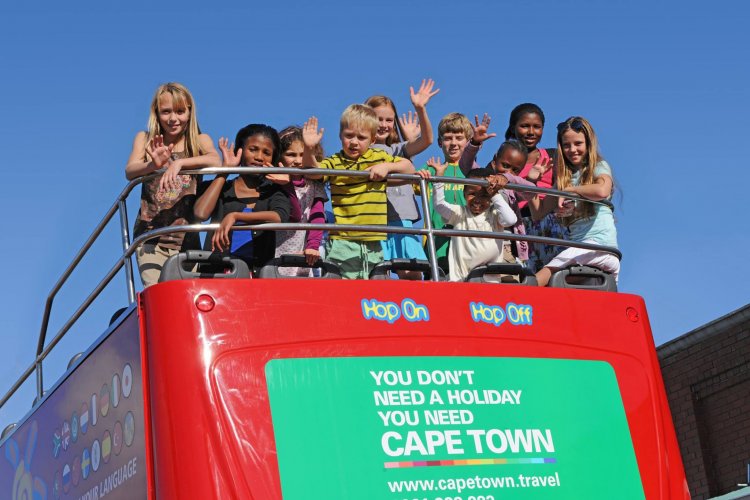 Image Source: City Sightseeing
Keep the Kids entertained through the chilly months with City Sightseeing
Book your 3 for 1 hop-on-hop-off ticket with us online for you and your family to gain full access to the Red Bus, taking your kids on an adventure around Cape Town. There are a number of attractions that the City Sightseeing bus stops at, many of which are great fun for kids. Check out our compilation of all the best attractions and events for kids in Cape Town this Winter.
Keep our map and timetable on hand at all times to make sure you'll never miss your stop or bus. And even in Winter, it's important to bring your sunblock along and apply it. Dress in layers so you can enjoy it when the sun comes out, and wrap up warm if it gets chilly.
Explore the Two Oceans Aquarium - V&A Waterfront
The Two Oceans Aquarium is one of the most popular attractions for sightseers of all ages, offering a day of underwater fun and wonder. The Two Oceans Aquarium Aquarium is home to hundreds of aquatic species native to the Indian and Atlantic oceans. The waters surrounding Cape Point are rich and diverse, teaming with life unique to the waters where the two oceans meet.
Kids will love the I&J Children's Play Centre, the Touch Pool, the Penguin exhibit, The Jelly Gallery, and the famous Predator exhibit. The cuddly-looking penguins and the toothy grins of the Sand Tiger Sharks are sure to delight the kids, and you can snap a picture in the Clown Fish Dome or grab a plushie from the gift shop to take the fun home with you.
The Two Oceans Aquarium is right next to the City Sightseeing Ticket Office at Stop 1. You can book your tickets online through City Sightseeing to save money and skip the queues to get straight to the good parts.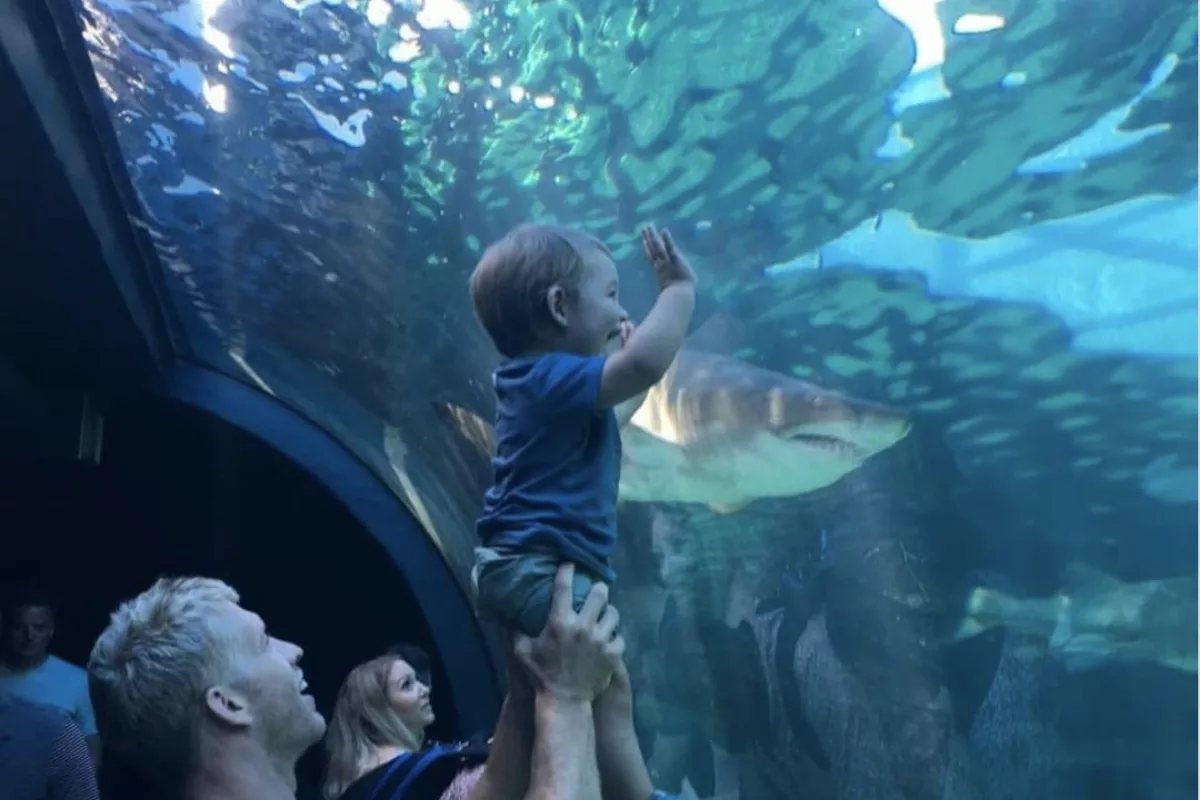 Image Source: City Sightseeing
Run rampant at the PlayDate Super Park - V&A Waterfront
This jungle of an obstacle course is a world of fun and games for kids, encouraging them to use their motor skills to navigate the mazes, obstacles and play areas. If your child is over 5 years old they can explore the PlayDate Super Park on their own, giving you a chance to relax or explore the mall at your leisure. Children under 2 enter for free but must be accompanied by an adult.
This park is located in the Watershed Jubilee Hall, a short walk from the City Sightseeing ticket office and Stop 1.
Catch a round of Cave Golf and go rummaging in the Scratch Patch - V&A Waterfront
Retreat inside during stormy weather for a family round of Cave Golf at the Mineral World in the V&A Waterfront. This indoor put-put course is fun for all ages and has its own tight corners and tricky paths that will keep the game challenging and interesting.
The Scratch Patch is also a huge hit with the kids; they love digging around for their favourite gems, picking out a prettiest smooth-tumbled jasper, amethyst, tigers eye and quarts. Buy a bag and help them fill it up with colourful semi-precious stones to take home.
The Cave Golf and Scratch Patch are just opposite the City Sightseeing ticket office and Stop 1.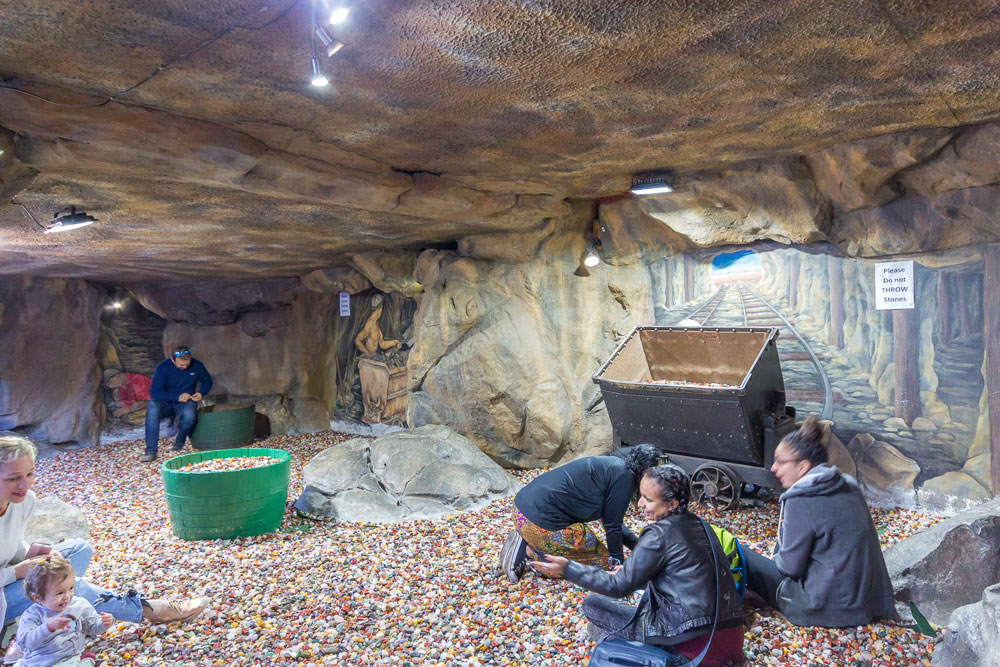 Image Source: Scratch patch.co.za
Unleash their inner artists at Artjamming - V&A Waterfront
We love to encourage creativity, so get your kids down to Artjamming on a rainy day to let them have at it with paint and canvas. Artjamming has fun, colourful painting sessions, inspiring the imagination and supporting creativity in people of all ages. Just purchase the size canvas that you want, and use all the tools and paints they have on offer to create masterpieces.
Artjamming also has a program called Messy Play, where kids 8 months to 3 years get to enjoy what the love most- getting dirty! It encourages cognitive skills in a fun, safe and rewarding environment. And it's great for parents since they don't have to do the cleaning up afterwards.
It's a highly rewarding activity for the whole family to enjoy, and you can find Artjamming at The Breakwater, about 8 minutes walk from the V&A Waterfront's City Sightseeing ticket office and Stop 1.
Take a trip through history at the Iziko South African Museum - CBD
Another haunt perfect for those rainy days, the Iziko South Africa Museum hosts a Planetarium and a vast collection of taxidermies, fossils, cave paintings and other historical items. It's awe-inspiring and with lifesize models and in-depth diagrams and information, the whole family can learn about the history of South Africa and the continent.
You can spend a great deal of time exploring the museum, and it's open till late on the first Thursday of every month. The museum is located at the Southern end of the Company Gardens, and are about a 12-minute walk away from the City Sightseeing Long street ticket office, at Stop 5, and about 7 minutes walk away from the Mount Nelson Hotel at Stop 15.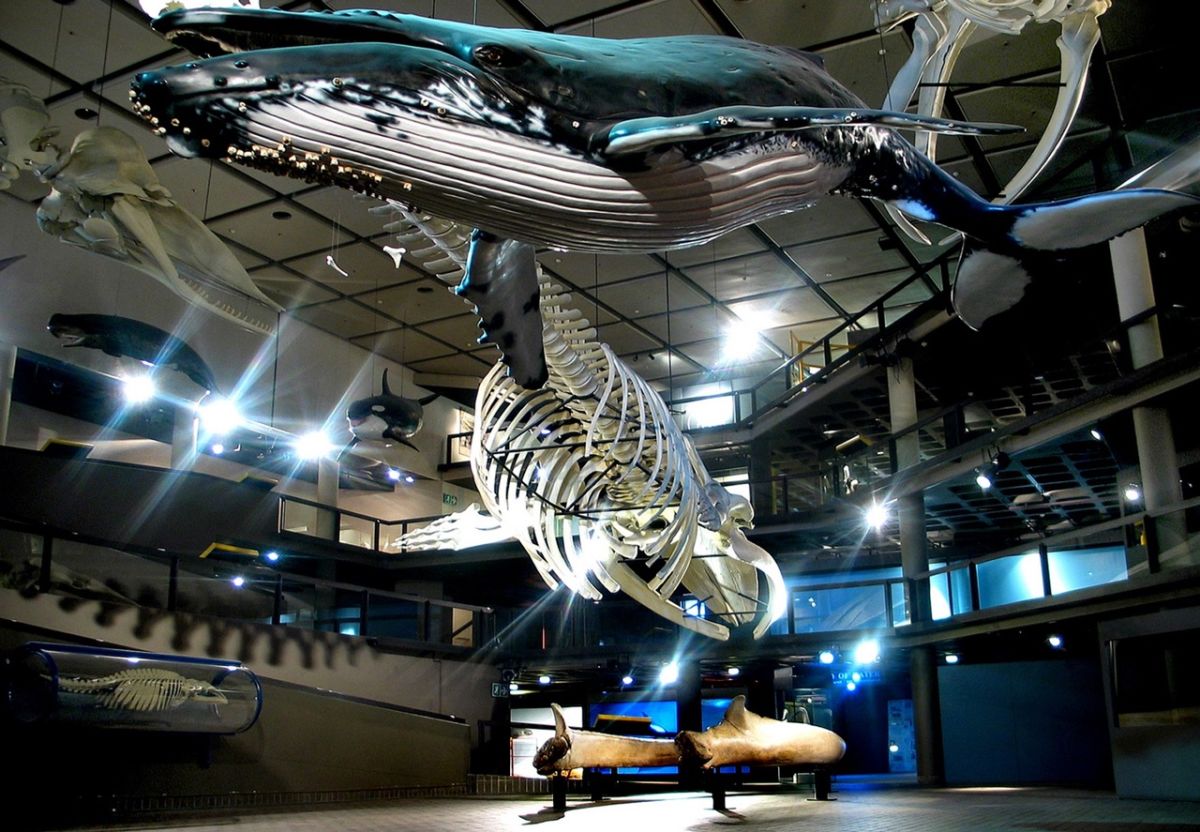 Image Source: City Sightseeing
Explore the wonders of the Kirstenbosch Botanical Gardens
The Kirstenbosch Botanical Gardens is a floral paradise, home to thousands of native species of fynbos and other African plants. It's considered one of the greatest botanical collections in the world, and it's easy to see why! It's a beautiful place, and a hit with visitors of all ages.
The canopy walk is a hit for people of all ages, and the gardens are teaming with wildlife that kids will love looking out for. During the Winter school holidays, Kirstenbosch hosts a Winter Wonderland learning course, with games, puppet shows, lessons and more. And from mid-June to mid-July all kids under 18 enter for free! When this special isn't on, kids under 6 enter for free, and kids 6 years old to 17 years enter for R20.
While Winter is the rainiest season at Kirstenbosch, Winter is the season when most of the fynbos flowers are in bloom, which is a beautiful sight to behold. Along the Fynbos Walk, you'll see the Bird of Paradise, Mandela's Gold, Proteas, and many other fynbos flowers in bloom.
Kirstenbosch can be accessed from the City Sightseeing Stop 20. Bring along a warm jacket with a hood in case it rains, but on the park's sunny days be sure to put on plenty of sunblocks
Get your Tarzan on at Acrobranch - Constantia
Head over to Constantia Nek on a dry Winter's day to make your ascent into the treetops, unleashing your inner wildman to traverse tightropes, manoeuvre around trees and climb to the very top. It's totally safe, and with courses available to those as low as 3 years old, it's a fun sport available to everyone. It encourages problem-solving skills in children, as well as exercising their motor skills.
Be sure to check the weather to pick a good day to go on your Acrobranch adventure, and know that you can book in advance if you want secure your spot on a day where the weather is forecast to be favourable. You can find Acrobranch at City Sightseeing's Stop 23, next to La Parada.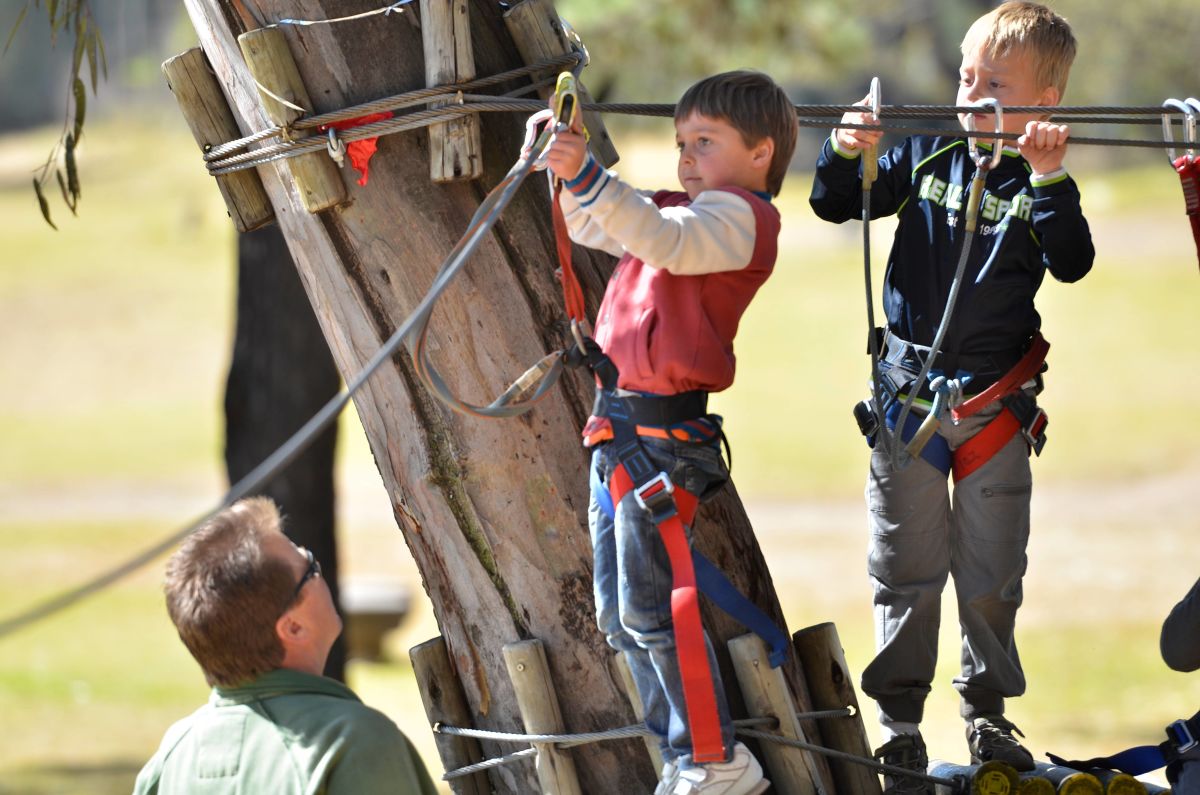 Image Source: Acrobranch
Flock to the World of Birds - Hout Bay
The World of Birds is a hit with sightseers of all ages, with its cute squirrel monkeys and thousands of colourful birds. It's the largest bird park in Africa, and it's also home to a vast collection of mammals. It's set in the beautiful tropical basin of Hout Bay, making it relaxing for adults while the kids rave over the birds and animals.
The Monkey Jungle is a favourite for many, so be sure to get there when it's open, from 11:30 - 13:00 and from 14:00 - 15:30. Kids will love having the squirrel monkeys clamber all over them, and there's also an exhibit of playful meerkats for them to enjoy. Just remember to keep all items secure when visiting the monkey jungle - they have notoriously nimble hands and are highly inquisitive. They'll almost certainly nab something off you if you're not careful.
You can find the World of Birds at City Sightseeing's Stop 22, and it's a great place to visit any time of the year.
There's a lot to keep the kids busy these Winter Holidays with City Sightseeing
The June holidays don't have to be boring, and you don't have to worry about what to keep the kids busy with this Winter. Book your 3 for 1 hop-on-hop-off Red Bus ticket with us online or at our City Sightseeing ticket offices on Long Street and at the V&A Waterfront to go on a tour across the Mother City, exploring Cape Town's top attractions for kids this Winter.