FUN EXPERIENCE
Franschhoek Wine Tram Explorer Tour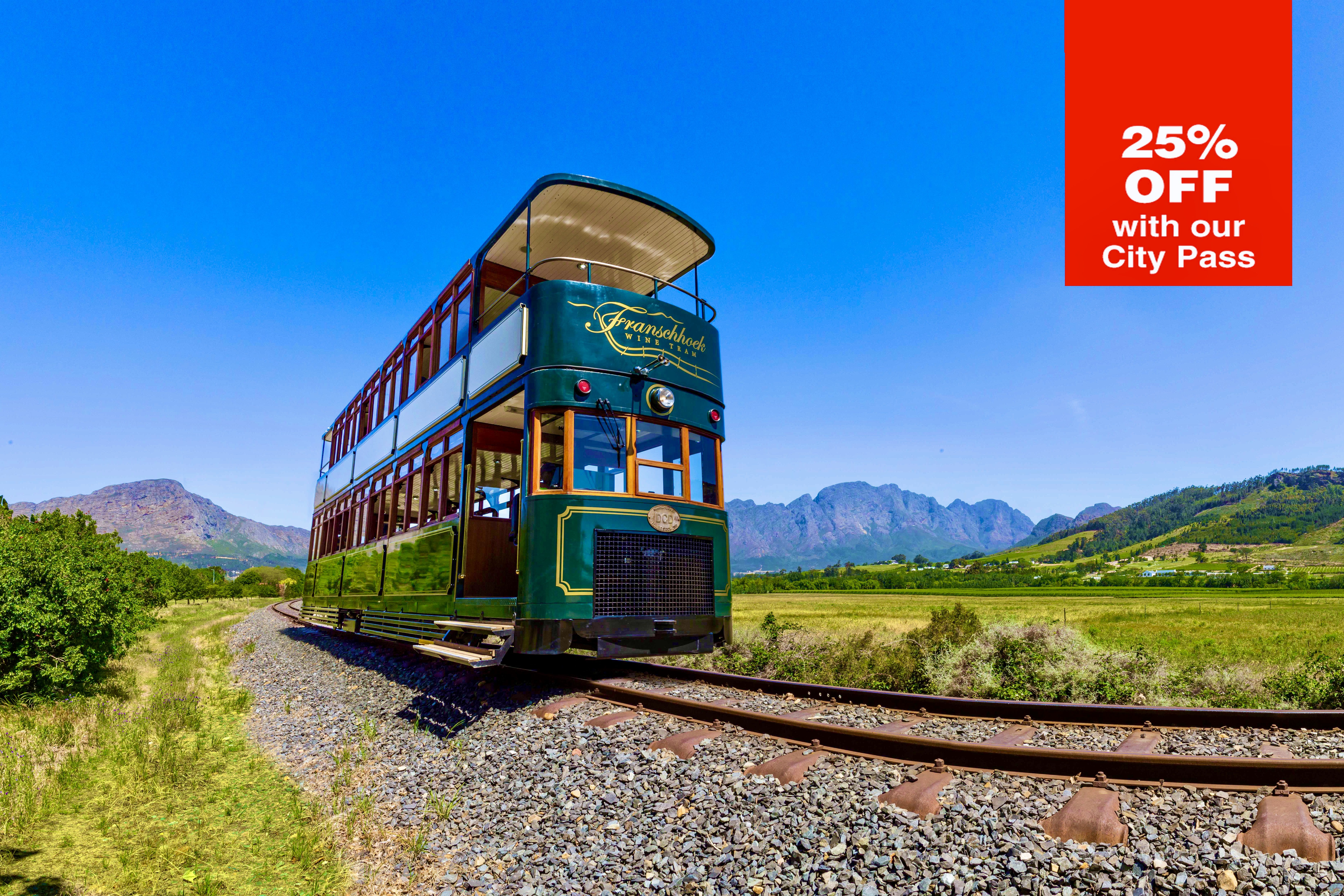 TOUR DESCRIPTION
Depart from Cape Town in a luxury air-conditioned coach and head directly to the Franschhoek valley to join the Franschhoek hop-on hop-off wine tram and bus. The Franschhoek Wine Tram offers two hop-on hop-off lines (clockwise & anti-clockwise), each visiting various wine estates in the Franschhoek Valley. Enjoy transportation to each wine estate every hour by a combination of tram and tram-buses around the loop. Each stop is at a different wine estate, allowing you to hop on and hop off at any of the estates. The tram or tram-buses pass each stop once an hour, so you can explore at your convenience to move from one estate to the next. Head back to the Franschhoek Wine Tram station for your transfer back to Cape Town. You are welcome to purchase wine at any of the estates and leave your purchase with one of the tram drivers, who will ensure you are re-united with your purchase at the time of boarding the motor-coach back home!
Don't Drink & Drive!
Return transfer to the Wine Tram
Tram Line ticket
Best vineyard views from the tram
25% OFF if bought together with Mega Pass
Complimentary pick-up near most hotels
MORE INFORMATION
The Franschhoek Wine Tram hop-on hop-off tour is one of the best ways to discover the true essence of the Franschhoek Valley – picturesque vineyards, breath-taking scenery, warm hospitality, world-class cuisine, fine wines and a 300-year history.
Passengers aboard the hop-on hop-off tour will experience a unique and leisurely way to see the Franschhoek Valley as they journey through rolling vineyards in a vintage style railway tram and open-air tram-bus stopping in at some of South Africa's oldest and most distinguished wine estates. A combination of tram and tram-bus transports passengers around a loop of stops allowing them to hop-off at each stop and experience the activities on offer, be it wine tasting, a cellar tour, lunch or simply a stroll through the vineyards and when they are ready, hop-on to continue the tour. The tour takes passengers through the Franschhoek Valley, with a narration focusing on the history of Franschhoek and wine cultivation in the valley and unparalleled views of the valley and vineyards. Breath-taking scenery, warm hospitality, world-class cuisine and fine wines: These are the hallmarks of the beautiful Franschhoek Valley in the heart of the Cape Winelands. When the Huguenots first settled in this spectacular valley over 300 years ago they brought with them their traditions and knowledge in winemaking and viticulture from their native France and transformed the wilderness around them into one of the most beautiful valleys in the world. This proud heritage can be seen and felt today on the wine farms.
There are a variety of cellars, from small boutique wineries that cater for those in search of something unique, to large cellars that offer organised tours and conducted tastings. Award-winning wines range from plump reds to elegant whites and delicious sparkling wines. This longstanding tradition of winemaking is a perfect complement to the excellent food that is served. The Franschhoek Valley is known as the Wine & Gourmet Capital of South Africa and has among its truly talented chefs several who have been awarded the highest national and international culinary honors.
Tickets are only valid for the stipulated day of booking and booking for this tour is essential.
Important Information
Which tram Routes can I join:
08h30 Tour: Navy Line: Please Click here to learn more
09h00 Tour: Blue/Red/Pink Lines, please Click here to learn more (Operates 16 Dec'23 - 06 Jan'24 only)
Tram fully booked?
For an alternative wine tour option INCLUDING cost of 3 wine tastings please see our Winelands Tour
Departure days
Operates: Daily
For an alternative wine tour option INCLUDING cost of 3 wine tastings please see our Winelands Tour
Tour starts
08h30 Tram Tour: Final Departure Point: V&A Waterfront Tour office, located outside the Two Oceans Aquarium
(Other pick up points available at earlier times during booking process)
09:00 (available on selected dates only) Tram tour departs from V&A Waterfront our office only, located outside the Two Oceans Aquarium
Tour Ends
Tour returns to V&A Waterfront (Stop 1) at approximately 17h45. (and then other stops)
Duration
Included
Transport from Cape Town to and from the tram in a luxury coach with free wifi
The Franschhoek Wine Tram ticket to travel on the Tram and the Tram bus
Not included
Cancellation Policy
Refundable cancellation up to 24hrs before departure. Please note an R20 admin fee per ticket cancelled is applicable.
Did you know we are Carbon Neutral?