June 2021
Fathers and grandfathers are so important in South African culture. On Sunday, 20 June, we need to celebrate and spoil these special men in our lives. Not keen on buying your father another pair of socks for Father's Day this year? At City Sightseeing, we believe experiences are often better than gifts. So, why not rather treat him to an experience with the whole family. The best gift you can give your dad is definitely your time.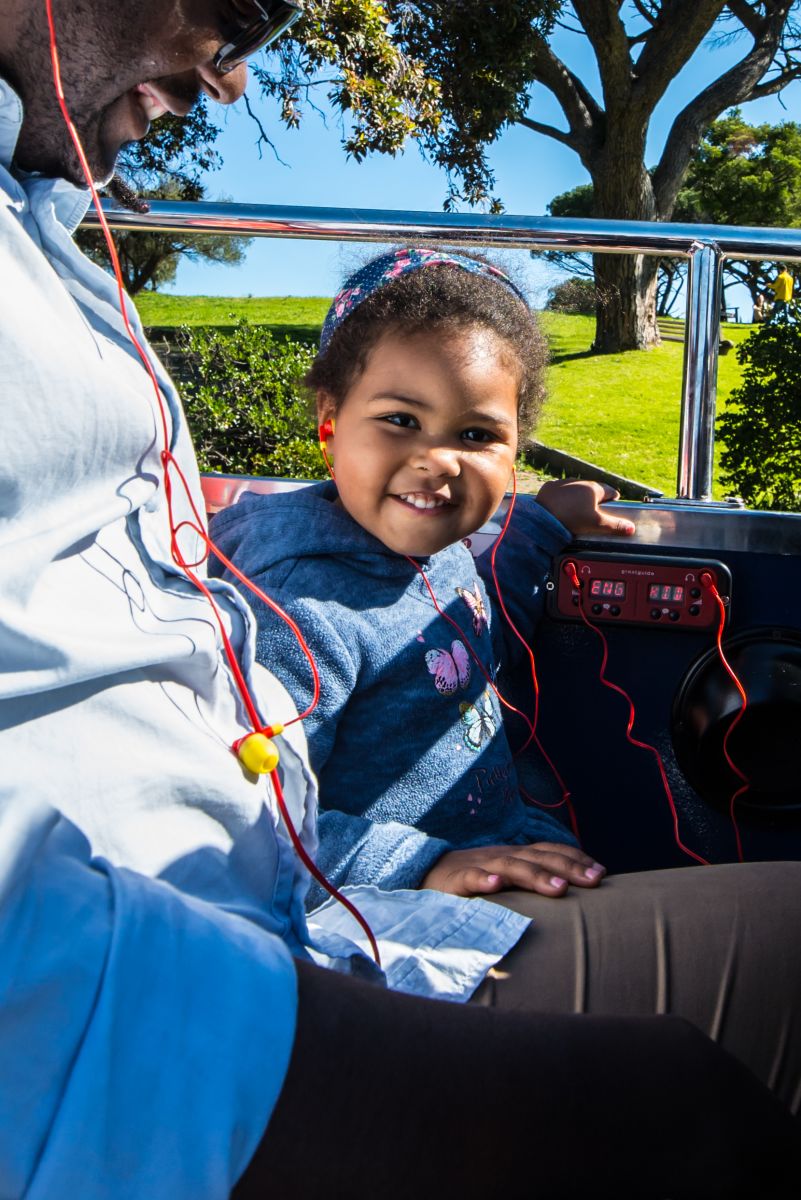 A day out with dad
Join us at City Sightseeing for amazing experiences as we celebrate the dads, granddads and father figures in our families.
Father's Day Canal Cruise and Breakfast
For the men in your life who love the water, treat dad to a relaxing breakfast at the Canal Café at the Harbour Bridge Hotel or the Bootlegger Restaurant in the Waterfront, located at the Two Oceans Aquarium (Stop 1). Hop on our Red Boat (which starts from 9 AM) and take a leisurely trip along the canal that links the Waterfront and the city centre. This canal cruise takes approximately 20 minutes, and you will experience the sights and sounds of the Waterfront that are not often seen from the road. After a delicious breakfast, continue your cruise, noting that your ticket is valid all day so be sure to hop off and explore the Battery Park stop or just enjoy the unique views from the water.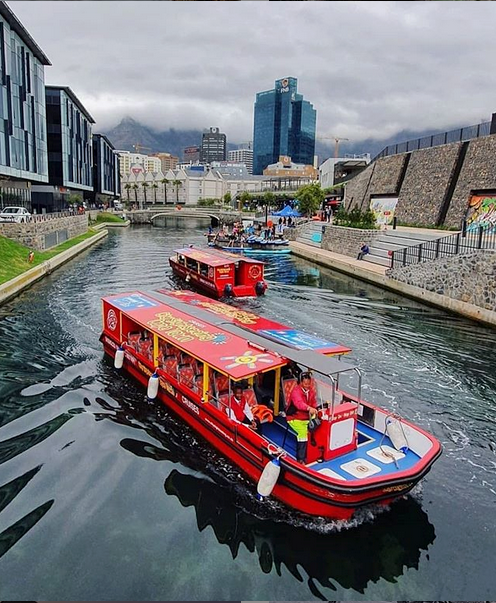 Cruising with the family
Our special rate for Father's Day including the canal cruise and breakfast is:
● R89 Adult ticket (usually R160)
● R65 Child ticket (usually R130)
Note that this special rate is only available when booked online.
As an add-on for the dad's who love the water, why not book him a SUP experience in the Canals. And if dad has not experienced this before, the calm waters of the canals make this an ideal place for his first time and will make him more comfortable and confident on the board. The prices range from R 150.00 for a 30 mins Session or R220 for a 1 Hour Session.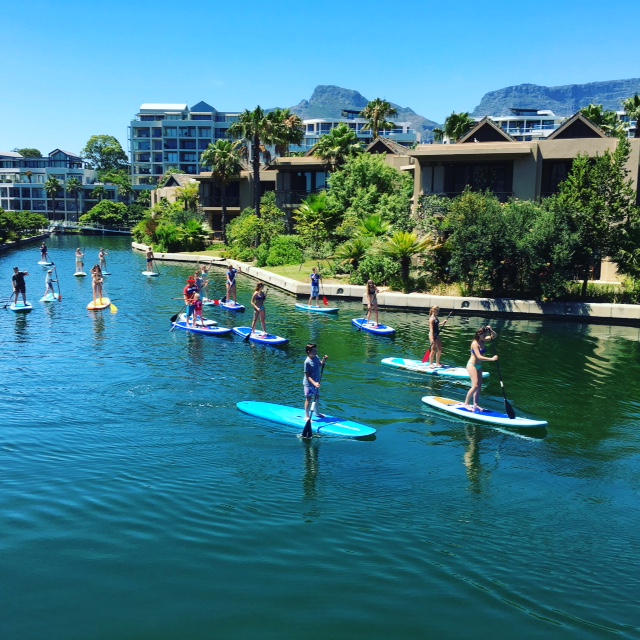 SUPing time (image - Supcapetown.co.za)
Family Fun this Father's Day on The Red Open Top Double-Decker Bus
Most of the time it is the dad's driving us around, searching for parking, sitting in traffic, etc. We have a solution. Let our expert drivers spoil your father so that he can sit back and enjoy the day out with the family. Join us on board our famous Red Open Top Double-decker bus on our 1 day Hop-On Hop-Off tour. With over 30 stops and three routes available you will be spoilt for choice along the way to hop off at your leisure.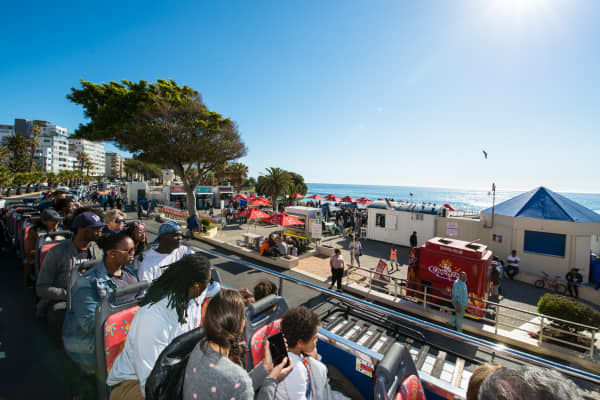 Promenade views from the top deck
Even better is that our special includes lunch at the President Hotel (Stop 9). Dad can enjoy a delicious Pizza and Stella Artois Beer (they can replace Beer with a soft drink).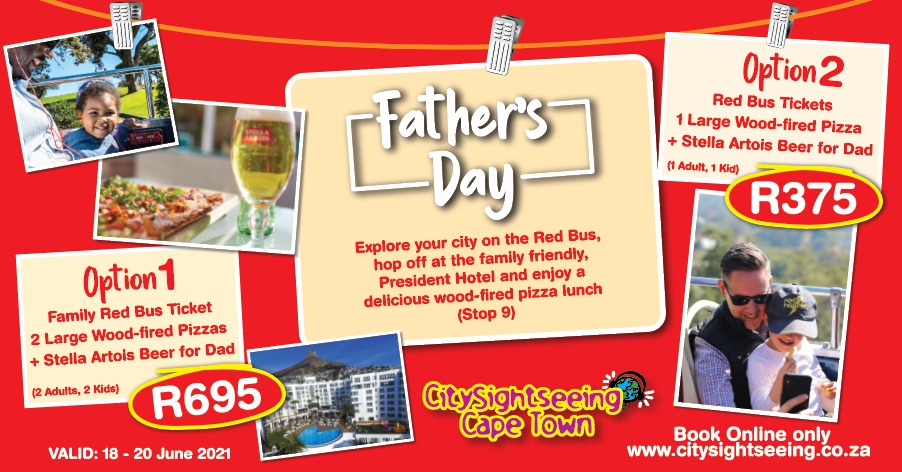 Pizza and Beer at the President Hotel
Our special Fathers Day deal is as follows:
● R695.00 for 2 adults + 2 Children which includes 2 Large Pizzas + Stella Artois Beer for Dad
● R375.00 for 1 Adult + 1 Child that includes 1 Large Pizza + Stella Artois Beer for Dad
A few additional ideas when travelling on this route that you can consider are:
If you would like to take a stroll on the beach with dad and get ice cream for dessert, hop off in Camps Bay at Stop 8.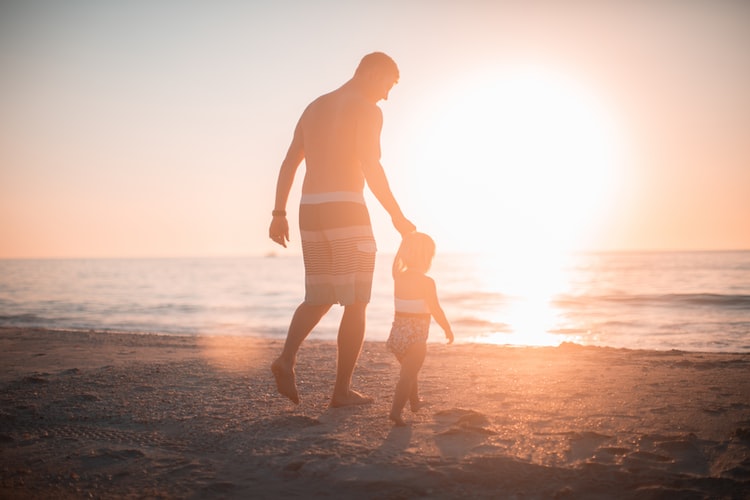 Spend time on the beach in Camps Bay
Or continue along the Blue Route down to Hout Bay at Stop 24 where you can enjoy a Seal Island Cruise, which is a 40-minute experience from Hout Bay Harbour to Duiker Island which is the Seal Colony where you can view thousands of wild Cape Fur Seals, close up in their beautiful natural habitat.
Whatever you choose to do with Dad this Father's Day, join City Sightseeing, let him relax and simply enjoy your gift of time.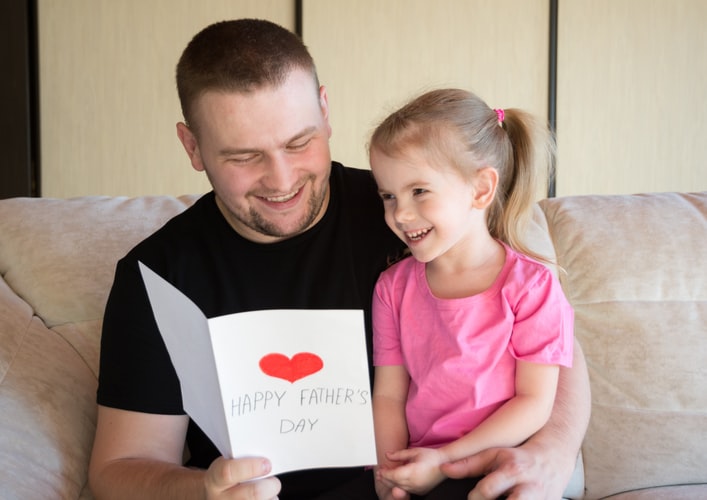 Happy Father's Day