September 2021
For all the foodies in Cape Town, we have partnered with various food and beverage outlets in the city to offer you a combo of City Sightseeing experiences and a delicious meal.
Bus Experiences
Join us on board our famous red double-decker open-top bus which covers three routes, offering over 30 stops. You will have plenty of opportunities to hop off the bus and explore Cape Town landmarks and attractions that appeal to you the most.
For those with a sweet tooth, we highly recommend booking our Krispy-Kreme combo which includes a full day experience on our buses, along with a delicious glazed doughnut and cappuccino.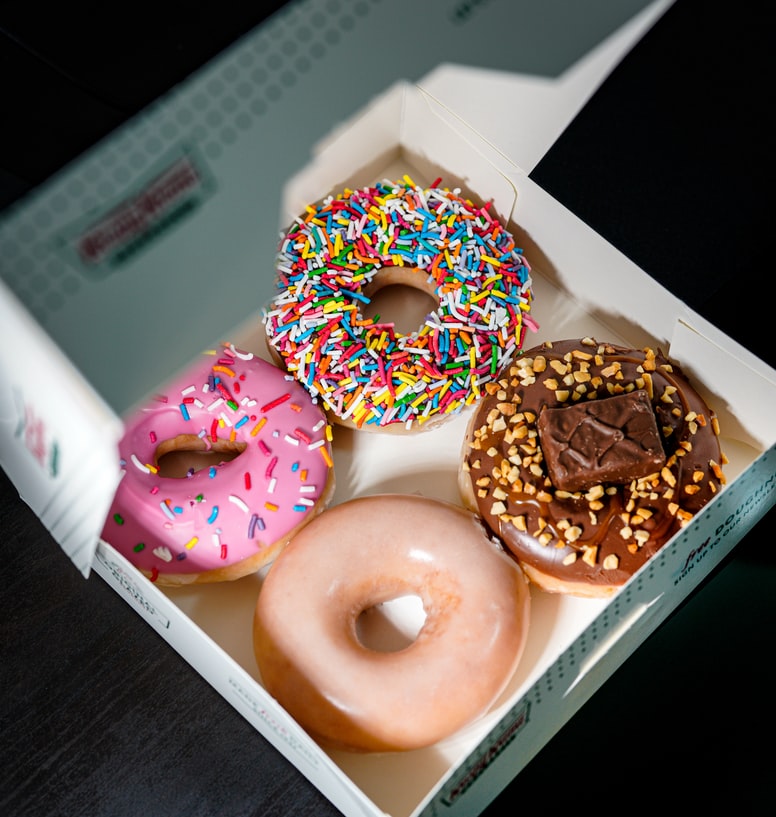 Krispy Kreme's famous doughnuts
● R229 per adult
● A reminder to first visit our Waterfront office to retrieve your bus ticket and Krispy Kreme voucher. This combo offer cannot be collected from Krispy Kreme without a redeemed voucher from us.
If you're craving some fresh fish and chips and waiting to explore the Peninsula and surrounds, we recommend reserving a ticket on our Bus & Lunch Combo. This combo includes a full-day ticket, which will take you to Hout Bay (Stop 24). In this gorgeous fishing village, hop off the bus, and enjoy a freshly prepared portion of hake and chips while you soak in the sights and sounds of the Hout Bay Harbour.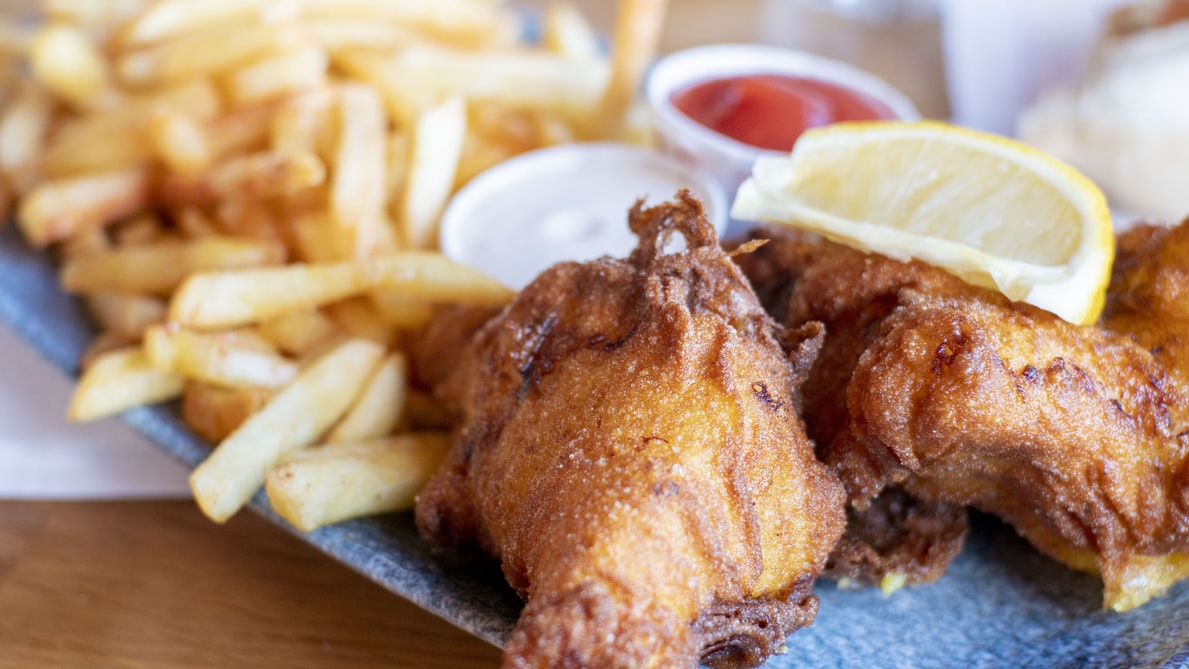 Fresh Fish n Chips
● R269 per adult
● R169 per child
For the burger lovers, you will really enjoy our Bus & Burger Combo special. Take our Red Route or our Blue Route, and hop off at Stop 8 in Camps Bay. Visit the world-famous Hard Rock Cafe and get to know the legends of rock as you enjoy a delicious Classic burger and chips.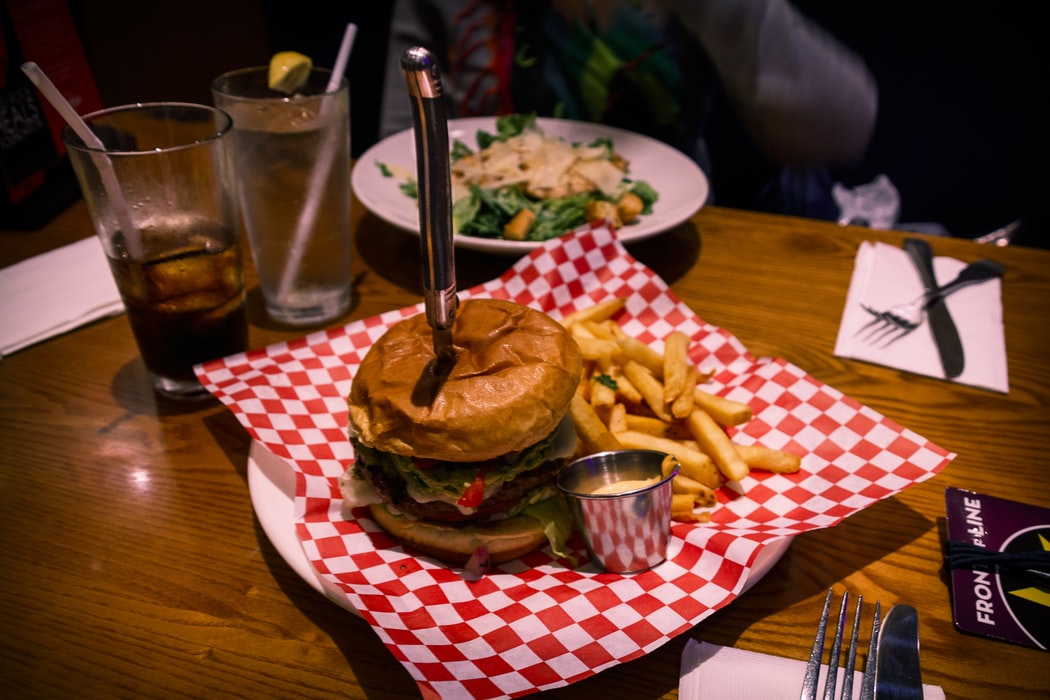 The classic burger at Hard Rock Café
● R265 per adult
● R165 per child
Boat and Breakfast
If you are wanting to explore the Harbour or Canals of the Waterfront, jump on board our red boats, and enjoy one of the amazing meal combos available.
To start the day, we have two fantastic breakfast specials.
On our Canal Cruise, we highly recommend The Canal: Boat & Breakfast Combo.
The Red Boat departs from 09h00 from the dock behind the One and Only hotel and takes you on a leisurely trip along the canal that links the Waterfront and the CBD. This cruise will see give you an insight into the luxurious properties around the canal and provides you with views of the Waterfront that you will not see from the road. This is a hop-on, hop-off tour, meaning you can enjoy the full day on the canals.
Enjoy breakfast at your choice of these venues: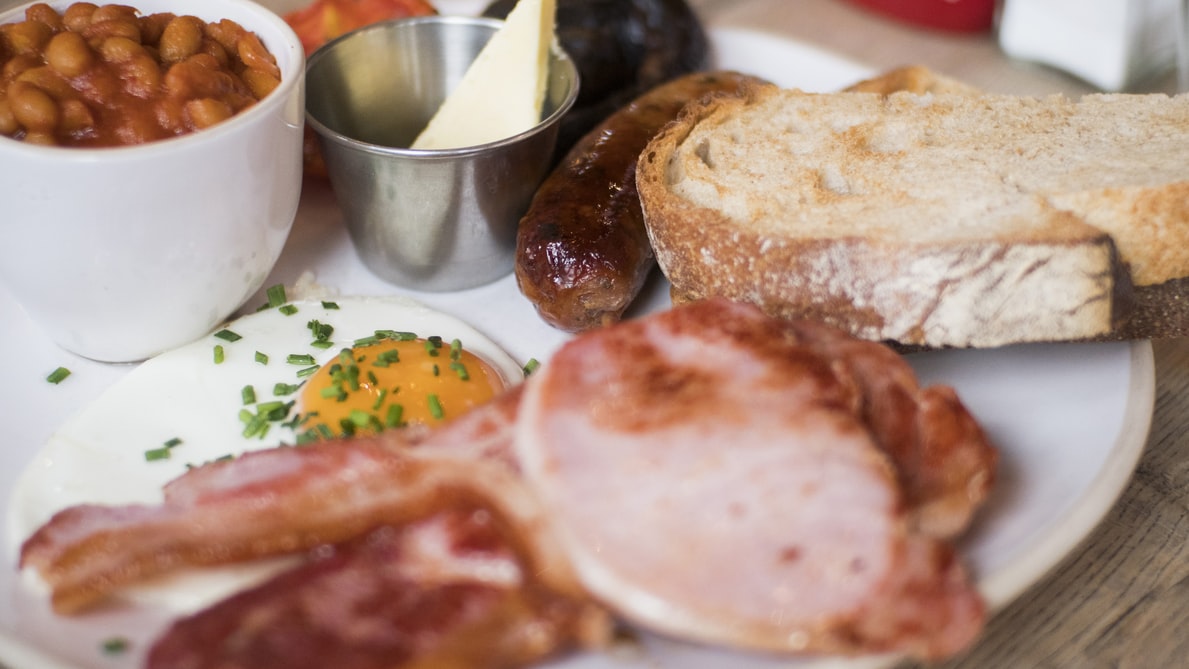 Delicious Breakfasts
● Canal Cafe / Harbour Bridge Hotel (served until 12h00) - 2 x Eggs, Slice of Grilled Tomato, Breakfast Sausage of the day, Small Bowl of Chips and a Slice of Toast. (Bacon available)
● Shift Espresso Bar / Waterway House (served until 12h00) - Man-sized breakfast including 2 eggs, bacon, toast, sausage, mushrooms and tomato.
● Cape Malay House / V&A Food Market (served from 10h00) - Breakfast Baguette – Scrambled eggs with mebos Mayo on a toasted baguette (Halaal)
On our Harbour Cruise, explore the Waterfront from a completely different angle. Leaving from the dock outside the Aquarium enjoy the sights and sounds of the Waterfront. Learn about Cape Town's proud nautical history and spend some time watching the resident seals as they bask in the sunshine.
Join The Harbour: Bus & Breakfast Combo. The Harbour Cruises start at 10h00. Enjoy the harbour cruise, which lasts around 25 minutes, and then return to the Waterfront to enjoy a selection of breakfast options at the V&A Food Market:
● Plucky's is open from 10h00m and these breakfast specials are served all day. Choose from the Brekky Foldover (Toasted Tortilla, Spinach, Egg, chik'n and cheese) OR the Brekky Baoger (a mini slider, fried egg, chick'n and cheese)
● Cape Malay House opens at 10h00 and serves this special all day. Enjoy a delicious Breakfast Baguette which includes scrambled eggs with mebos Mayo on a toasted baguette (Halaal)
Ticket prices for both breakfast cruise combos are:
● R95 per adult
● R75 per child
Boat and Lunch
Over lunchtime, we have two amazing combos on both of our cruise routes.
Join us on the Canal Cruise and enjoy the Canal Cruise: Boat & Burger combo, where you can choose from two restaurants: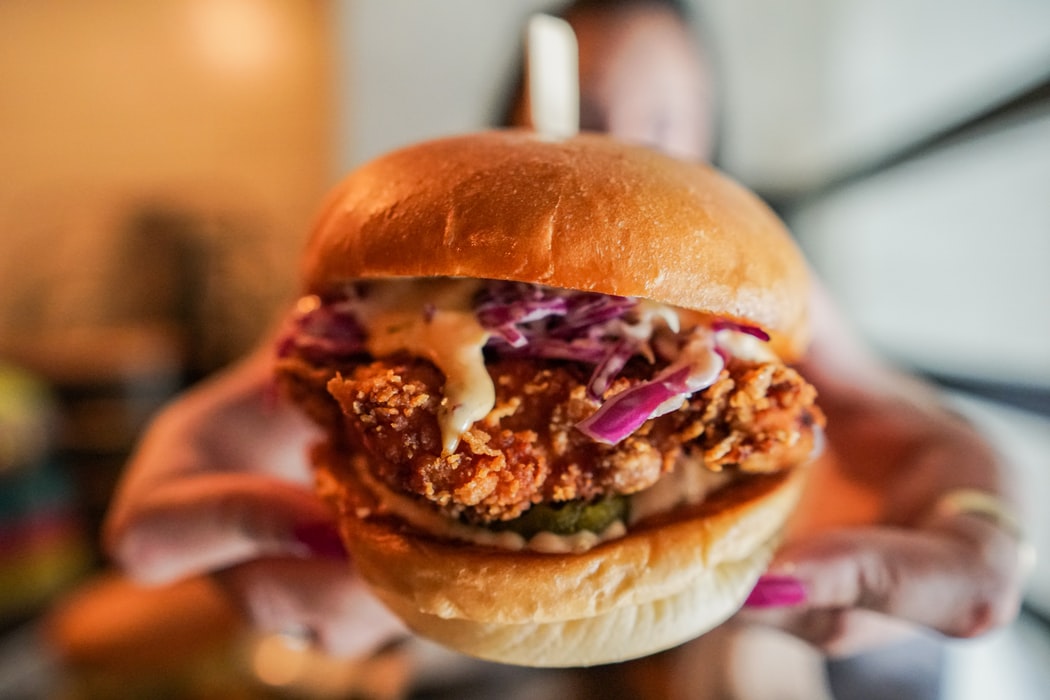 Mouthwatering chicken burgers
● The Canal Cafe, located along the canal at the Harbour Bridge Hotel (served until 15h30) which includes a Beef burger and chips Or Chicken Burger and Chips.
● Alternatively, choose to each lunch at Shift Espresso Bar at Waterway House (served until 15h00) where you can select from a Shift cheeseburger OR Shift chicken burger.
By booking the Harbour Cruise & Lunch combo you have three venues in the V&A Food Market to choose from for lunch.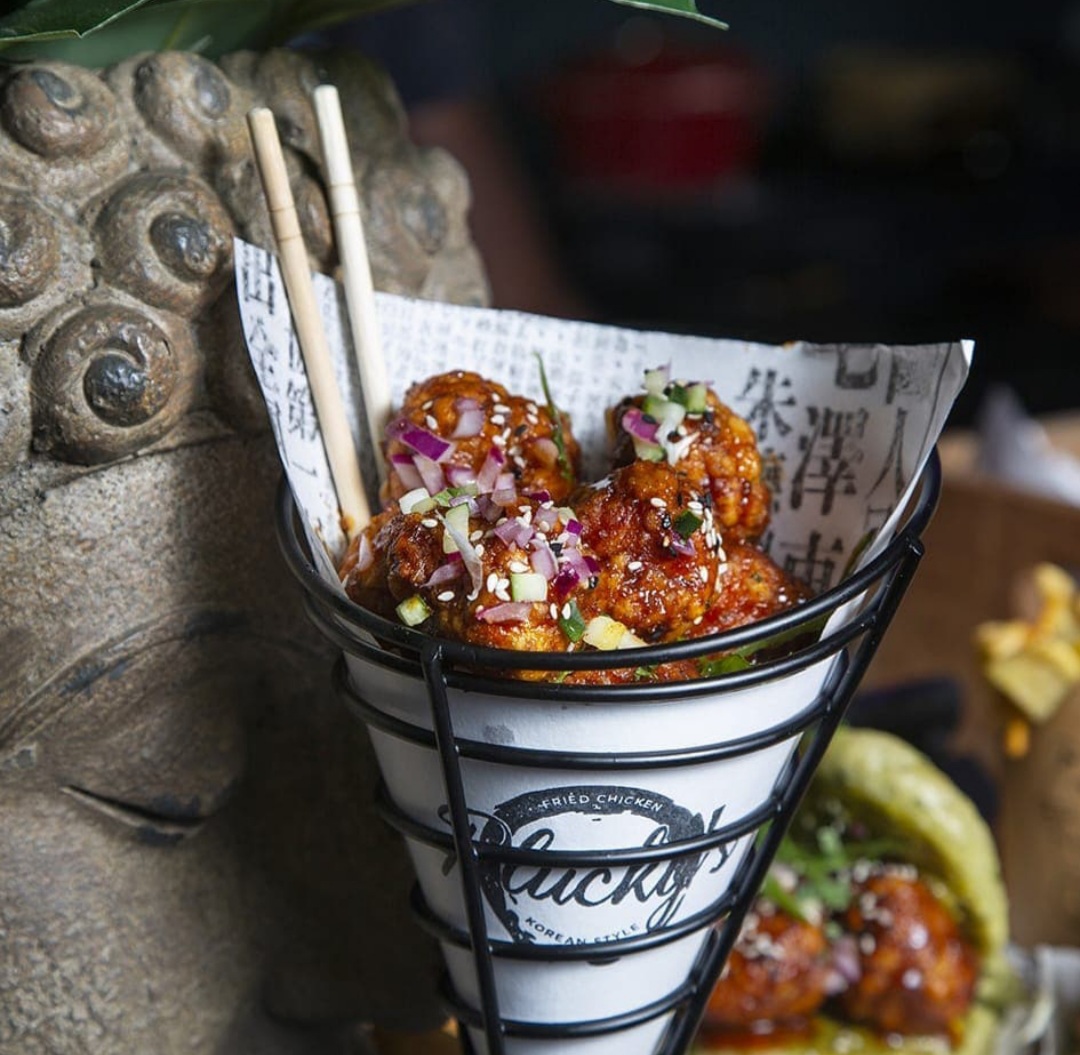 Plucky's Chicken Popz
● Fresh Hake Fish and Chips at The Market
● TOM& where you enjoy a Classic Burger and chips
● Plucky's Korean Chicken where you have three choices:
o Chik'n Popz or Chik'n Skewers – Crunchy double fried chik'n bites
o Single Chik'n Bao or Boager
o Chik'nFoldover -Toasted Tortilla, chik'n, Korean Sauce and garnishes
Ticket prices for both lunch cruise combos are:
● R95 per adult
● R75 per child
We are getting hungry just typing these amazing food combo specials. So jump on board, on the bus or the boat, and enjoy a delicious meal with your family and friends. We couldn't think of a better way to enjoy the Spring weather that's on its way.