March 2022
The first term of the 2022 school year is almost over. Our kids definitely need a break now that they are back full-time. Even though it's a mini holiday, Cape Town is such a fun place for the whole family, with so many activities to do and places to visit. We have created our top 8 things to do with kids over the holidays.
Needless to say, if you're looking for a way for the parents to unwind as well, we strongly advise you to join us onboard our famous red open-top bus, which provides hours of entertainment for both young and old. By travelling on one of our three routes, with over 30 stops, you can get access to most of the destinations listed below. We have onboard commentary designed specifically to keep the kids entertained while mom and dad sit back, relax, and don't have to worry about parking.
In and around the city centre:
There is no better place to see Cape Town than from the summit of Table Mountain (Stop 7). Your children will be enthralled by the experience – from the beginning of the journey on the rotating cable car to the summit, you will feel as if you are on top of the world. If you have teenagers or active children, you might want to consider purchasing a one-way ticket and hiking up or down one of the mountain's many trails.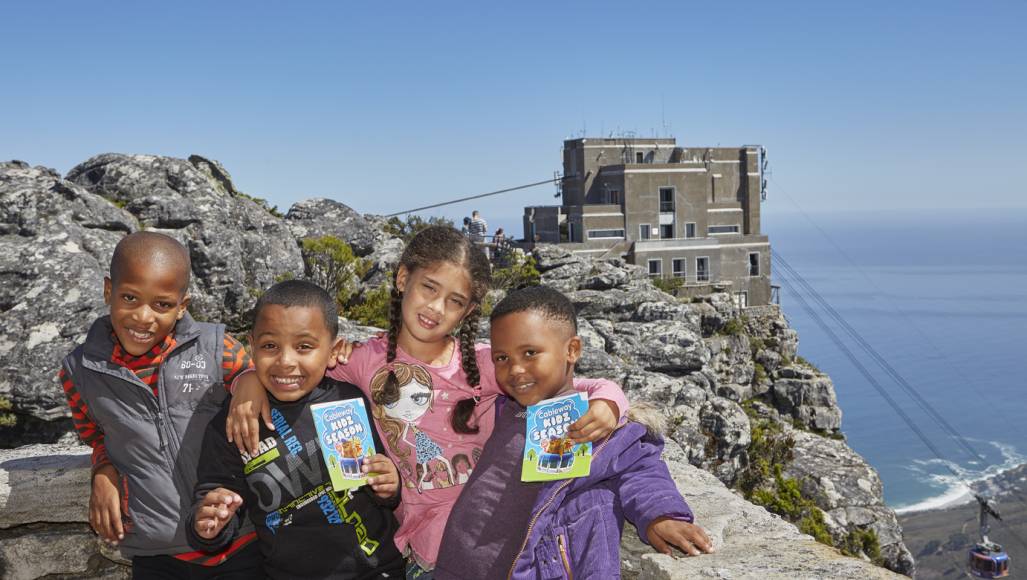 At the summit of Table Mountain
Enjoy a morning or an afternoon of fun on the open lawns of Green Point Urban Park (Stop 12), where kids can run free, walk, run, or cycle in the fresh air. There's also a jungle gym, slides, and tunnels, as well as a bricked path along the water where kids can ride their bikes safely. And even better, it's free.
Childs play
https://www.freepik.com/free-photo/children-playing-grass_854912.htm#query=kids%20park%20grass&position=2&from_view=search
Get your kids away from their screens and enjoy the lush Company Gardens located in the heart of Cape Town's CBD. The Company Gardens (Stop 15) allows you to go for a walk, bring a picnic and a blanket, and feed the squirrels. Show your children the enormous bird nests that they can climb into. A picture-perfect moment and a day in nature, and another free experience.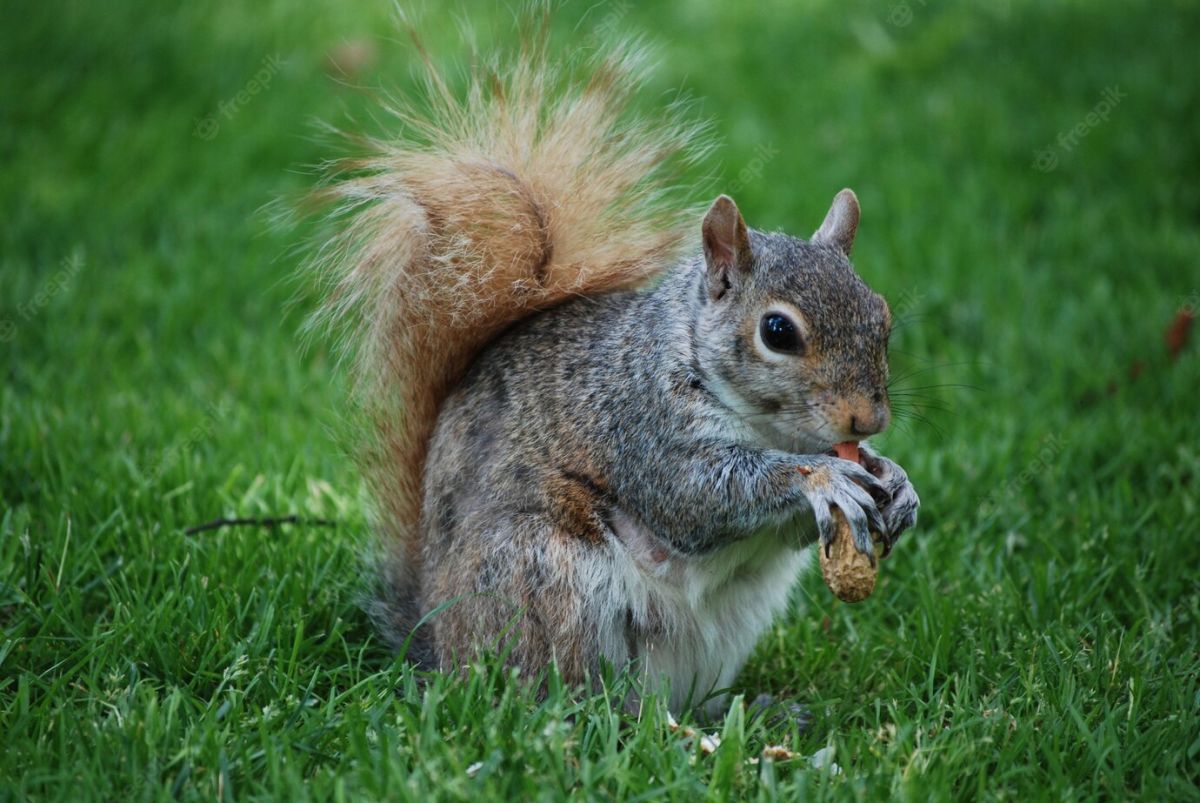 Cutest little creatures in the city centre
Experiment at the Science Centre based in Observatory – it's both fun and educational. This interactive science centre is aimed at children of all ages, and it features a wide range of world-class exhibitions designed to improve literacy and science education among South African children.
The best part is that this is not just an exciting day out with plenty to keep children mentally stimulated, but it is also an excellent way to keep them learning in a fun environment. So, it's like school, but way more fun.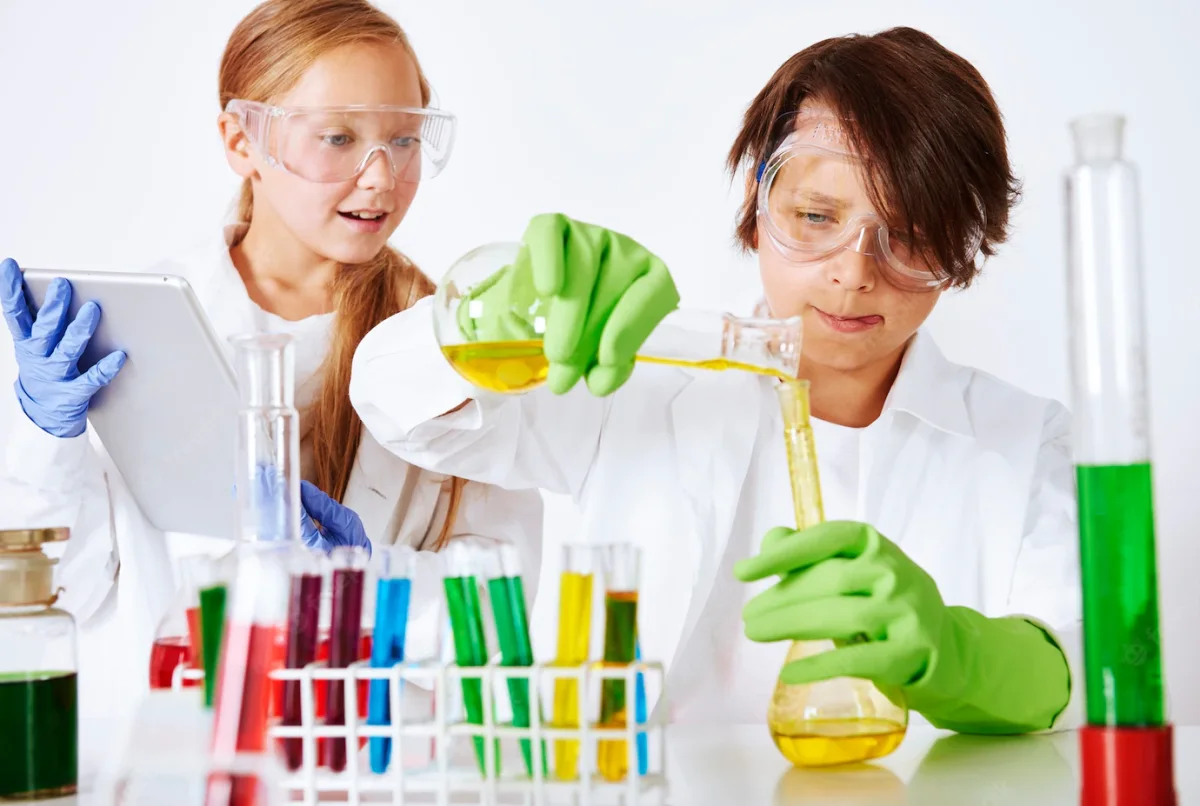 Experimenting fun
Further afield:
Located near Stop 24 in Hout Bay, this popular ceramic-painting venue has been in operation for over 20 years and is a firm favourite among adults and children who enjoy being creative. You get to pick your unfired ceramics, paints, brushes, tools, and so on. They will fire and glaze your creative designs after they have been painted and decorated and will notify you via email when they are ready for collection. A perfect day of creative fun.
Creative play
Lessons for riders of all ages and abilities including pony rides are all available at the Hout Bay Riding Centre (Stop 24). The goal of the centre is to provide a safe, welcoming environment in which everyone can appreciate horses. All riding disciplines, including showjumping, dressage, equitation, cross country, and vaulting, are incorporated into lessons for riders of all ages and abilities. Pony rides for younger riders are provided, including customised rides for children under the age of ten. The Riding Centre Stable Shop sells a selection of basic tack and riding equipment, as well as snacks, refreshments, and light meals. Riley the pig, Henry the sheep, Lola the goat, the chickens, rabbits, and the rest of the family are all waiting to welcome you to the centre.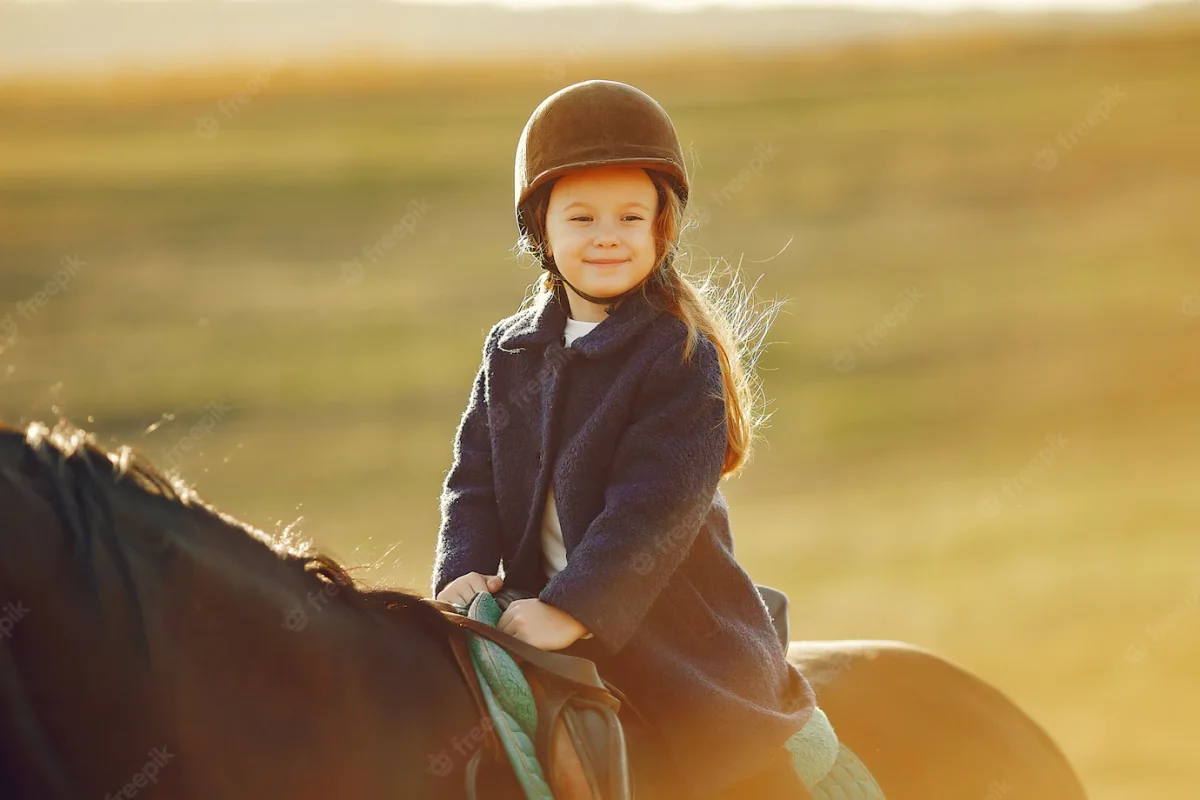 Horse riding fun
Hurtle down a half-pipe in a bobsled, flying through the twists and curves of the 1.25 km track. It's exciting, fast, and safe! This family park in Belville features an intricate course of steel tracks and top-of-the-line, wheeled bobsleds. It's enjoyable for both children and adults, and the combination of speed and skill makes it a thrilling challenge for even the most die-hard speed freaks. Starting at the bottom of the slopes, you climb into your toboggan and ride as the cables in the tracks pull you to the start of the course (a welcome relief for anyone who thought they'd have to climb the hill every time). When you reach the top, it's just you, the toboggan, the brake lever, and the breathtaking view of Cape Town. Pass through the 17 corners, S-bends, and even a tunnel before the sled safely slows down at the bottom of the course.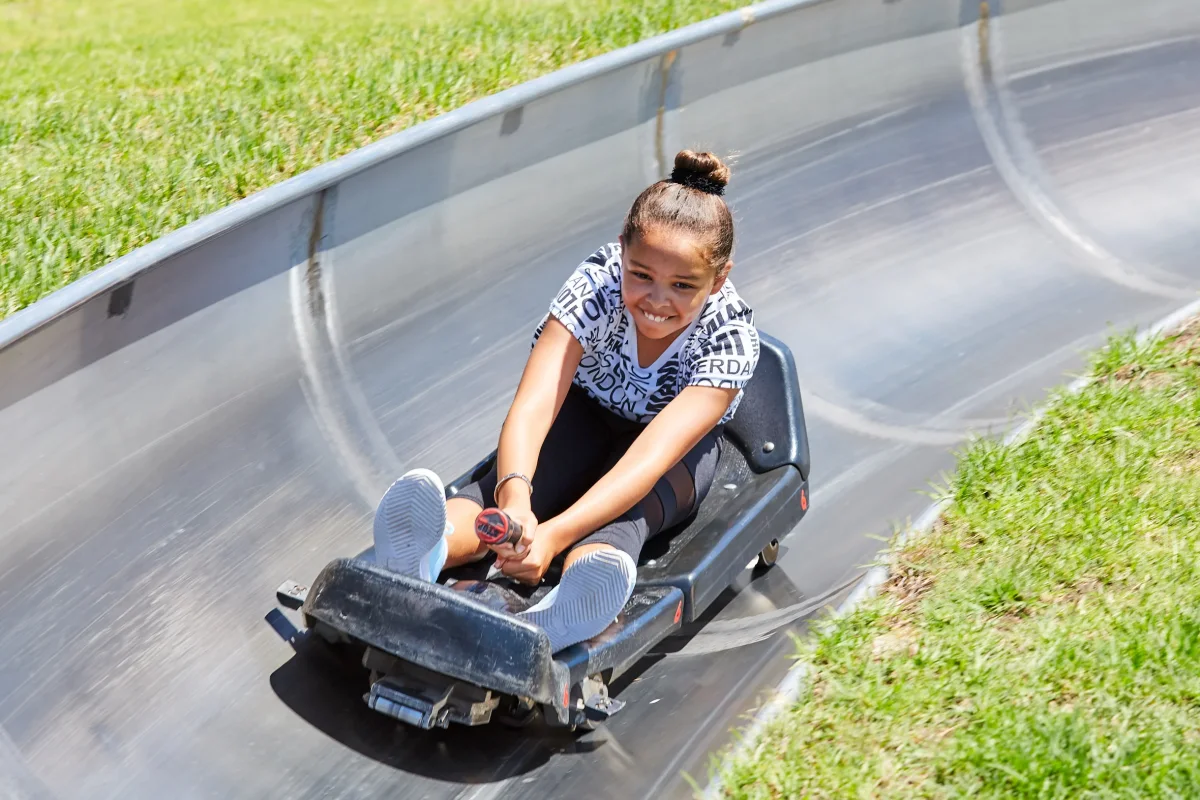 Bobsled fun
Acrobranch is a treetop adventure designed to provide hours of entertainment for both children and adults as they move from tree to tree in lush, green woodlands. The Constantia Valley is where it is located (on our Purple Constantia Winelands itinerary). This is an excellent outdoor activity for children of all ages because it allows them to swing through trees, dangle from branches, and balance in mid-air. The children are safely secured into a snug-fitting harness and linked into secure lines along the course, and all safety precautions are followed. There is a lovely café for parents to relax while the kids have fun. A win-win situation we believe.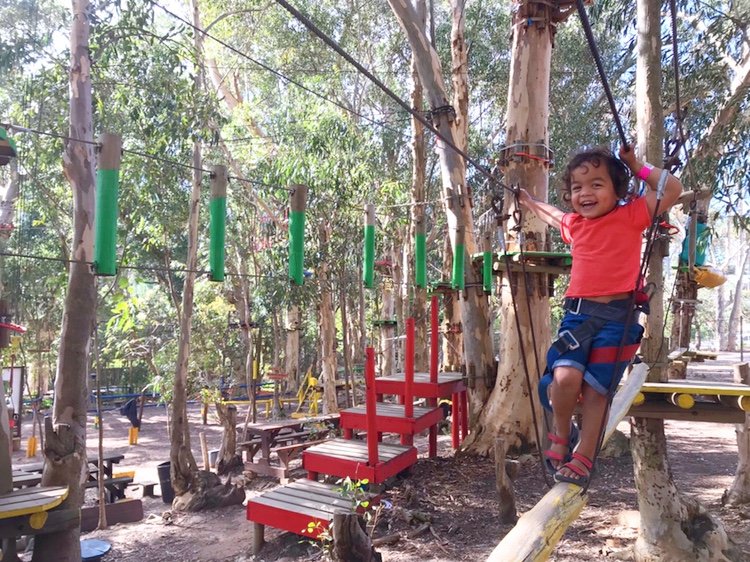 Even the little ones can have fun
We hope we've given you some ideas for spending the holidays in the city and having a good time. With so much to do and see, plan ahead of time and take advantage of the mini-break away from the daily school run and boring routine.