April 2022
Are you one of those people who say 'never have I ever been skydiving' or are you the 'adrenalin go-getter adventurer'?
The term "adrenaline junkie" refers to those who like engaging in high-intensity, high-risk activities that produce an adrenaline rush. Other synonyms for sensation seekers include explorers, thrill-seekers, and excitement seekers. They're the kind of people who appreciate extreme sports like skydiving and Bungie jumping. Your body creates the hormone adrenaline when you're aroused. This hormone increases your heart rate, blood pressure, and breathing rate when released into your blood, which can sharpen your senses and offer you a surge of energy.
We have done our research and found some of the best adrenalin experiences in Cape Town. With these options, you won't need to say 'never have I ever' anymore. You can now add these to your list of adventures and thrills experienced in the Mother City.
Flying High
· Helicopter Experience
There is something to be said about the adrenalin of flying in a helicopter with the blades spinning and the incredible views. As the flight departs the V&A Waterfront (stop no. 1) your first view will be that of the City Bowl. Table Bay frames the amphitheatre-shaped city centre, which is flanked by some of Cape Town's most iconic mountain peaks. Before embarking on a 360-degree circle of Table Mountain, fly over the Cape Town Stadium. Pass Lion's Head and fly across the Atlantic Ocean, keeping an eye out for the distant Robben Island. Continue along the coast through Clifton and Camps Bay, weaving between the Twelve Apostles' shadows.
Flying high above Cape Town
· Hot air ballooning in the Winelands
This is one of the best experiences in the Winelands, sophisticated but exhilarating. Create an indelible memory up in the clouds. These magnificent Hot Air Balloon flights fly above the naturally gorgeous Berg River Valley near Paarl, one of South Africa's most famous wine areas. On practically every trip, you can see Cape Town's famous Table Mountain in the distance, and on really beautiful days, you might even be able to glimpse the Atlantic Ocean with the Cape of Good Hope. Each Rendezvous with the Wind is a one-of-a-kind experience, with no two flights following the same path. Balloons, after all, only travel with the wind.
Views for days
· Paragliding
Another amazing flying experience is from one of the city centre's mountains. You'll have to get your feet off the ground to get the greatest vistas of Cape Town - and the best thrills. Fly high over Cape Town with an expert paragliding guide from Lion's Head or Signal Hill on an exciting paragliding adventure. Strap yourself in and prepare to be enthralled by the scenery and the sense of soaring.
Soaring like a bird
· Abseiling
Alternatively, abseil down the rock face from the top of Table Mountain (located at stop no. 7) into sheer vertical space. With Robben Island, Lions Head, The Twelve Apostles, and Camps Bay as your backdrop and the deep blue Atlantic at your feet, you are surrounded by breathtaking views.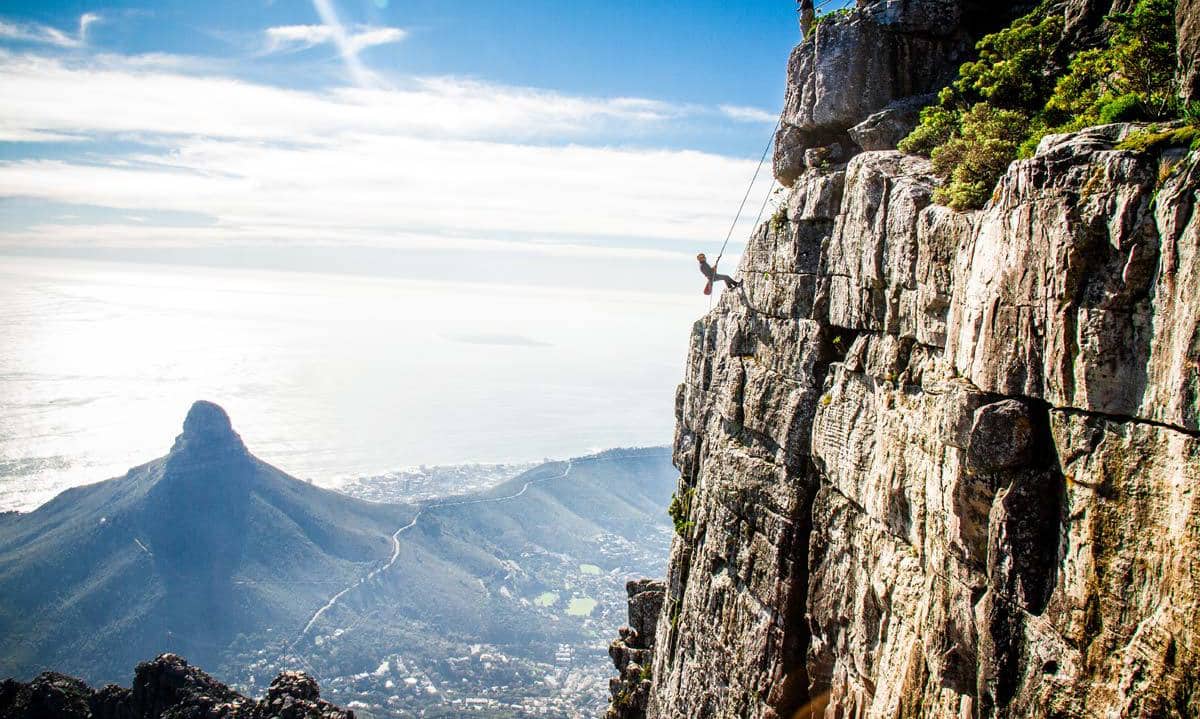 Abseiling thrills on Table Mountain
· Ziplining
You'll find an interesting journey waiting for you in Constantia, which is part of our Purple Route. Have you ever wished to be able to fly? Zip-lining is a great way to do precisely that. Guests will then go on a thrilling guided 4 x 4 journey up the mountain high above Constantia, with a breathtaking perspective of Cape Town. Table Mountain National Park Reserve is bordered by Cape Town Ziplines. While wandering and ziplining between the 12 platforms, you will be surrounded by natural beauty, wildlife, and vegetation.
Sliding in the sand
On the dunes at Atlantis, just 30 minutes from Cape Town, get some real air while sandboarding. This is one of the few sandboarding spots in the world, with dunes up to 35 meters high and a 20-kilometre stretch of virgin white dunes. It's simple to learn, and the skilled staff will offer you the finest advice so you can start blasting down the dunes right away. The knowledgeable guides will lead you on a trail that includes climbs, descents, and flat-out straights in a pleasant, free-flowing ride. At the same venue, you can enjoy quad biking. The quad motorcycles are mostly 250cc semi-automatics that are quite easy to ride. You're gone after a quick lesson on how to operate the bike and a safety briefing.

Sliding in the sand
Going Wild in the Water
· Kloofing – Kamikaze Kanyon, Gordons Bay
A 65-meter waterfall abseil, cliff leaps ranging from 3 to 22 meters, and a lovely trek make for a complete day of adventure. The Steenbras River Gorge in the Kogelberg Biosphere, also known as Kamikaze Kanyon, is roughly a 45-minute drive from Cape Town's city centre. The Fynbos Biome, which contains over 9000 plant species, 6200 of which are indigenous to this region, is found here. You will be served a full breakfast upon arrival, followed by a +-30 minute stroll to the first cliff jumping pools following quick safety instruction. To get to the top of Thunder Falls, you'll need to climb for another 30 minutes. You can eat your lunch on the riverbanks above the falls. The abseil down the waterfall will then begin. This is going to knock your socks off. Hike back out of the gorge from the waterfall for a light meal and sundowner before heading back to Cape Town. This experience is mind-blowing.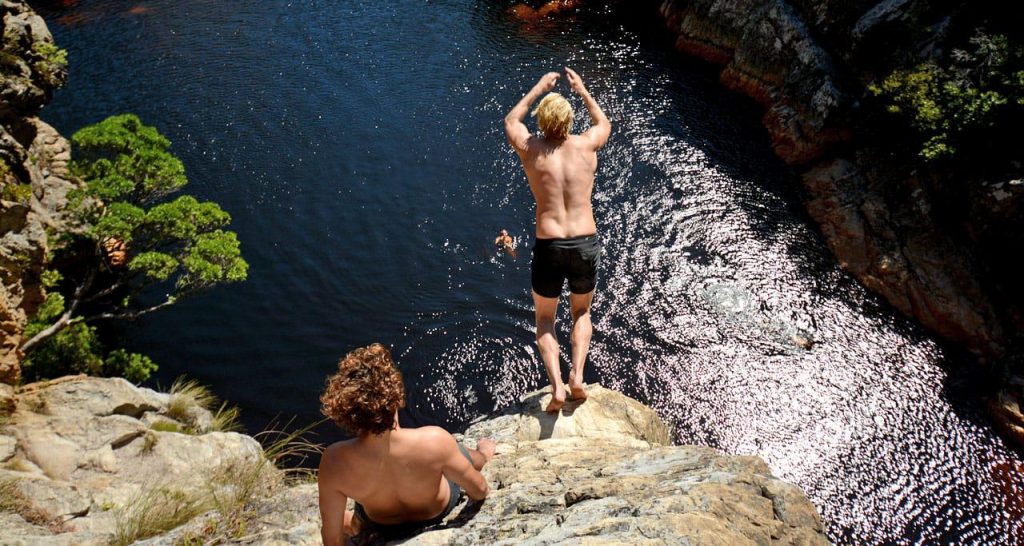 Cliff Jumping adrenalin
· Shark Cage Diving
By far the best spot on the planet to see Great White Sharks is in South Africa. It's also the only site on the planet where you may see them jump up to 5 meters out of the water. Both Geyser Rock in Gansbaai and Seal Island in False Bay are popular hunting areas for Great White Sharks, with a population of over 60 000 Cape Fur Seals. Both islands are only a short distance off the coast and can be reached by boat in approximately 15-20 minutes. There is no need to have any prior diving experience. Simply hold your breath for a few seconds at a time to complete the plunge. When you're waiting for the sharks to draw close, there's enough room in the cage to keep your head above water. Other marine life to expect includes a variety of dolphins and whales, Cape Fur Seals, and up to 20 distinct marine seabird species depending on the season.
Up close and personal
Any adventure seeker's taste buds will not be disappointed in Cape Town. The Mother City awaits to take your breathe away.