July 2022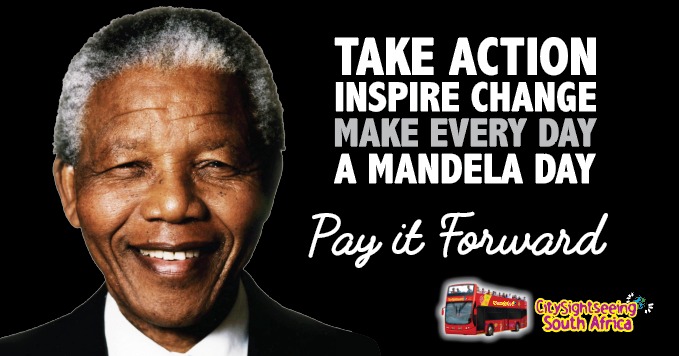 .
In 2009, when the United Nations General Assembly recognized Nelson Mandela's birthday, 18 July, as "Nelson Mandela International Day", Madiba urged people around the world to honour him by assisting their communities. Every year, South Africans participate in various ways to honour Madiba by donating 67 minutes of their time to community service on 18 July to give back to humanity.
We at City Sightseeing will be doing our bit by offering an innovative giveaway that allows you to pay it forward in true "Madiba style". Nominate the local hero that you feel could do with a day out on our famous Red Open Top Bus.
Our three routes offer over 30 stops across the Mother City, providing your hero with a great opportunity to feel deserved, loved and honoured. Taking you to over 50 of Cape Town's top attractions, the bus allows you to hop-on and hop-off at your leisure. Our bus routes include the Red City Tour to the Table Mountain Cableway, the Blue Mini Peninsula Tour, the Yellow Downtown Tour, and the Purple Constantia Valley Wine Tour. For all the info on our routes and tours that your hero could enjoy, visit our website here.
If your hero is awarded a day with City Sightseeing, we recommend they visit two iconic statues of Madiba in the Mother City.
At stop no. 1 at the V&A Waterfront, you can see a bronze statue of Madiba at Nobel Square. This square was opened in December 2005 and features statues of the four Nobel Peace Prize laureates of the nation: Nelson Mandela, Albert Lutuli, Desmond Tutu, and F. W. de Klerk. The square was the idea of Marthinus van Schalkwyk and Ebrahim Rasool, the Western Cape's premier from 2004 to 2008. The project was supported by the Western Cape government after discussions with Lutuli's family and the Prize winners who are still alive. These individuals attended the project's inauguration along with Lutuli's daughter and the Norwegian ambassador to South Africa.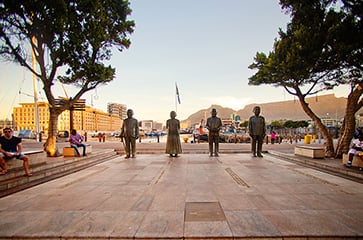 .
The statues are placed in a semicircle with their backs to Table Mountain and are significantly taller than the four persons they represent. Quotes of each figure are inscribed on the ground in front of them. The fifth sculpture, "Peace and Democracy," highlights the contribution of girls and young people to the anti-apartheid campaign. The five bronze sculptures are all set on a 386 m2 granite surface. Ten South African artists were asked to submit suggestions as part of a competition; Claudette Schreuders' response served as the inspiration for the four Nobel Prize sculptures, while Noria Mabasa's concept for "Peace and Democracy" was chosen.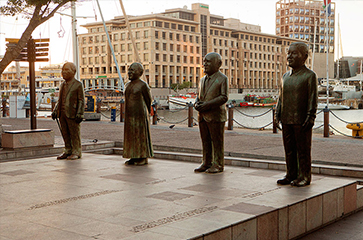 .
Next, your hero can join our free Historical City Walking Tour at Stop 5 on Long Street and visit the City Hall. Here the memories linger of the iconic moment on the balcony of the City Hall, in which Nelson Mandela gave his first speech as a free man in Cape Town in February 1990 has been captured forever in a new monument. Here Nelson Mandela first addressed thousands of eager South Africans with the words "Friends, comrades and fellow South Africans, I greet you all in the name of peace, democracy and freedom for all". On this same balcony, you will see the 1.95-metre bronze statue of Mandela. The statue weighs 120 kilograms and was cast in bronze at Sculpting Casting Services in Strand.
Did you know? In the statue, he is holding a page with the opening sentence of the speech on it. The same text is also present on the page in braille. Additionally, he has a pair of eyeglasses in his hand. Mr Mandela had forgotten his spectacles that day, so he borrowed a pair from Winnie Mandela. He can be seen sporting big frames in pictures from the event. The artists have placed the eyeglasses in his palm to maintain historical correctness without taking away from his facial features.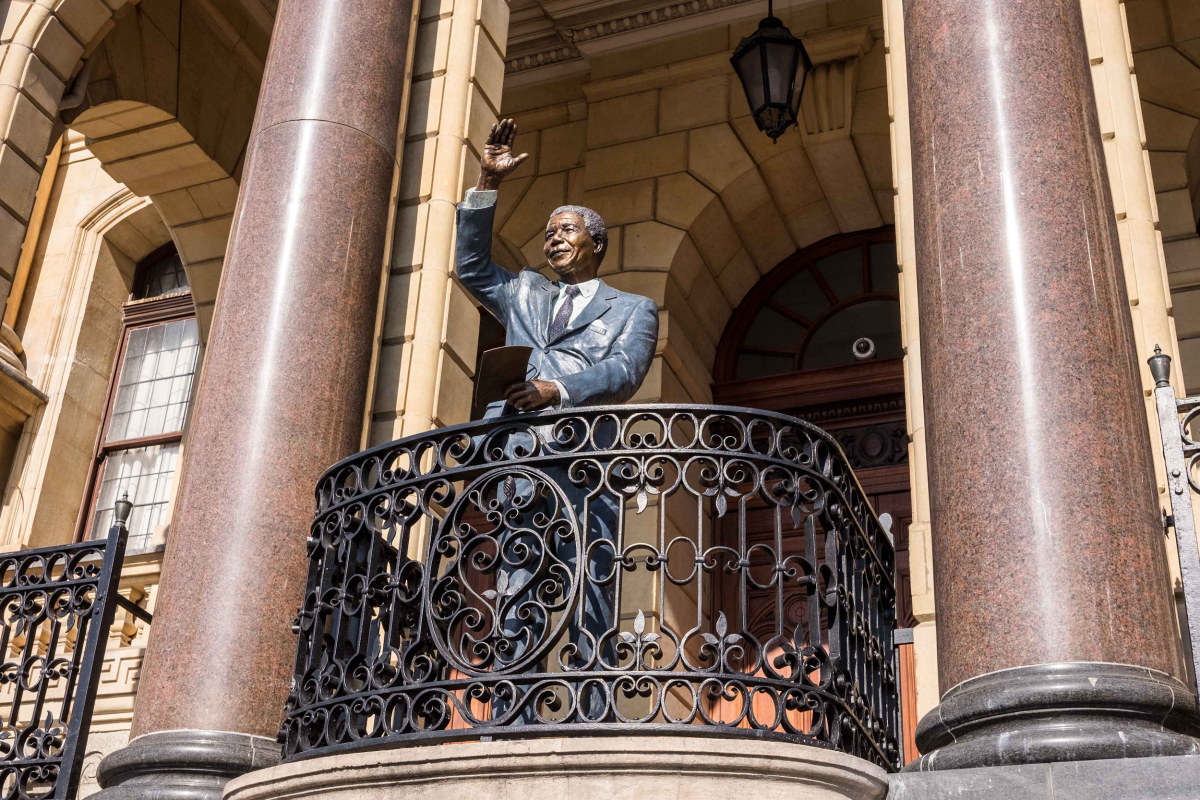 Madiba statue at City Hall
Are you ready to pay it forward? The platform is now open, so here is your chance to nominate that special buddy who deserves a gift, the family down the street who hasn't had a vacation in years, or the health care professional who worked diligently during COVID to keep us all safe. Please tell us who they are and why you believe they are deserved. By nominating your hero, they stand a chance to win a set of tickets to hop on the Red Bus. Nominations close at 18h00 on 18 July and the winning 20 nominees will be announced on 31 July 2022.
Enter here: City Sightseeing Pays It Forward. Be sure to follow us on social media to get the latest news and offers.
#RedBusSouthAfrica #mandeladay #payitforward2022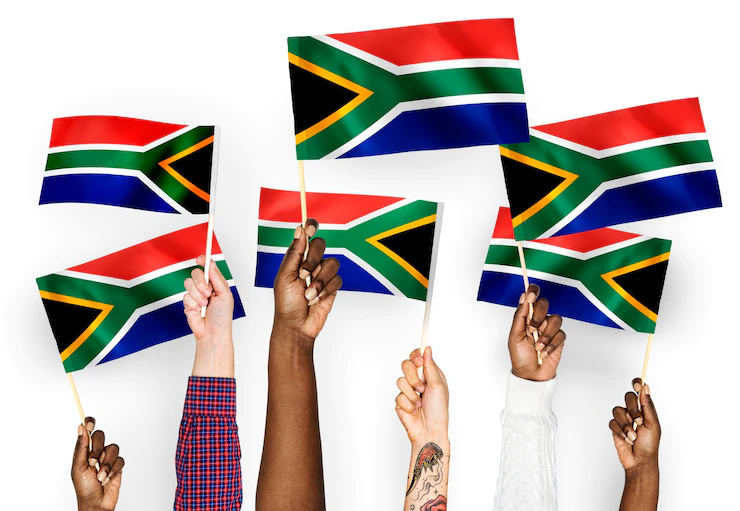 Fly the flag high for your hero