3 STAR UMLANI - COMFORT, AUTHENTICITY & AFFORDABILITY
2,3 or 5 night Fly In Safari to the Greater Kruger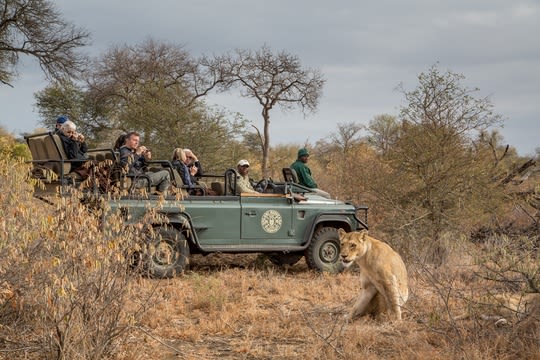 TOUR DESCRIPTION
Take a trip to the real bush experience and enjoy some nights at the 3 Star Umlani Bush camp in the Timbavati private reserve, which is part of the greater unfenced Kruger National Park, and is home to an abundance of animal species – including the coveted Big 5. The beautifully designed eco lodge is off the grid and beaten tourist track, offering intimate and thrilling wildlife encounters, award-winning meals and a chance to reconnect with nature in one of Africa's world-renowned, unspoilt wilderness reserves. Disconnect from the world - no mobile phone reception! (Wifi available) Please log onto the Umlani website here for further information and to make enquires or any bookings
This classic lodge allows you to make the most of your game viewing through extended morning and afternoon game drives in search of the region's wildlife including lion, leopard, elephant, buffalo and rhino. Spot the smaller critters of the bush while on a guided bush led by one of the experienced trail guides.
A highlight is a chance of spotting the legendary and extremely rare Timbavati white lions. Traditional South African cuisine is offered and meals can be enjoyed under the star-studded sky at night.
Accommodation
3 meals per day
All local brand drinks
2 x game drives
optional bush walks,
15% VAT.
Important Information
Where is Umlani
Located in the Timabavati, an area adjoining the Kruger (unfenced)
What is Umlani
- Umlani is a 3* Private Lodge located within the Timbavati, an area unfenced to the adjacent Kruger Park. There are no self drive visitors allowed on safari - all game drives being conducted on lodge Land Rover's and between the lodges they ensure no more than 2 are at any one sighting
- Umlani is OFF the grid. No mobile phone reception (Don't worry, there is limited wifi)
- Umlani is an authentic 3 Star experience, the way the bush intended to be seen. The real deal
- There is no electricity at Umlani. Rustic and fun. Camara and gadgets can be charged
- Great team to host your stay
Fly in to where:
- Hoedspruit airport is the closest airport to Umlani (A transfer can easily be arranged to the camp)
- KMIA (Nelspruit) is a 3h drive by car away
- Johannesburg airport can be used but is a 6h drive from Umlani. (Shuttle bus available on request)
Daily activities at Umlani
You will be taken out on two game drives per day, in open top 4 wheel drive vehicles. The morning game drive will leave at dawn and the night drive will leave in the late afternoon. There is always a ranger on stand-by for an optional morning bush walk. During the day you can go on short walks with the ranger after breakfast, or lounge in the hammocks around the swimming pool sipping your favourite drink. Alternatively, laze away the day in our spacious bush bar and deck overlooking the riverbed and watering hole. For exclusive tranquillity there is a tree house about 2.5 kms from the camp overlooking a dam, where we can leave you for an hour or two with blankets and big comfortable pillows as well as a cooler box with drinks. In the evening you will be treated to pre dinner drinks in the traditional boma around the fire, followed by one of Umlani's award winning meals in the candlelit dining room, or out in the open riverbed surrounded by flares and cauldron fires.
Price includes:
From R 4290 per person per night which includes: Accommodation, 3 meals per day, 2 x game drives, optional bush walks, all local brand drinks + 15% VAT.
Price excludes:
Transfers to and from Umlani Vehicle permit – Payable at the Timbavati Gate. R 230.00 ONCE OFF Conservation Levy SA Citizens R 115.00 pp/night SADC Citizens R 230.00 pp/night International Guests –Adults R 460.00 pp/night International Guests –Under 12's R 230.00 pp/night
How do I book?
Please log onto the Umlani website here for further information and to make enquires or bookings
MORE INFORMATION
Experience the real magic of Africa at Umlani Bushcamp The beautifully designed eco lodge is off the grid and beaten tourist track, offering intimate and thrilling wildlife encounters, award-winning meals and a chance to reconnect with nature in one of Africa's world-renowned, unspoilt wilderness reserves Management Umlani Bushcamp is managed by Micaela Schiess who spent a lot of time on the property when she was growing up, She is assisted by Thembi Mathebula a veteran in the hospitality industry. Together, with their wealth of knowledge of the area and the industry they will ensure an unforgettable stay here at Umlani Bushcamp.
Our management team is assisted by Joana, who has both been with Umlani for many years and has grown with the organisation to become an essential part of our management team. Reservations Marie-Louise is the co-owner and currently managing Reservations. With over 30 years experience she loves sharing her passion for Nature and Wildlife with our potential guests and is enthusiastic in playing her part to make guests reservations as straightforward yet exciting as they plan their dream Safari experience. Rangers and Trackers Elvis and Amos are Umlani's experienced rangers, who will keep you informed and entertained with their extensive knowledge of all the animals big and small and flora found in the reserve. The rangers are accompanied by qualified and highly skilled trackers – Ephraim and Clerence who go out their way to bring you closer to nature on your safaris.
General Staff Our cooks, Manaseh, Lineth and Dumisile, will delight your taste-buds with their their blends of home-style South African meals. Umlani's house keepers Bongi, Cynthia, Cresselda, Shirley and Susan will ensure that your huts are beautifully maintained on a daily basis, from the warm welcome note written out in pebbles on your bed as you arrive to the lantern lights that lead your way at night, these ladies bring the magic that is Umlani.Our ever smiling waitresses Suzan and Matimba will ensure and that you receive personalised, friendly service throughout your stay with us. Our mission is to make you feel that Umlani is your home in the wild!