GRAB A MUFFIN AND COFFEE ON THE GO...
Bus and Mugg & Bean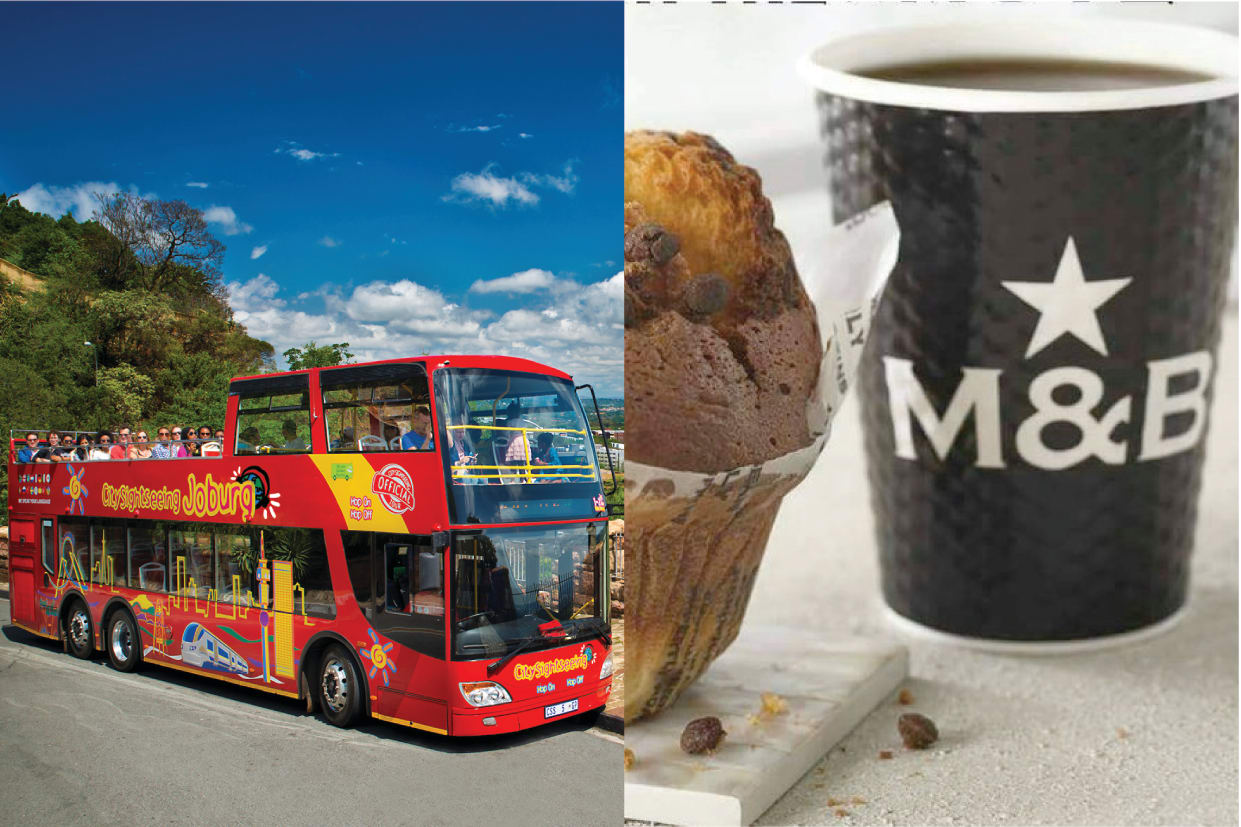 TOUR DESCRIPTION
Begin your Jozi experience along the Green Tour from our main departure point in Rosebank and explore the leafy suburbs around Zoo Lake stopping at all top attractions, including Zoo lake, the Johannesburg Zoo and the Military Museum, before reaching Constitution Hill.
Change here to the Red City Tour and continue your journey around the inner city visiting the "Roof of Africa" viewing deck on the 50th floor of the Carlton Center, the James Hall Museum of Transport, Gold Reef City Theme Park and the Apartheid Museum before returning to to Constitution Hill via Newtown and ultimately back to Rosebank.
You'll soon see why Joburg is not only considered Africa's economic playground but also one of the most wooded cities in the world.
Mugg & Bean Muffin & Coffee @ Stop 1
1 Day on the buses
Green Suburbs Loop
Red City Tour Loop
MORE INFORMATION
Important Information
Covid-19 Info
We're practicing social distancing at our kiosks and on our buses only and have sanitiser at all touch points to ensure your safety. Please be sure to wear your mask while on the bus. No mask, no entry CLICK HERE for more information on this
Mugg & Bean
Shop LG08B The Zone @ Rosebank
177 Oxford Road The Zone
The Zone OTM Rosebank 2196
Sat 08:00 to 17:30
Included
Coffee and Muffin from Mugg & Bean @ the ZONE
Unlimited access to the Green suburbs tour and the Red City tour
Not included
Entrance fee into various attractions
Starts
* Tour office @ The Zone shopping centre, Oxford Road, Rosebank (Our host will walk with you to the bus stop, which can take about 5-8 minutes)
* You can arrive on the "Gautrain" high speed rail link. Use North Exit at Rosebank station and head to the Tour office
* Parking available for your car at "The Zone" shopping center - entrance off Oxford Road
Tour assistance office
* Tour office @ The Zone shopping center, Oxford Road, Rosebank
Duration
Valid for the day when first presented
Know before you go
Hop On Hop Off at any of the stops along the circular route and simply show the same ticket to board the next bus. Kids love the open top buses and have a special commentary channel (In English)
Cancellation Policy
Cancellation fee of R 10, per ticket cancelled, will be charged.
Pre-booking and temporary closures
The Apartheid Museum and Carlton center is temporarily unavailable due to Covid Restrictions.
We advice that you pre-book for entry into Gold Reef City. https://www.goldreefcity.co.za/theme-park/