April 2020
Perhaps best known for its whale-watching season the stunning seaside town of Hermanus has even more to offer locals and international visitors alike.
The region's diverse landscape lends itself to a wide variety of leisure activities and adventures to suit any preference, as well as providing amazing land- and seascapes, unique flora, world-class beaches, and the nearby wine valley. The long coastline of Hermanus also creates the perfect playground for water-based activities like kayaking, SUP boarding, diving, snorkelling, cruising, and of course whale-watching.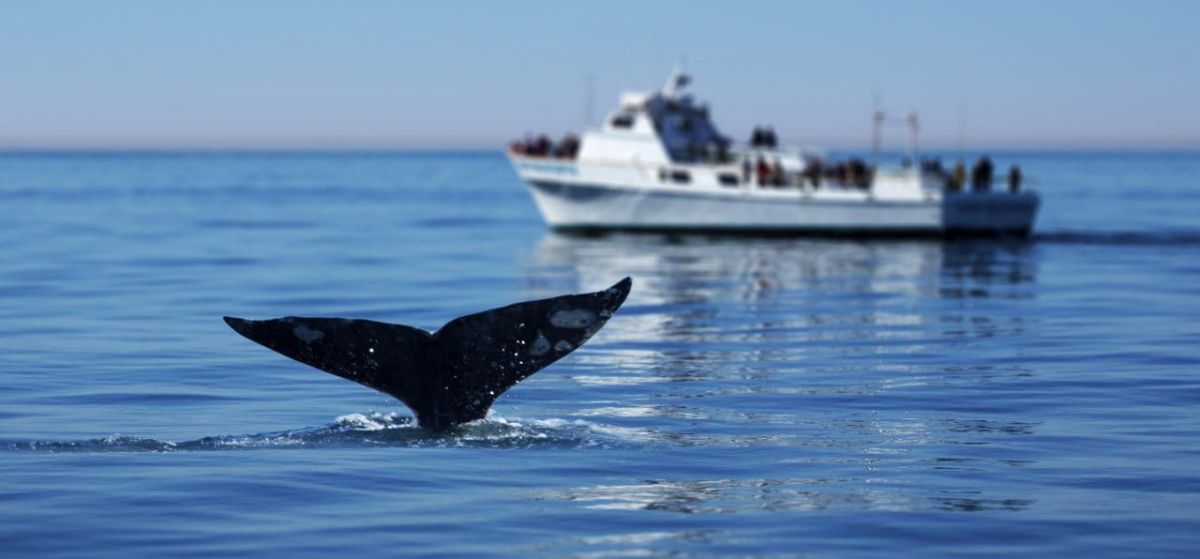 Whale Watching
So, if you want to come and explore Hermanus with the City Sightseeing Red Bus, here are some of the sites you can visit.
LEARN THE LOCAL HISTORY AT STOP 1
Along with its beautiful scenery and plethora of attractions, the coastal town of Hermanus also hosts an early South African and rich fishing history, as well as the famed and old-timey fisherman's village turned-tourist-hub. Around the town, you will find a number of galleries, exhibitions and monuments, and around Stop 1 you will find the Whale Museum, Hermanus War Memorial, De Wet's Huis Photo Museum, and the prominent Old Harbour Museum. Made up of two sections, the Old Harbour Museum consists of the Historical Old Fishing Harbour (open-air museum) and Fisherman's Village.

Old Harbour
The open-air museum includes the Old Harbour itself, with the original sea wall, a breakwater, a few historic fishing boats along concrete slopes, the turnstone, gutting tables, brine tanks, "bokkom" stands and reconstructed fishing shacks. Proclaimed a museum and provincial heritage site in 1972, the remnants here represent the regions vibrant fishing industry and are the axis around which this fishing town developed.
The refurbished fishing shacks along the harbour slopes are where you can find the indoor displays consisting early 20th-century fishing tools, the "Selkirk Collection", a variety of aquariums displaying some local sea life, as well as a massive section on whales and whaling.
GET ACTIVE AT STOP 2
From our stop at the Hermanus New Harbour, you can find the headquarters of many adventure tour companies. Get out onto the ocean with Hermanus Whale Watchers, Hermanus Whale Cruises, or Southern Right Charters, or head over to the Heart of Abalone to go on a fascinating tour of a working abalone farm. If you feel the need to stretch your legs, then the Hermanus Cliff Path Biodiversity Walk is a great opportunity for anyone to explore.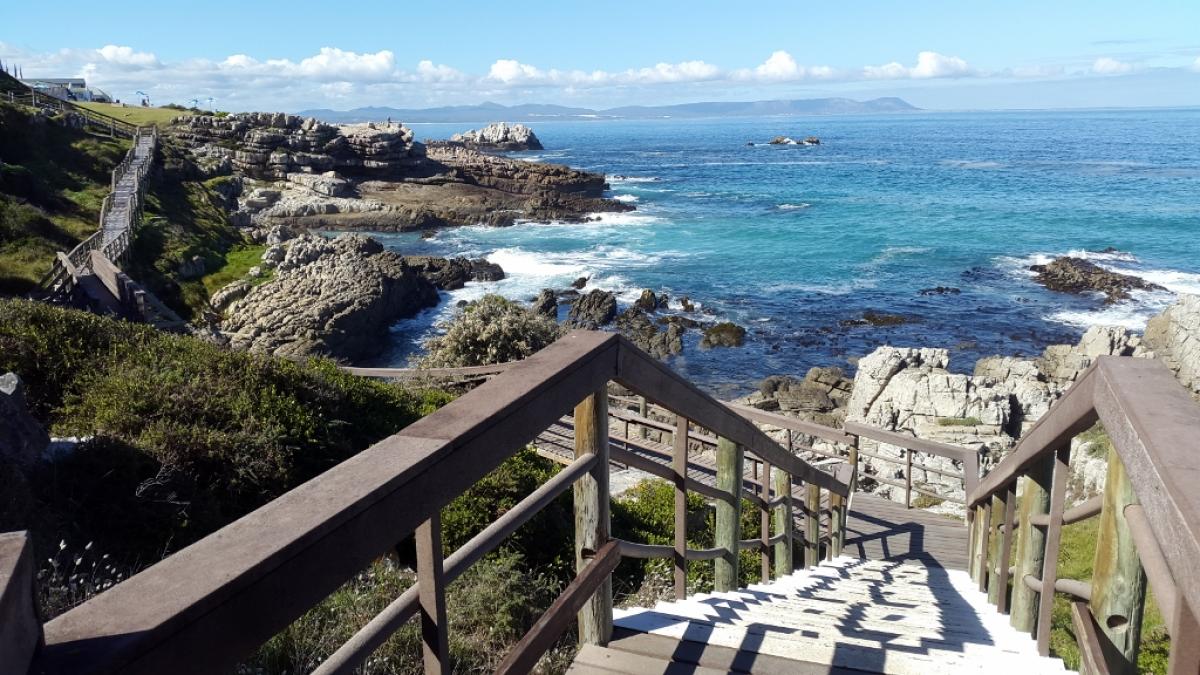 Cliff Paths
The Cliff Path is a great way to explore the coastline as the 12-kilometre path takes you through the region's extraordinary diversity of scenery, rocky coves, sandy beaches and secluded forest glades. Hermanus is also renowned for its unique fynbos, so get up close and personal with this glorious biome.
The trail starts here at the New Harbour, and stretches east past some famous fishing spots, whale-watching viewpoints, the original fishing harbour at stop 1, and all the way to Grotto Beach at stop 4. So hop-off, take a leisurely wander down the coast before hopping back on with us later.
The route is perfect for nature-lovers, hikers and active families of all ages. There are some primely positioned benches along the way to sit and watch the whales, and over 9 kilometres of the path are actually accessible to wheelchairs at the benefit of the disabled, elderly and infants in strollers and prams.
TAKE IN THE VIEWS AT STOP 3
With so much to see, and such vibrant scenery, you can't help but stand in awe while you take in all the magnificent views from the Rotary Way Hermanus Lookout.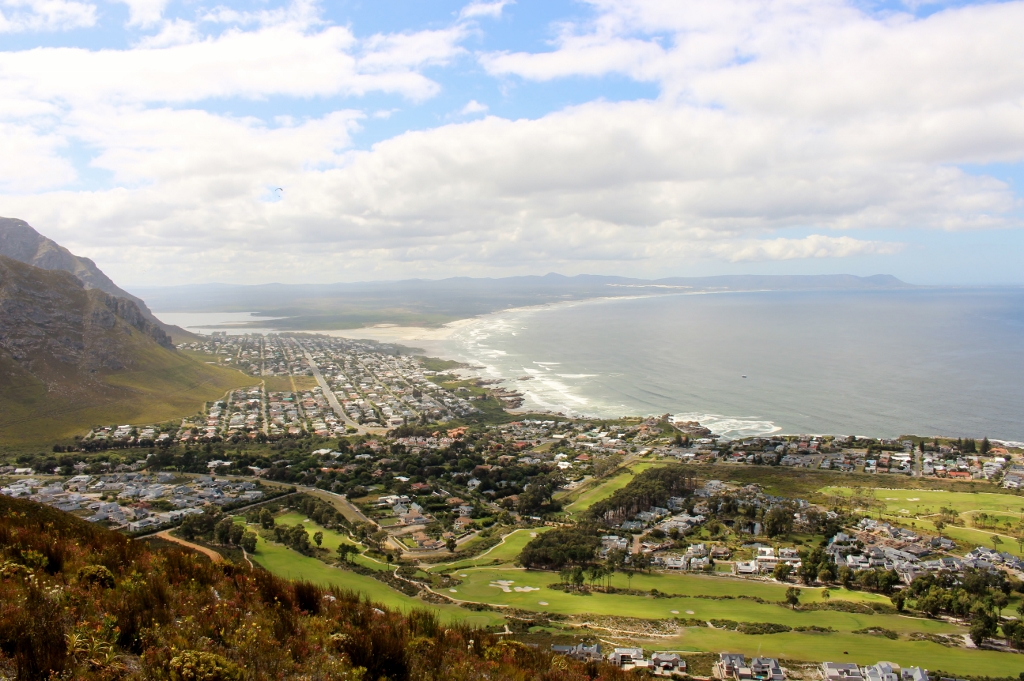 Rotary Way Look-Out Point
The bus takes you up a short, tarred road that leads up to the top of the mountain range at the beginning of Hermanus. Here you will find exquisite views over Walker Bay and the town of Hermanus town.
The vantage point allows you uninterrupted views of Sandbaai, Zwelihle, Hemel en Aarde Valley, the Lagoon, Hermanus Golf Course, as well as the New Harbour (stop 2), Old Harbour (Stop 1) and Gearing's Point.
Here you can also the hang gliders as they launch off the side of the mountain, or buck up the courage to join Fly Cape Town on your own paragliding adventure.
KICK BACK AND RELAX AT STOP 4:
What could be more ideal when visiting a seaside town than relaxing seaside? Thanks to its long winding coastline, Hermanus has a number of fine, flat, and easily accessible beaches to choose from.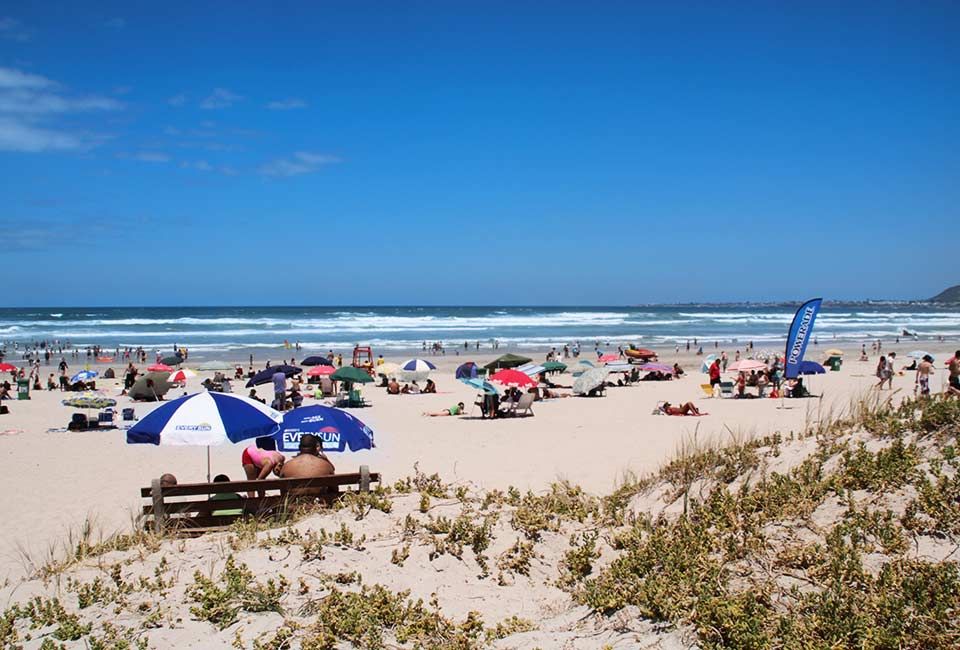 Beaches
Voëlklip, Kammabaai and Langbaai beaches are all serene choices, but there's none that quite compares to Grotto beach. With an incredible contrast of mountain views and flat seascapes, Grotto Beach is the prime spot for swimming, suntanning and games, while the almost 18-kilometre stretch makes it ideal for long, leisurely walks. The beach area also offers a play park, picnic and braai areas, ablutions, ample parking and lifeguards throughout the season.
The glory of Grotto Beach is not only an opinion of the locals, but it has even been certified as an international Blue Flag Beach. This Blue Flag programme is a trusted eco-label active in over 40 countries around the world and recognises coastal habitats for their ecological value, beauty, safety and accessibility.
If just some of these wonders of Hermanus may pique your interest, then join us on our journey along the coast and experience the sights and sounds of this picturesque town. But don't be fooled. Hermanus has so much more to offer, so in order to see even more, consider getting a two-day bus ticket and hop-on and -off at any of our fascinating destinations as many times as you like.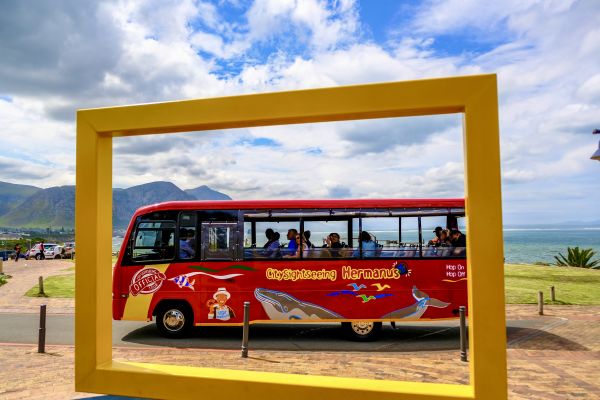 City Sightseeing Hermanus Bus