EXPLORE CAPE TOWN'S FAMOUS FILM LOCATIONS
FAME - Film Route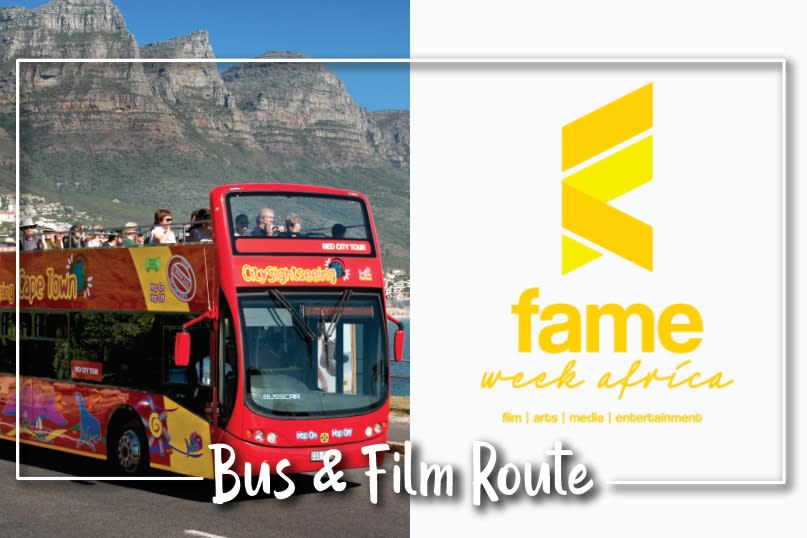 TOUR DESCRIPTION
Hop on the Red Bus and get closer to iconic monuments and famous landmarks that have been featured in international and local productions on our FAME Week Africa Cape Town sightseeing FILM bus tour. The tour kicks of with a tour of a film studio. During this tour we will take you on a journey on how a film is made. Hop off at Castle of Good Hope. Our guided walking tour will let you in on lesser-known facts about the Castle that will impress your dinner guests. You will also get to see locations within in the Castle that were used in various television series and films. Did you know that the Castle of Good Hope was used in Netflix's The Crown? Most of the Queen's visits to Ghana was filmed here. Discover what else has been filmed there.
Includes all venue entrance fees
Tours
Lunch at President Hotel
Popcorn and cool drink at the screening.
MORE INFORMATION
Relive your favourite moments from Tali's Baby Dairies as we hop-off at the President Hotel for our FAMEous lunch. Our last hop off will be at The Labia for a first ever screening of 2 Thirds of a Man. This film explores the coming-of-age story of Justin, a talented but guarded teenager returning to Cape Town to navigate unique challenges as a first-year student at Rocklands University. After the screening you will get the chance to chat to the filmmakers and actors.
Included along route:
• Woodstock (Trackers)
• Observatory (Homeland)
• Camps Bay (Lord of War)
• District 6 (District 9)
• Lions Head (Safehouse)
• V&A Waterfront (Blood Diamond)