CLASSIC TICKET INCLUDING BREAKFAST
Breakfast & Bus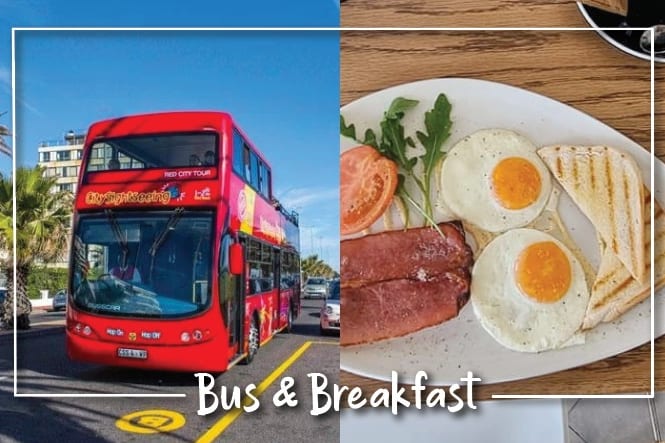 TOUR DESCRIPTION
Hop off at Sea Point - Stop 10 (St John's Road stop) and enjoy a classic all day breakfast while you soak up the morning sun with views of the Sea Point promenade.
With over 30 stops across 3 different routes, you'll have plenty of opportunities to hop off the bus and explore the Cape Town landmarks and attractions that appeal to you most.
Available Father's day Weekend
All Routes ticket Including breakfast
Breakfast at Jooma Coffee Shop, Stop 10, Sea Point
Walking Tour
Official hop-On Hop-Off tour
Comfort and safety in the open-air
1 Day ticket
Important Information
Starts
At any of the 30 Hop On - Hop Off Stops
All day Breakfast Stop can only be reached on Blue Tour and Red Tour
Know before you go
PLEASE NOTE: Please make sure you voucher has been scanned on the bus before heading to restaurant. Your voucher can only be redeemed at one of our branded offices or on the bus.
Hop On Hop Off at any of the stops along the circular route and simply show the same ticket to board the next bus Kids love the open top buses and have a special commentary channel (In English)
Duration
Valid for the day when first presented
Operates
Father's Day Weekend, 18 and 19 June 2022
Breakfast included
Breakfast is served at the Jooma Coffee Shop located opposite our Stop 10 / St John's Road Sea Point. (Inside Riviera Suits Hotel - 273 Beach Road, Sea Point)
Breakfast Menu
Breakfast 2 fried eggs, wood smoked back bacon, grilled tomato and toast. Plus a cup of coffee or tea.
Cancellation Policy
Fully refundable if not used. Cancellation fee of R 10, per ticket cancelled, will be charged.
Entrances are not included
Tour assistance office
* V&A Waterfront, located outside the Two Oceans Aquarium
* CBD, located at 81 Long Street
Did you know we are Carbon Neutral?